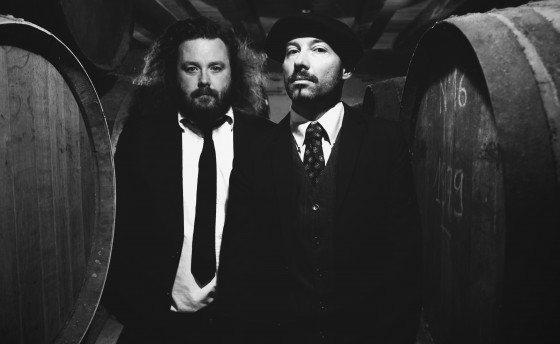 Gascony, France's drum and guitar duo, THE INSPECTOR CLUZO, has announced their Gasconha Rocks World Summer Tour 2014, which is technically already underway.
With a gig in Germany and three in their native France already scratched off the list in recent days, THE INSPECTOR CLUZO will continue to raid international territories through late September, including a massive run which sees the band tearing through a dozen countries on three continents within a two month period, including Japan, South Korea, Taiwan, South Africa, Hungary, Czech Republic, Austria, Spain, France, Holland and Belgium! The tour includes TIC holding the co-headlining spot at Pentaport Festival in South Korea on August 2nd, as well as their return to the massive Fuji Rock Fest in Japan and nearly a dozen other festival appearances throughout the world.
THE INSPECTOR CLUZO's widespread tour is in support of their fourth full-length album, Gasconha Rocks, which was released in Europe to massive critical acclaim in September 2013, followed by a bout of international touring. The band then signed a US deal with Suicidal Records, home to Suicidal Tendencies, Infectious Grooves and Cyco Myko's solo releases and run by Mike Muir directly, who will release Gasconha Rocks on US soil in the coming months. The band supported Suicidal Tendencies, Trash Talk, Terror and more on a crushing North American tour coinciding with the label signing.
A confirmed US street date for Gasconha Rocks is to be locked in the coming days; stand by for further transmissions.
An official video for Gasconha Rocks' opening anthem "Hello Goodbye Education" is playing HERE, their hour-long The 2 Mousquetaires Of Gasconha documentary filmed in conjunction with the album is playing HERE, and an incredible library of live club and festival performances are posted at the band's YouTube page RIGHT HERE.
THE INSPECTOR CLUZO's Gasconha Rocks World Summer Tour 2014:
6/28/2014 Festival les Bichoiseries – Cerisy-Belle-Etoile, FR
6/29/2014 Festival Euskal Herria Zunzenean – Mendionde, FR
7/10/2014 Les Ardentes Festival – Liege, BE
7/13/2014 Valkhof Festival – Nijmegen, NL
7/21/2014 Un été a Pau – Pau, FR
7/26/2014 Fuji Rock Festival – Naeba, JP [official show]
7/26/2014 Fuji Rock Festival – Naeba, JP [surprise show]
7/27/2014 Wake Up Festival – Chiayi, TW
8/02/2014 Pentaport Festival – Incheon, KR
8/07/2014 Brincadeira Festival – Ordes, SP
8/09/2014 Oppikoppi Festival – Johannesburg, ZA
8/14/2014 Festival Musicalarue – Luxey, FR
8/16/2014 Cap Festival – Le Vibal, FR
8/17/2014 Brussels Summer Festival – Bruxelles, BE
9/06/2014 Kefir Festival – Trebovle, CZ
9/10/2014 Badeschiff – Vienne, AT
9/11/2014 Heritage Festival – Pécs, HU
9/12/2014 Akvarium – Budapest, HU
9/20/2014 The Fiestival 4 – Marsanne, FR
Delivering a jacked-up explosion of soulful funk-influenced classic rock intensity, THE INSPECTOR CLUZO's fourth studio full-length, Gasconha Rocks, was recorded in full analog by the band on their old MCI mixing desk on their farm in Mont de Marsan, Gascony. The album's diverse ten tracks capture the act's most closely represented recording of their insanely energetic live show. A band who prides themselves on maintaining a badass style of funk without a bass player, THE INSPECTOR CLUZO formed in 2007 when their bassist never showed up for practice, therefore initiating a lifelong goal of abusing and demoting bassists the world over. Boasting a fully DIY attitude and system in every aspect, the duo — guitarist/vocalist Malcom Lacrouts and drummer/backing vocalist Phil Jourdain — has handled their own management, booking, label and promotion since inception, even amidst their massively and steadily growing fanbase over the years. Their rampant live performances have been heavily documented online, indisputably ranking them one of France's most hard-touring bands.
http://www.theinspectorcluzo.com
https://www.youtube.com/user/theinspectorcluzo
http://www.facebook.com/theinspectorcluzo
http://www.suicidaltendencies.com