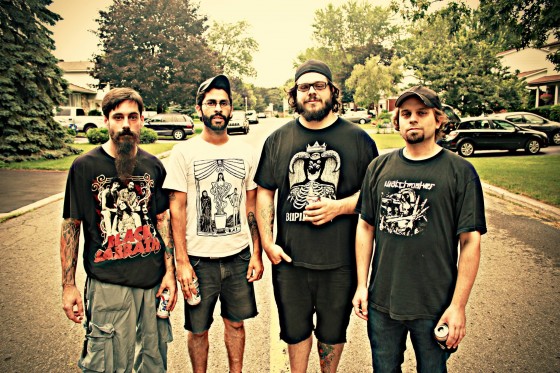 Montreal's noise/sludge rock ringleaders, THE GREAT SABATINI, have just pulled the fifth official video from their Dog Years LP out of their hat, letting "The Royal We" loose into the crowd, while also declaring another new tour in support of the album.
In the ongoing outbreak of videos for their early June-released third album, Dog Years, already including "Akela," "Periwinkle Love Hammer," "Munera" and "Guest Of Honour," THE GREAT SABATINI filmed the latest at a recent gig among their massive, ongoing tour schedule — from loading in, to getting loaded, to unloading onto the crowd, with "The Royal We," playing RIGHT HERE.
THE GREAT SABATINI will also reload and fire into the US again later this month, with another widespread incursion in support of Dog Years. The Dog Years Fall Tour 2014 will kick off with two shows in Canada before hitting eighteen Eastern American cities through the first week of October.
Dog Years was recorded, mixed and mastered by Sean Pearson (Cursed, Shallow North Dakota), and boasts THE GREAT SABATINI's raw, unpolished approach to capture n act with years of accumulated experience touring, writing and recording together. The aim was to create a hi-fi document with all of their lo-fi sensibilities, grit and live energy intact, and the results are astoundingly destructive. French noise/metal label, Solar Flare Records, released the album on CD, digital and LP formats, the latter available on both black and transparent red vinyl; place orders through Solar Flare Records HERE and via the band HERE. And stream the entire Dog Years album via Decibel Magazine AT THIS LOCATION.
THE GREAT SABATINI Dog Years Fall Tour 2014:
9/17/2014 Petit Campus – Montreal, QC
9/18/2014 Sneaky Dees – Toronto, ON
9/19/2014 The Lair – Buffalo, NY
9/20/2014 The Mr. Roboto Project – Pittsburgh, PA
9/21/2014 Grandbar – Chicago, IL
9/22/2014 TBA – Appleton, WI
9/23/2014 The Habitat – Duluth, MN
9/24/2014 The Triple Rock – Minneapolis, MN
9/25/2014 West Wing – Omaha, NE
9/26/2014 Vandals – Kansas City, MO
9/27/2014 Blind Bob's – Dayton, OH
9/28/2014 Three Kings Bar – Cincinnati, OH
9/29/2014 Highline Taproom – Louisville, KY
9/30/2014 Poison Lawn – Knoxville, TN
10/01/2014 The Big Gay Shanty – Roanoke, VA
10/02/2014 The Blue Nile – Harrisonburg, VA
10/03/2014 Lava Space – Philadelphia, PA
10/04/2014 TBA – Long Island, NY
10/05/2014 The Batcave – Montclair, NJ
10/06/2014 O'Briens – Allston, MA
"The fact that The Great Sabatini pull all of these disparate ingredients and influences together into one cohesive album is impressive. This isn't controlled chaos, it's a bacchanalia of the bizarre. 4/5" – About.com
"The Montreal band's AmRep-style noise is energetic enough, often played atop a propulsive d-beat…" – Decibel
"The production on the record is also excellent; courtesy of Sean Pearson (Cursed), the sound is bloody raw with just enough of a stinging, acerbic edge to keep the listener wincing. Dog Years is an example of potential come to thunderous fruition. 8/10" – Exclaim!
"…a raw and unpolished collection of eclectic, metallic anthems that call to mind the heaviest of the Amphetamine Reptile roster with a grumpier, more eccentric twist… a filthy little album that will have your head bobbing violently to the point of cervical fracture. 8/10" – American Aftermath
"The Great Sabatini pushes the boundaries of their take on progressive sludge. The band half-jokingly calls what they play 'swamp trench arithmetic', but the description fits. Dog Years falls somewhere on the scale between Mastodon and The Mars Volta." – Echoes And Dust
"The Great Sabatini are a band for people who just love to wallow in the utter chaos of not knowing what the hell you're going to get thrown at you next. Dog Years is for people who like their music to stink of the stale blood of the maniacs responsible for creating it. Job done then." – Puregrainaudio
"With Dog Years The Great Sabatini walk that perceptive line between brilliance and mad-as-a-hatter. It might take some time and effort to fully appreciate all the depth and nuance to be found but as they say, all good things happen in their own good time. Now let's get crazy!" – Scratch The Surface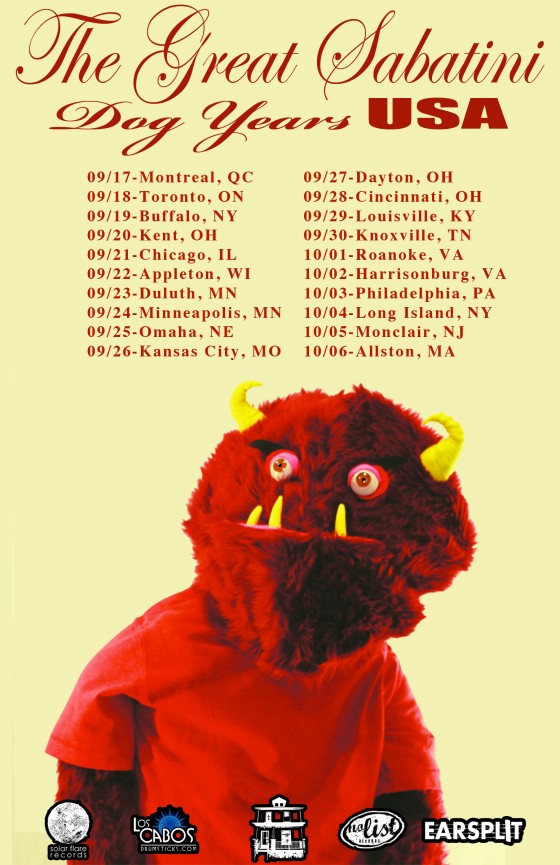 http://www.thegreatsabatini.com
http://thegreatsabatini.tumblr.com
http://solarflarerds.blogspot.com
http://facebook.com/solarflarerecords
http://solarflarerds.bigcartel.com