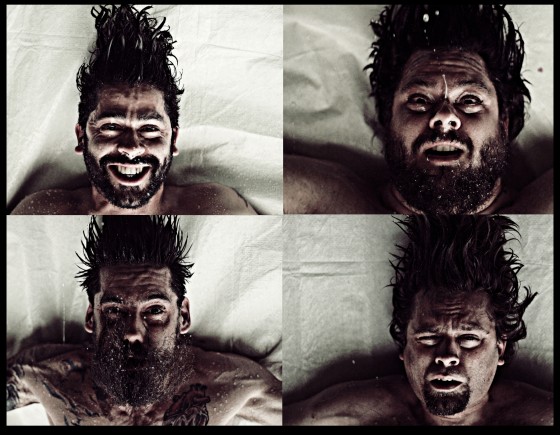 The Montreal-based quartet known as THE GREAT SABATINI is now within three weeks of unveiling the unit's latest noise-ridden masterwork by way of their third LP, the ten-song potpourri of scathing, gelatinous riffage, Dog Years.
The newest single from Dog Years comes by way of the fifth of the record's ten tracks, "Reach." Here, THE GREAT SABATINI shows a bit of a more subdued approach on the track, but only on the surface, as the aggression and scathing madness simply lies buried within its slick riffage. The song is now streaming via American Aftermath, who, in comparing "Reach" to the previously released "Munera" video, state "while it is more on the melodic side of things, it is no less thick and sludgy than 'Munera'. The track's down-tuned, mammoth guitars and equally tremendous low-end have the potential to level cities." When instigated to discuss the approach of the track, the SABATINI simply implied, "This one is a rare instance in which we quit screaming like we had our balls in a vice long enough to try singing like we had our balls in a vice. Not really willing to go all the way clean with it, but it was a slightly different approach. That's all, other than making some kind of stupid joke about it being about my favourite toothbrush or something."
You heard 'em; test your speakers' limits and unload "Reach" with American Aftermath at THIS LOCATION.
Metal Injection also released the "Munera" video RIGHT HERE.
As France's Solar Flare Records preps the record for its June 2nd street date, with digital, CD and both black and transparent red LP pressings due, preorders are available via the label HERE and the band HERE.
THE GREAT SABATINI will begin taking the tunes from the new LP out to the humans beginning in just one week, as the Dog Years North American Tour Runs out of Winnipeg, Manitoba on Saturday, May 24th, then winding its way through the western half of the US and Canada for nearly three weeks before shredding their hometown with the closing show on June 13th. Additional forthcoming tour dates will be announced as they are confirmed.
THE GREAT SABATINI Dog Years North American Tour:
5/24/2014 The Windsor Hotel – Winnipeg, MB
5/25/2014 Amigos – Saskatoon, SK
5/26/2014 Wunderbar – Edmonton, AB
5/27/2014 Funky Winkerbeans – Vancouver, BC
5/29/2014 The Kraken – Seattle, WA
5/30/2014 The Know – Portland, OR w/ Rabbits, Drunk Dad
5/31/2014 Cafe Infoshop – Fresno, CA
6/01/2014 The Rogue Bar – Scottsdale, AZ
6/02/2014 Sister Bar – Albuquerque, NM
6/03/2014 BarBar – Denver, CO
6/04/2014 Burt's Tiki Lounge – Salt Lake City, UT
6/05/2014 Black Sparrow Tattoo Club – Billings, MT
6/06/2014 Dicken's – Calgary, AB
6/07/2014 The Mercury Café – Regina, SK
6/09/2014 Black Pirate's Pub – Thunder Bay, ON
6/10/2014 Moose Lodge – Sault Ste Marie, ON
6/11/2014 Café Dekuf – Ottawa, ON
6/13/2014 Turbo Haus – Montreal, QC
http://www.thegreatsabatini.com
http://thegreatsabatini.tumblr.com
http://solarflarerds.blogspot.com
http://facebook.com/solarflarerecords
http://solarflarerds.bigcartel.com