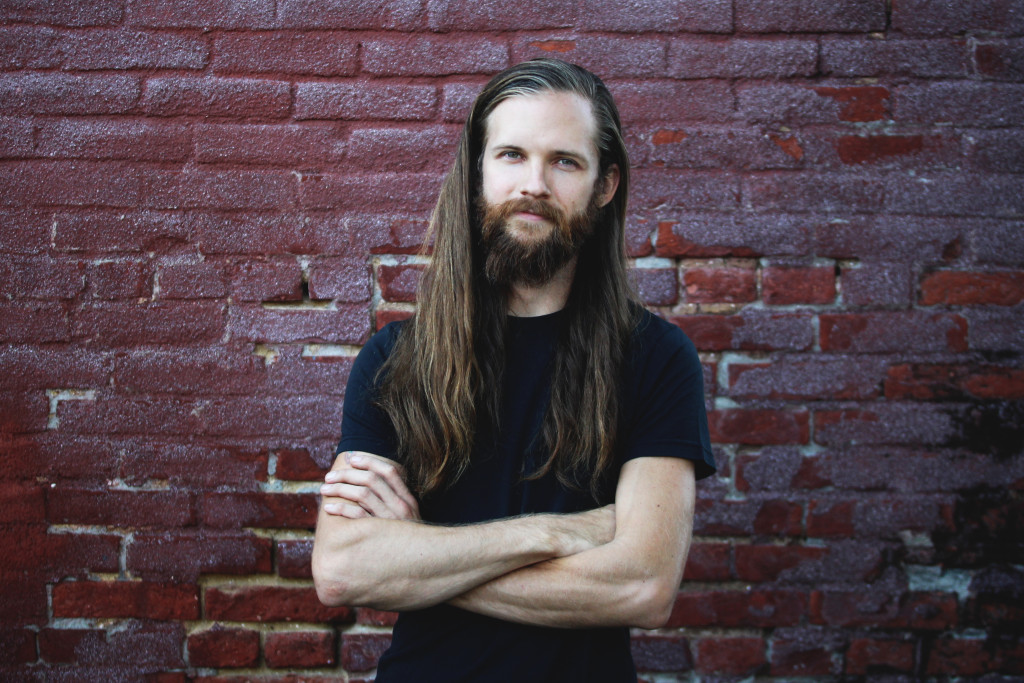 Nefarious Industries is proud to announce the impending release of the epic new concept record from The DRX, titled Throughout Within. The record, written and performed by composer and multi-instrumentalist Dan Romans, features contributions from members of Psalm Zero, Kayo Dot, The Riot Oak, and many others.
New York musician Dan Romans has revivified his compositional entity: the persistent yet rarely observed avant-rock powerhouse, The DRX. Succeeding a five-year gestation, The DRX is birthing its magnum opus Throughout Within, a dense, fifty-seven continuous minutes of cathartic music. The motific concept album effuses lush, emotive sound that expands upon and surpasses the despondent tone and dynamic intensity of previous albums, The Deepening Hole (2011) and Thesis (2009).
The core instrumentation of Throughout Within includes voice, tenor saxophone, keyboard, electric guitar, synth bass, and drum set, with several songs supplemented by additional instrumentation including clarinet, trumpet, flugelhorn, bass saxophone, violin, cello, electric cello, and choir. Subtle drones and sonic elements add breadth and visceral deepening to the resplendent ensemble. Throughout Within was recorded by Jon Grabowski, recorded and mixed by Tyler Hartman, mastered by Carl Saff (Grails, Young Widows), and features musical contributions from Ryan Hare (The Riot Oak), Ed Rosenberg III (Jerseyband, Glue Gun Optimism), Tim Byrnes (Hazel-Rah, Kayo Dot, Stern), Sarah Fylak (Beauchene Skulls), Marie Kim (Blank Paper), Dean Capper, Emily Peal (Pale Gloom, Westeryear), Michelle Silver (The Riot Oak), Arone Dyer (Buke & Gase), Chuck Stern (Stern), and Ron Varod (Kayo Dot, Psalm Zero).
Nefarious Industries will officially release The DRX's Throughout Within digitally on December 30th, 2016. The album's track listing and cover art by Nico Mazza have been released; stand by for audio samples, preorders, and much more to be leaked in the coming weeks.
The poignant narrative of The DRX's output on Throughout Within relates a human rumination on existence, socially and spiritually. The lyrics convey an observation of, and commentary on: oppression, the many forms of modern, inconspicuous slavery; irresponsibility, denial, fear, depression, disconnection, anger, shame, and ultimately, perspective and unity.
Extremely focused and highly crafted song form pervades and dominates Throughout Within. The album's seven seamless songs (which are presented as nine tracks) are marked by recurring motifs, engaging feel, clever structure, compelling verses, and bold choruses that engross the mind and entice repetition.
Inspired composition, meticulous arrangements, and beautiful production form the unique and enthralling character of Throughout Within. Impassioned vocals, contrapuntal leads, and a pulsing rhythm section produce powerful harmonies, memorable melodies; complex, rousing rhythms, and commanding grooves. Dynamics and tension are expertly employed to shape a grand performance that traverses haunting, intimate passages of horns, strings and voice; moving choral passages, riveting polyrhythmic full-band riffs, brutal breakdowns, and heart-crushing, anthemic cadences.
Throughout Within Track Listing:
1. Monsters Wearing Nice Ties
2. Ancient Lie
3. Rotting Swale
4. The End Of Avoiding Consequence
5. As Is To Death
6. Eyes Of Myself
7. Trichotomy – I: Suffering Portal
8. Trichotomy – II: Throughout Within
9. Trichotomy – III: Concentric Beauty
http://www.danromans.com
http://facebook.com/theedrx
http://thedrx.bandcamp.com
http://www.facebook.com/NefariousIndustries
http://www.nefariousindustries.com
http://www.twitter.com/NefariousInd