The following three releases from Germany's Ván Records are finally available in North American stores today: THE DEVIL'S BLOOD's The Time of No Time Evermore, THE RUINS OF BEVERAST's Foulest Semen of a Sheltered Elite, and GRIFTEGÃ…RD's Solemn.Sacred.Severe.
THE DEVIL'S BLOOD – The Time of No Time Evermore
Dutch rock occultists THE DEVIL'S BLOOD have spent the last several years clawing their way through the musical establishment, infecting audiences the world over with their enchanting, seductive, haunting hymns. Hailed for their sublime spiritual rituals as well as their high quality releases — which include their free, 4-track 2007 demo, the Graveyard Shuffle 7″ EP (Ván Records) and 2008's Come, Reap EP (Ván/Profound Lore) — the band have shown their definitive musical vision and clear spiritual path.
The band's debut full-length The Time of No Time Evermore was released in Europe in September of 2009, to amazing reactions and incredibly high ratings from fans and critics alike. The 11-track album showcases some of the most ethereal yet hard-rocking passages the rock genre has to offer. Now available in North America for the first time, THE DEVIL'S BLOOD are determined to spread their sorrowful celebrations across an even wider audience and will do so in the coming year by performing more live rituals over mainland Europe and expanding to other parts of the world.
"…The Time of No Time Evermore sees the Dutch band achieving what much hyped (especially in retrospect) '70s bands like Black Widow and Coven never could: a visionary blend of hard rock, psych rock, acid rock, and even art rock, dripping with obsessively detailed satanic ritual." 4/5 – All Music Guide
"Her voice is haunting, captivating, maddening, like she is trying to get her minions to go shatter worlds for her. The vocals have this character of being both blissful and raging, and they sound like the blissful celebration of lunacy." 9.5/10 – The Metal Observer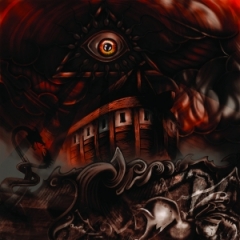 THE RUINS OF BEVERAST – Foulest Semen of a Sheltered Elite
THE RUINS OF BEVERAST is the solo project of Alexander von Meilenwald, known as the ultra-fast, maniacally technical drummer of famed German horde Nagelfar, as well as being a live and/or session member of Truppensturm, Abusus, Verdunkeln and other kult acts. The band has constantly astounded audiences on every release — including 2004's Unlock The Shrine, 2006's Rain Upon The Impure, a split EP with Urfaust and a 4-way split LP with Deathgate Arkanum, Nihil Nocturne and Anti — each album showcasing more forward-thinking progression and more creatively constructed aggression than the last. Foulest Semen Of A Sheltered Elite — the third full-length from THE RUINS OF BEVERAST — was released in Europe mid-September 2009, and immediately became the most critically-acclaimed TROB album to date.
Meilenwald fully self-constructs every element of TROB, taking the veracity and creativity of his brutal percussion, axemanship and synth-laden atmospheres to otherworldly levels on Foulest Semen Of A Sheltered Elite, and pushing the album to the limits with a massive play time of nearly an hour and twenty minutes! The end result is far more involved and intriguing than a simple black metal release; the thunderous, explosive, unnerving, epic and brilliantly frightening album is easily one of the most flooring and unique releases in recent metal history.
"…like Disembowelment's Transcendence Into The Peripheral, Candlemass's Ancient Dreams and Bathory's Under The Sign of the Black Mark gurgling in a hot cauldron lorded over by a lone robed monk in some deep cave." – Decibel Magazine
"… one of those rare acts that transcends music and becomes true art, and with his third album, has cemented his status in the elite category of artists." 10/10 – MetalReview.com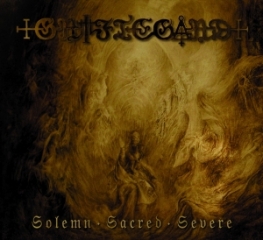 GRIFTEGÃ…RD – Solemn.Sacred.Severe
Swedish for a churchless graveyard, the name GRIFTEGÃ…RD holds a symbolism that is echoed in the musical and textual themes expressed by its members – the aesthetic is clearly spiritual, although non-confessional, just like the atmosphere of a burial ground generally is perceived as solemn, sacred and severe, regardless of whether or not the visitor is aware of which religious current it is a part of. GRIFTEGÃ…RD, in an artistic context, is the burial ground for finite and worldly thoughts and the birth place for ponderings of an infinite and spiritual nature — the superficial, the shallow, the empty – such expressions have no place in GRIFTEGÃ…RD's universe. The core and soul of all is all. To some this may seem as bold, even pretentious, statements for a band to make and to them we say: Dare to drop your armor of cynicism and irony, care to open your dormant mind's eye, gaze inwards, and challenge yourself!
GRIFTEGÃ…RD is comprised of vocalist Thomas Eriksson (Bokor), guitarist/lyricist Ola Blomkvist (Spetälsk, The Doomsday Cult), guitarist Per Broddesson (The Doomsday Cult, Wolverine etc.), bassist Thomas Jansson (Wolverine) and drummer Jens Gustafsson. Solemn.Sacred.Severe was recorded and mixed in Milk Studios, Norrköping, and produced by the band, with co-producer engineer/studio owner Magnus Jonsson. Arguably one of the genre's most eclectic offerings this year, the riff heavy masterwork includes appearances from various friends of the band, all of whom added to the already multi-textured epic doom hymns.
"… nothing less than a spiritual journey. Quite possibly the (yes, the) doom standout of the year thus far." – Metal Army America
"This is beyond recommended. It's essential that you own this album." 10/10 – Funeral Rain Zine