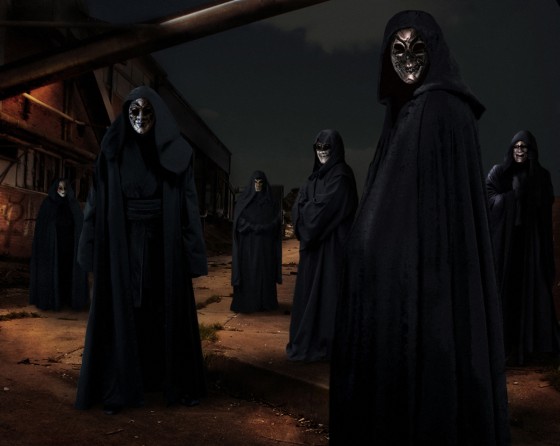 The self-titled debut full-length from London-based cinematic metal sextet THE DEVIL is out now worldwide via Candlelight Records. Recently underworld music portal The Obelisk hosted an exclusive stream of a new track from The Devil, the ominous "Alternative Dimensions." Listen in AT THIS LOCATION.
Earlier this year, THE DEVIL launched the the album campaign via two select videos, which have received over a half a million hits via YouTube thus far. View the visual depictions of "Universe" and "Extinction Level Event" and more on the mysterious musical collective below.
Not a typical metal band, the anonymous masked and cloaked musicians which embody THE DEVIL combine traditional/classic heavy metal with select historical, political and conspiracy-laden oracles, presenting a cinematic soundscape that is sure to strike the fancy of the curious. The 13-track album was crafted at six different recording studios and possesses a sound that is unlike any other you will encounter.
Two songs from The Devil have already been tapped for soundtrack inclusion; "Extinction Level Event" was licensed to upcoming film E.S.P. expected before the end of 2012 and "Divinorium" has been licensed to the upcoming film The Fury, The Fury is being directed by James Colmer (Superman Returns, House of Wax, See No Evil, and features Erica Leerhsen (Blair Witch Project, Texas Chainsaw Massacre) and is expected early 2013.
"…a debut album of dark, cinematic metal that's rife with political and conspiracy-theory overtones." – Alarm Magazine
"The masked band are committed to mystery even to the point of remaining instrumental, letting various samples do the talking for them throughout The Devil's 13 component tracks, which vary some in approach but stick largely to a cinematic style touching on the dramas of '90s Euro doom." – The Obelisk
"The Devil has clearly scrawled a crooked left hand path." – Metal Review
"With the Dystopian heavy narrative and chaotic creation this is defiantly an album to give a listen to if searching for a new style." – Metal Rules
http://www.thedevil.org
http://www.candlelightrecordsusa.com
https://www.facebook.com/CandlelightRecordsUSA