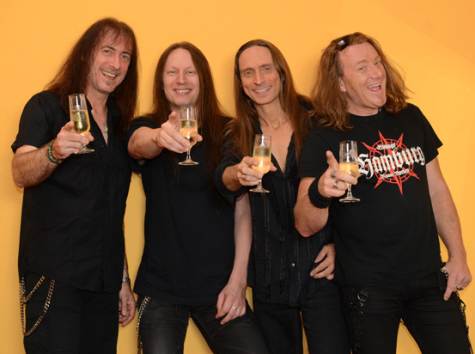 Legendary German power metallers GAMMA RAY will unleash Skeletons & Majesties Live as a two-CD set next month via Eagle Rock imprint Armoury Records. Set for North American release on December 4, 2012, Skeletons & Majesties Live is a near two-hour magnum opus spanning the band's history and includes classics as well as tracks which were under-represented to date. A DVD version will be released stateside in January. Skeletons & Majesties Live was recorded and filmed during the band's 2011 European tour at the legendary Z7 in Pratteln, Switzerland and is the first properly HD-filmed live video production of the band's epic 20+ year career.
"The [2011 released ] EP, Skeletons & Majesties, is practically a continuation of our Skeletons In The Closet concept, in other words: new versions of songs which didn't receive the attention they deserve, as well as unplugged versions of some of our classics," notes founding vocalist/guitarist Kai Hansen.
The DVD offers up a thoroughly gripping performance, from the dynamic openers "Anywhere In The Galaxy" and "Men, Martians And Machines" to the furious finale/Helloween cover "Future World."
As a special bonus, to accompany the Hansen-penned Helloween classic on stage, GAMMA RAY enlisted the services of former Helloween frontman Michael Kiske. In addition, Kiske can be heard and seen on "Time To Break Free" and "A While In Dreamland."
The release of Skeletons & Majesties Live will mark the beginning of an eventful 2013 for GAMMA RAY: After Hansen stayed true to his word and spent 2012 concentrating mainly on his second band, Unisonic, he and his three colleagues, guitarist Henjo Richter, bassist Dirk Schlächter and new addition, drummer Michael Ehré (the Firewind/Love.Might.Kill drummer has replaced Daniel Zimmermann, who left the GAMMA RAY fold on friendly terms) are now focusing exclusively on GAMMA RAY once again. A co-headlining European tour with Helloween has been scheduled for March and will also mark the arrival of a new GAMMA RAY studio recording. Stay tuned for release dates and further details.
"GAMMY RAY will have top priority in 2013," comments Hansen, "and Skeletons & Majesties Live is the perfect harbinger of this!"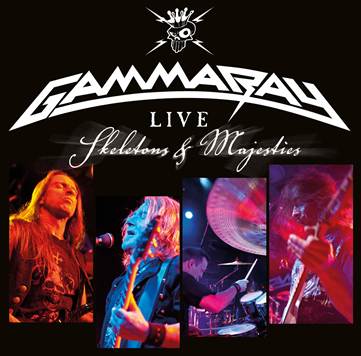 Skeletons & Majesties Live Track Listing:
CD1
01. Welcome (Intro)
02. Anywhere In The Galaxy
03. Men, Martians and Machines
04. The Spirit
05. Wings Of Destiny
06. Farewell
07. Gamma Ray
08. Money
09. Time To Break Free
10. Rebellion In Dreamland (Acoustic)
11. Send Me A Sign (Acoustic)
CD2
01. Induction
02. Dethrone Tyranny
03. Watcher In The Sky
04. Hold Your Ground
05. A While In Dreamland
06. Rise
07. Brothers
08. Insurrection
09. Future World

Skeletons & Majesties Live DVD Track Listing:
01. Anywhere In The Galaxy
02. Men, Martians And Machines
03. The Spirit
04. Wings Of Destiny
05. Farewell
06. Gamma Ray
07. Money
08. Time To Break Free (w/ Michael Kiske)
09. Rebellion In Dreamland (acoustic)
10. Send Me A Sign (acoustic)
11. Dethrone Tyranny
12. Watcher In The Sky
13. Hold Your Ground
14. A While In Dreamland (w/ Michael Kiske)
15. Rise
16. Brothers
17. Insurrection
18. Future World (w/ Michael Kiske)
http://www.facebook.com/gammarayofficial
http://www.gammaray.org
http://www.eaglerockent.com