Hot off of their recent tour through the Central and Northeast US regions following their recently-released Master, We Perish EP, nomadic duo THE BODY is set to embark on their newest auditory warfare excursion this weekend.
This Sunday, June 30th, THE BODY will join Los Crudos, Iron Lung, Talk Is Poison and more at This Is Not a Step Fest in Berkeley, California. Just a few days later, THE BODY will converge with Subservient Fuck for a counter-clockwise slice of touring, beginning in Arcata, California, crossing North to Portland and Seattle and then south through Western Cali with stops in Oakland, La Puente, Los Angeles, Riverside, San Diego and Sacramento confirmed.
THE BODY Live:
6/30/2013 924 Gilman – Berkeley, CA @ This Is Not a Step Fest [info]
7/01/2013 Mex n' Wow – Arcata, CA w/ Subservient Fuck
7/02/203 The Laughing Horse Book And Film Collective – Portland, OR w/ Subservient Fuck
7/03/2013 Black Lodge – Seattle, WA w/ Subservient Fuck
7/04/2013 1234 Go Records – Oakland, CA w/ Subservient Fuck
7/05/2013 Bridgetown – La Puente, CA w/ Subservient Fuck
7/06/2013 East 7th – Los Angeles, CA w/ Subservient Fuck
7/07/2013 Blood Orange – Riverside, CA w/ Subservient Fuck
7/08/2013 Che Café – San Diego, CA w/ Subservient Fuck
7/09/2013 The Press Club – Sacramento, CA
Preaching three anti-life messages, Master We Perish takes the distinctive, matchless attack of earthmoving cult THE BODY to its most corrosive and ominous yet; blackened bursts of noise-drenched, doom fueled by hypnotic, tribal rhythms and penetrating vocal torture. Recorded at Providence, Rhode Island-based Machines With Magnets (Battles, Daughters, Lightning Bolt, Chinese Stars). THE BODY also recruited Leslie Weitz (Otesanek), Chrissy Wolpert (Assembly Of Light Choir) and Reba Mitchell (Whore Paint) for vocal contributions throughout the torrid endeavor adding an array of eerie dynamics to the songs. Master, We Perish is out now on 12″ EP, CD, cassette and digital download via At A Loss Recordings.
Stay tuned as more updates on THE BODY's upcoming release and tour schedule continues to expand, with a new full-length, collaborations with Thou and Krieg and more touring through the year all just a part of what remains in store for 2013.
THE BODY's the horrific videos created for two of the hymns on Master We Perish were both directed by Richard Rankin. Witness "The Ebb and Flow of Tides in a Sea of Ash" and "Worship" below.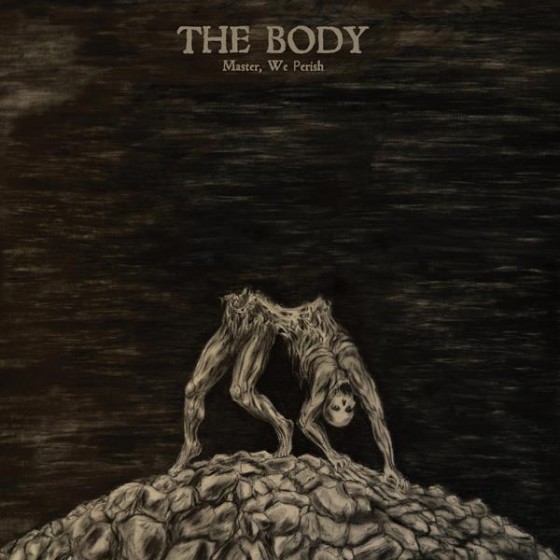 http://www.thebody.bigcartel.com
http://www.facebook.com/pages/the-body/334047229514
http://www.atalossrecordings.com
https://www.facebook.com/atalossrecordings