Next week will see the release of One Day You Will Ache Like I Ache, the fittingly-titled, collaborative debut between apocalyptic doom duo, THE BODY, and grindcore/harsh noise sculptors, FULL OF HELL. Set for release on March 25th via Neurot Recordings, the offering came together during last year's massive North American trek which united both bands. Amidst the chaos of tour life, the two groups found time to record together at Machines With Magnets in Providence, Rhode Island. The session eventually culminated into the harrowing sounds found on One Day You Will Ache Like I Ache, which is ultimately an audio reflection of their surroundings and their inability to cope therein.
As a precursor to its release, Vice's music portal Noisey premieres the video accompaniment to second movement, "Fleshworks." "We went into this track wanting to create a song that was mellow yet driving," elaborates FULL OF HELL vocalist Dylan Walker, "We were certainly channeling a lot of what THE BODY has been moving towards and a lot of what FULL OF HELL has been into for some time. Dave, Lee, Seth and Keith [Machines With Magnets] all played drums on this track at the same time. It was a great feeling to have Chrissy Wolpert of the Assembly Of Light Choir singing on the track as well. Our friend Mitch Wells [Thou] created the video with only the lyrics and basic album themes to guide him. He made something that is very different for both bands and something we are very proud of. He captured what we were writing about from an angle that we hadn't even considered."
Adds Noisey, "The song captures elements of both bands' output and distills it into a new kind of form that you might not expect. A viscous drumline introduces the track, paired with obscured vocals and a covering of static. The combinations of these different elements create a very tense, anxious atmosphere. It's a feeling that's also well-explored in the video, showing a pregnant woman being abducted overlaid with dark, strange photos of a desert landscape."
View the unsettling clip at THIS LOCATION.
Additionally, you can still sample the THE BODY and FULL OF HELL's bastardized rendition of "The Butcher," originally by Leonard Cohen still playing at Cvlt Nation RIGHT HERE as well as The Little Death" still streaming at Spin at THIS LOCATION.
In conjunction with the release of One Day You Will Ache Like I Ache, THE BODY and FULL OF HELL news, the nihilistic union will descend upon Europe together this April. The string of dates see the bands traveling across the Netherlands, Belgium, the United Kingdom, Denmark, Germany, Czech Republic, France, Spain and Portugal, including appearances at the renowned Roadburn Festival and providing support for Converge's "Blood Moon" spectacle at the Electric Brixton, London.
THE BODY + FULL OF HELL European Tour Dates 2016:
4/06/2016 Vera – Groningen, NL
4/07/2016 Magasin 4 – Brussels, BE
4/08/2016 Het Bos – Antwerp, BE
4/09/2016 Ritual Festival @ Canal Mills – Leeds, UK w/ Conan, 40 Watt Sun
4/10/2016 Audio – Glasgow, UK
4/11/2016 Rainbow Cellar – Birmingham, UK
4/12/2016 The Ruby Lounge – Manchester, UK
4/13/2016 Electric Brixton – London, UK w/ Converge "Blood Moon"
4/14/2016 Roadburn Festival – Tilburg, NL
4/16/2016 KB18 – Copenhagen, DK
4/17/2016 Kantine Am Berghain – Berlin, DE
4/18/2016 Klub 007 – Prague, DE
4/19/2016 Feierwerk – Munich, DE
4/20/2016 Jubez – Karlsruhe, DE
4/21/2016 Gaswerk – Winterthur, CH
4/22/2016 La Machine A Coudre – Marseille, FR
4/23/2016 Sidecar – Barcelona, ES
4/24/2016 Moby Dick – Madrid, ES
4/25/2016 Musicbox – Lisbon, PT
4/26/2016 Cave 45 – Porto, PT
4/27/2016 Santana 27 – Bilbao, ES
4/28/2016 Le Saint Des Seins – Toulouse, FR
4/29/2016 La Mecanique Ondulatoire – Paris, FR
4/30/2016 Tivoli De Helling – Utrecht, BE
Neurot Recordings will issue One Day You Will Ache Like I Ache on March 25th, 2016 with preorder bundles available at THIS LOCATION.
"This release never feels like it is heading too much in one direction, managing to stay dynamic and repugnant at all time by switching between tortured doom and frantic attack. That tortured vibe carries through One Day You Will Ache Like I Ache in every choice these bands make, resulting in a record that is both cohesive and hellish, and inevitably providing the perfect soundtrack to the latter. 9/10″ – Pure Grain Audio
"One part noisy electronics, one part thick, droning sludge, one part blast-beat-centric hardcore, and a whole hell of a lot of negative emotions, One Day You Will Ache Like I Ache is the result of two extremely competent bands doing what they do best, together. This is not a pretty record; this is not a subtle record. This album is everything disgusting and vile on this planet mashed into a half-hour of sound. 4.5/5" – HeavyBlogIsHeavy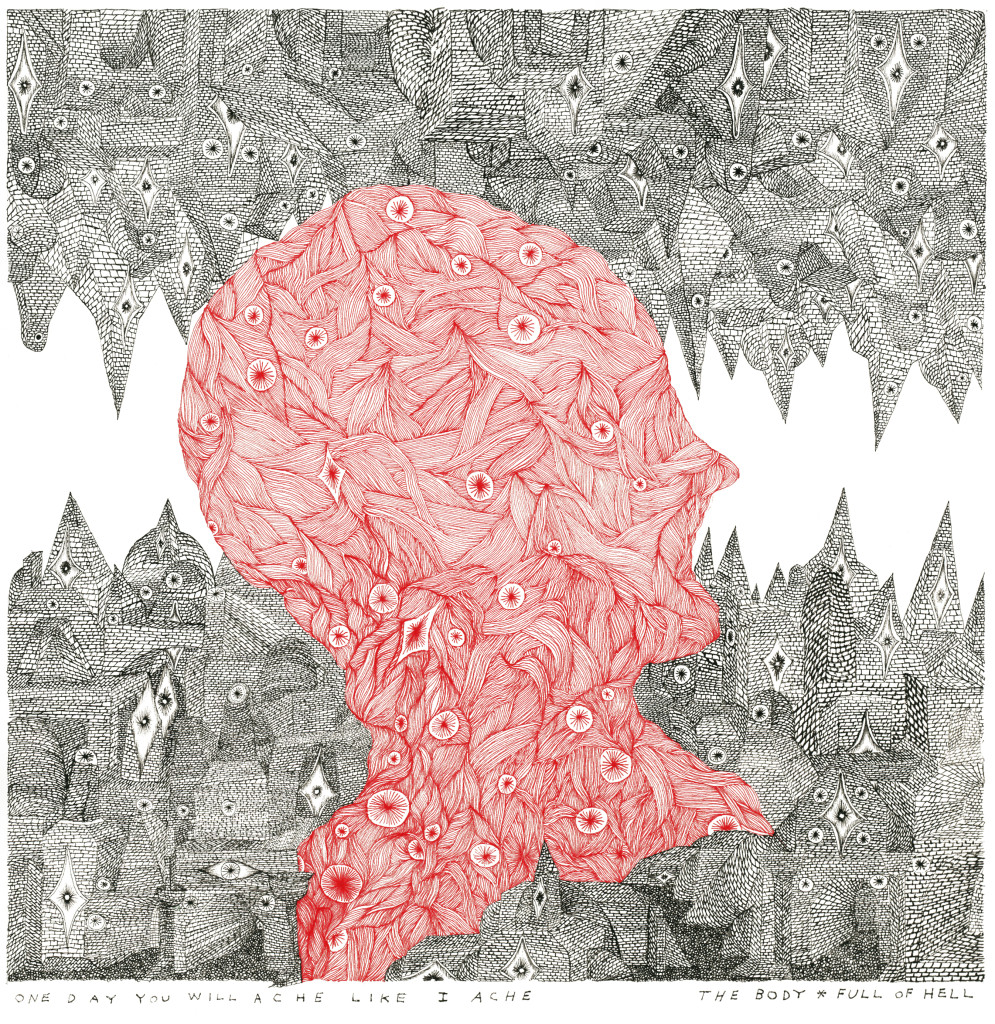 For coverage of THE BODY and FULL OF HELL contact liz@earsplitcompound.com with all North American requests, in Germany contact ansgar@community-promotion.com and across the rest of Europe contact lauren@rarelyunable.com.
http://www.facebook.com/pages/the-body/334047229514
http://www.fullofhell.com
http://www.facebook.com/fullofhell
http://www.neurotrecordings.com
http://www.facebook.com/neurotrecordings