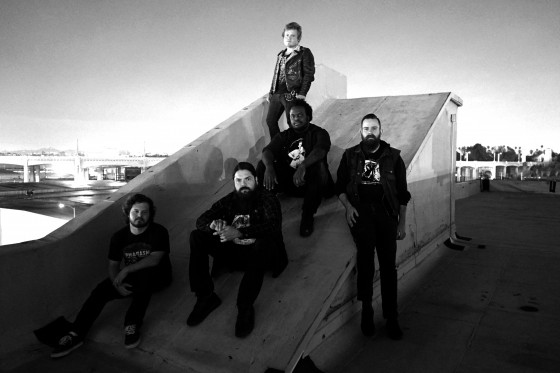 [by Paul Lee]
West Coast crust collective, TEMPLE OF DAGON, will unleash their Revelations Of The Spirit EP this June via Black Voodoo Records. Tracked and mixed by Alex Estrada (Xibalba, Touche Amore, Silver Snakes et al) at Earth Capital Studios in Los Angeles, California and mastered by Dan Randall (Cannabis Corpse, Iron Reagan, Fucked Up et al) at Mammoth Sound in Alameda, California, Revelations Of The Spirit is a four track manifestation of audio punishment based on the life and times of central character, the Horrid King. It's the sound of self-loathing, self-reflection, self-acceptance and self-love. "Sometimes we lose ourselves in the eyes of other people and forget our own perspective," espouses the band. "Eventually we learn that we need to get back to the being we're meant to be and not let outside influences affect our purpose. The 'revelation of the spirit' is the moment when you realize you have lost your path and the time to return to your true self is upon you."
Revelations Of The Spirit Track Listing:
1. The Evocation
2. The Horrid King
3. The Wandering Spirit
4. Nexus Of Reality
Influenced by '90s-era crust, stenchcore, death metal, thrash, and Lovecraftian lore, TEMPLE OF DAGON was forged in 2009 and quickly reaped an underground following with the release of their clobbering Book Of Azathoth EP. Following a glut of shows and various personnel changes, the band went on to record and self-released their 2010 debut, Rituals Of The Deep. Further blending their crust, punk, thrash, and death metal roots with a heavy dose of d-beat and blasts, the record earned further adulation from hordes in the know with Thrash Head commending the band's, "pure fucking brutality," further offering, "this is not only energetic and angry, but even aesthetically melodic with bridging riffs in all the right places! And the vocal dueling going down is heavy, aggressive protestation…This is truly sick!" Added The Bonesaw who named TEMPLE OF DAGON Band Of The Week, "A band whose lyrics are centered around H.P. Lovecraft's tales of terror, TEMPLE OF DAGON unleashes a unique breed of metal blending death metal, thrash metal, doom, crust punk and New York influenced hardcore grooves." 2015 finds the band at their most volatile. Having shared stages with the likes of Eyehategod, Hellshock, Doom, Hellbastard and so many others, boasting their most solid lineup to date and a drive unmatched by their peers, Revelations Of The Spirit is wholly scathing in sound, mind and spirit.
Revelations Of The Spirit will be unleashed on June 9th, 2015 digitally and on 10″ vinyl via Black Voodoo Records with preorders to be announced in the coming weeks.
In conjunction with the release, TEMPLE OF DAGON will raze the stages of a dozen cities beginning with an official record release show on June 6th. The following week the band will bring their diseased psalms to Oakland, Portland, Seattle, Denver, Minneapolis, Madison, Chicago, New Orleans, Austin and Phoenix as well as Cruststock 2015 in Anaheim with additional live trauma to be announced soon.
TEMPLE OF DAGON:
6/06/2015 East 7th Punx Warehouse – Los Angeles, CA [info]
6/14/2015 House Show – Oakland, CA
6/15/2015 Blackwater Bar – Portland, OR
6/16/2015 The Mix – Seattle, WA
6/18/2015 Club Scum – Denver, CO
6/19/2015 Hexagon Bar – Minneapolis, MN
6/20/2015 TBA – Madison, WI
6/21/2015 Mousetrap – Chicago, IL
6/23/2015 Spitfire – New Orleans, LA
6/25/2015 The Lost Well – Austin, TX
6/26/2015 TBA – Phoenix, AZ
6/27/2015 Cruststock 2015 @ The Music Hall – Anaheim, CA
TEMPLE OF DAGON:
Dwane Burgess – vocals
Kyle Hertz – guitar
Jacob Smyle – guitar
Alex LiCausi – bass/backing vocals
Nelson Lopez – drums
For review links, interviews and guest list requests contact liz@earsplitcompound.com.
http://www.facebook.com/templeofdagon
http://www.twitter.com/templeofdagon
http://www.templeofdagon.bandcamp.com
http://www.youtube.com/channel/UCGsEV5bdsrDVeM0T-MiKtdA
http://www.blackvoodoorecords.bandcamp.com
http://www.irishvoodoorecords.com
http://www.warlordclothing.com