"Foul Play" is the brand new single from Poland's grind innovators, ANTIGAMA, culled from their impending seventh LP, The Insolent, which is now less than two weeks from release via Selfmadegod Records. The new track strikes today through a premiere with Blow The Scene, one of the sponsors of ANTIGAMA's upcoming US tour with labelmates Drugs Of Faith, alongside an exclusive interview with the band about their upcoming album release invasion.
Unload ANTIGAMA's "Foul Play" via Blow The Scene now at THIS LOCATION.
The Insolent's "Used To" is also playing HERE and a trailer for the album is playing HERE.
Preorders for multiple physical versions of The Insolent are available. The album is available on cassette, eco-pack/gatefold digisleeve CD, black 12″ gatefold LP, and a translucent 12″ gatefold LP, limited to 100 copies worldwide. All four versions are now available for preorder in the US via Selfmadegod's stateside mailorder outlet, Earsplit Distro, RIGHT HERE, and internationally from Selfmadegod HERE.
ANTIGAMA's upcoming Northeastern US tour in conjunction with their return appearance to Maryland Deathfest will begin less than a week after the release of The Insolent. Presented by Blow The Scene, Selfmadegod and Earsplit, beginning on May 13th, ANTIGAMA will scorch their way through New York, Rhode Island, New Jersey, Pennsylvania, Washington DC, and Virginia on the Blast the East Coast Tour, concluding at Maryland Deathfest where the band will storm Baltimore Soundstage on Saturday, May 23rd alongside Agoraphobic Nosebleed, Backslider, Cephalic Carnage, Engorged, Full Of Hell, Inter Arma, Martyrdöd, Wolfbrigade and more. The tour leading up to MDF will see direct support from Selfmadegod labelmates, Drugs Of Faith, and both bands will be main highlights of Mildfest Vol. 1: The Grinding, alongside The Communion, Organ Dealer, Earthling, Pink Mass, Sentience, Toxicology and Gorscum on May 15th in Clifton, New Jersey. The first thee dates of the tour will feature The Communion.
ANTIGAMA Blast the East Coast US Tour w/ Drugs Of Faith:
5/13/2015 Nihil Gallery – Brooklyn, NY w/ The Communion, Buckshot Facelift [info]
5/14/2015 The Funky Jungle – Providence, RI w/ The Communion [info]
5/15/2015 Clash Bar – Clifton, NJ @ Mildfest w/ The Communion, Organ Dealer, Pink Mass, more [info]
5/16/2015 Second Empire – Philadelphia, PA w/ Infernal Stronghold [info]
5/17/2015 Smash! – Washington, DC [info]
5/18/2015 Cellar Door – Annandale, VA [info]
5/19/2015 Strange Matter – Richmond, VA [info]
5/20/2015 Main Street Annex – Charlottesville, VA [info] w/ Earthling
5/23/2015 Baltimore Soundstage – Baltimore, MD @ Maryland Deathfest [no Drugs of Faith]
Following the impact of their massive 2013-released Meteor LP, ANTIGAMA will once again scar the planet with the inundation of The Insolent. Seeing the band further along their ongoing path of progression, The Insolent contains another intriguing alloy of their futuristic grind savagery heavily diversified with cosmic exploration and harsh dissonance through ten new tracks of unorthodox, rapid forward-thinking metal. Recorded in February at JNS Studio in Warsaw, The Insolent was engineered by Pawel Grabowski, mixed by Pawel Grabowski and the band, and mastered by Scott Hull at Visceral Sound in Bethesda, Maryland (Pig Destroyer, Agoraphobic Nosebleed), the album features a very special guest appearance of the legend of Polish electronic music scene, WÅ'adysÅ'aw "Gudonis" Komendarek, and bears cover art designed by Bartek Rogalewicz.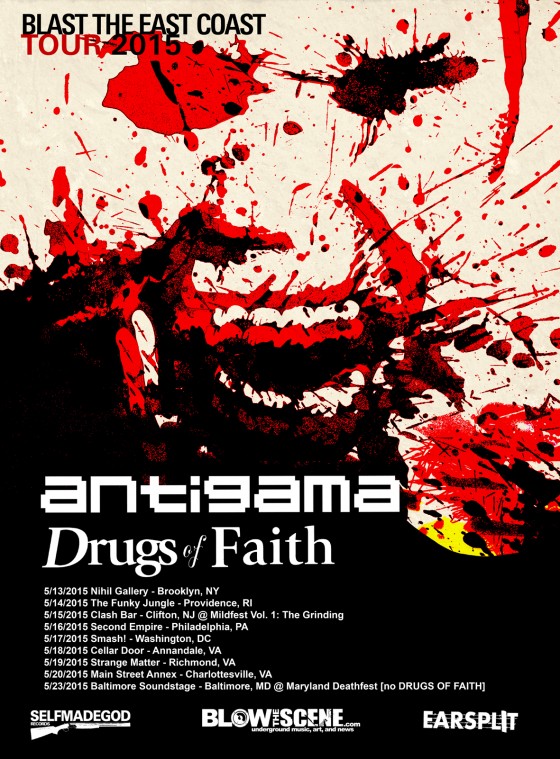 http://www.facebook.com/antigama
http://twitter.com/antigama
http://www.selfmadegod.com
http://www.youtube.com/user/SelfmadegodRecords
http://www.facebook.com/selfmadegod
http://twitter.com/selfmadegodrec
http://www.earsplitdistro.com