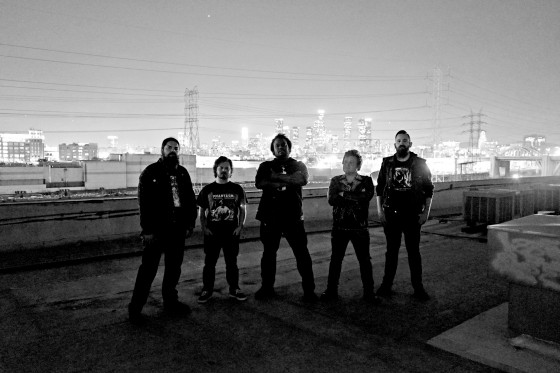 [photo by Paul Lee]
With the official unveiling of their Revelations Of The Spirit EP now just one week away, today West Coast crust collective, TEMPLE OF DAGON, unleashes the final movement of their four-track journey with "Nexus Of Reality," now playing at Cvlt Nation.
Based on the life and times of central character, the Horrid King, Revelations Of The Spirit is a cleansing of sorts – rich, scathing and continually illuminating. A soundtrack to self-loathing, self-reflection, self-acceptance and self-love. "The song is loosely based on the H.P. Lovecraft story, The Colour Out Of Space," elaborates vocalist Dwane Burgess of the latest track teaser, "The location has been switched to a swamp. In my version of the story, the main character consumes the infected plant and wildlife. Then while floating in the river his mind begins to drift as the effects of the altered plants and meat take hold. While in a trance-like state, he realizes who he once was, and who he wants to be. It's about self-reflection," he continues. "There are moments in life when we are gifted with absolute clarity. This is one of those moments. As far as the music, we were shooting for a metal punk/crust feel, like Inepsy meets Stormcrow with a hint of Bolt Thrower."
Adds Cvlt Nation, "TEMPLE OF DAGON's basslines are mammoth and filled with caustic fury, and they get me hyped with each listen. I can't forget the apocalyptic riffs dipped in the blood of our downpressors that offer the perfect backdrop for the off-the-chain vocals… In crust we trust…"
Additionally, third track, "The Wandering Spirit," is still available for communal ingestion via Invisible Oranges at THIS LOCATION.
In conjunction with the release, TEMPLE OF DAGON will raze the stages of a dozen cities beginning with an official record release show on June 6th. The following week the band will bring their diseased psalms to Oakland, Portland, Seattle, Denver, Minneapolis, Madison, Chicago, New Orleans, Austin and Phoenix as well as Cruststock 2015 in Anaheim with additional live trauma to be announced soon.
TEMPLE OF DAGON:
6/06/2015 East 7th Punx Warehouse – Los Angeles, CA [info]
6/14/2015 House Show – Oakland, CA [info]
6/15/2015 Blackwater Bar – Portland, OR [info]
6/16/2015 The Mix – Seattle, WA [info]
6/18/2015 Club Scum – Denver, CO [info]
6/19/2015 Hexagon Bar – Minneapolis, MN [info]
6/20/2015 Warehouse Show – Madison, WI [info]
6/21/2015 Mousetrap – Chicago, IL [info]
6/23/2015 Spitfire – New Orleans, LA
6/25/2015 The Lost Well – Austin, TX [info]
6/26/2015 Palo Verde Lounge – Phoenix, AZ [info]
6/27/2015 The Music Hall @ Cruststock 2015 – Anaheim, CA [info]
Influenced by '90s-era crust, stenchcore, death metal, thrash, and Lovecraftian lore, TEMPLE OF DAGON was forged in 2009 and quickly reaped an underground following with the release of their clobbering Book Of Azathoth EP. Following a glut of shows and various personnel changes, the band went on to record and self-release their 2010 debut, Rituals Of The Deep. Further blending their crust, punk, thrash, and death metal roots with a heavy dose of d-beat and blasts, the record earned further adulation from hordes in the know with Thrash Head commending the band's, "pure fucking brutality," further offering, "this is not only energetic and angry, but even aesthetically melodic with bridging riffs in all the right places! And the vocal dueling going down is heavy, aggressive protestation…This is truly sick!"
Revelations Of The Spirit was captured by Alex Estrada (Xibalba, Touche Amore, Silver Snakes et al) at Earth Capital Studios in Los Angeles, California and mastered by Dan Randall (Cannabis Corpse, Iron Reagan, Fucked Up et al) at Mammoth Sound in Alameda, California, and is a pure and menacing manifestation of audio punishment.
Revelations Of The Spirit will be unleashed on June 9th, 2015 digitally and on 10″ vinyl via Black Voodoo Records. For preorders go to THIS LOCATION.
http://www.facebook.com/templeofdagon
http://www.twitter.com/templeofdagon
http://www.templeofdagon.bandcamp.com
http://www.youtube.com/channel/UCGsEV5bdsrDVeM0T-MiKtdA
http://www.blackvoodoorecords.bandcamp.com
http://www.irishvoodoorecords.com
http://www.warlordclothing.com