[photo by Niela Von Till]
Neurosis guitarist/vocalist and Neurot Recordings founder, STEVE VON TILL, reveals a string of European live dates in support of his latest solo album, the immense and celestial, A Life Unto Itself. From June 29th through July 5th, SVT will trek through the UK, Germany and France.
STEVE VON TILL Solo Shows:
6/29/2015 St Pancras Old Church – London, UK
7/01/2015 Jägerklause – Berlin, DE
7/02/2015 UT Connewitz – Leipzig, DE
7/03/2015 Jubez – Karlsruhe, DE
7/04/2015 La Peniche – Lille, FR
7/05/2015 Espace B – Paris, FR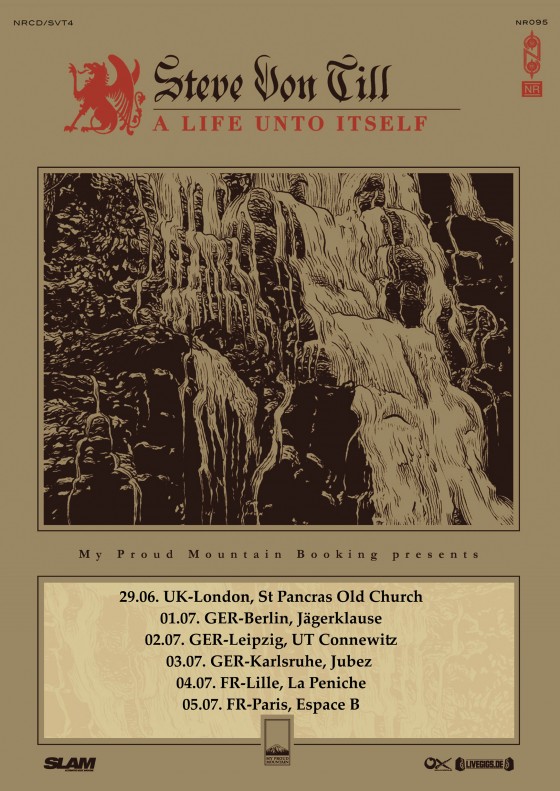 A Life Unto Itself ventures into compelling uncharted territory for its maker. STEVE VON TILL's weathered, distinctive voice and sparse acoustic guitar provides a foundation, but a much wider variety of sonic textures are presented here. Bold and ambitious arrangements weave vintage synth, sublime strings, percussion, and electric guitars throughout these unique and expansive songs, as VON TILL's raspy whisper dives deeply inward, and speaks genuinely of visions, memories, and self-reflection in a way that feels both seasoned and exposed.
The majority of A Life Unto Itself was captured at Avast! Recording Co. in Seattle under the direction of producer Randall Dunn (Earth, Sunn O))), Wolves In The Throne Room, Marissa Nadler and Rose Windows), with additional recordings handled at STEVE VON TILL's own The Crow's Nest, and the final product was mastered by Jason Ward at Chicago Mastering Service. With guest viola contributions from Eyvind Kang, pedal steel from J. Kardong, and percussion courtesy of Pat Schowe, the album is enshrouded in artwork bearing the recognizable style of Aaron Turner (Sumac, Isis, Old Man Gloom, Hydra Head). All of these factors culminate into a twelve-passage voyage with over forty-five minutes of stirring textures which drill their way immediately to the core of your bones, gnaw your heart's defense mechanisms to their foundations, and invoke a wellspring of emotions.
Stream A Life Unto Itself in its entirety RIGHT HERE.
A Life Unto Itself LP is out now via Neurot Recordings. Packages for the digital download, CD, and 12″ LP on both black and red vinyl, including t-shirt bundles, are AVAILABLE HERE.
http://www.vontill.org
http://www.facebook.com/SteveVonTill
http://www.neurotrecordings.com
http://www.facebook.com/neurotrecordings