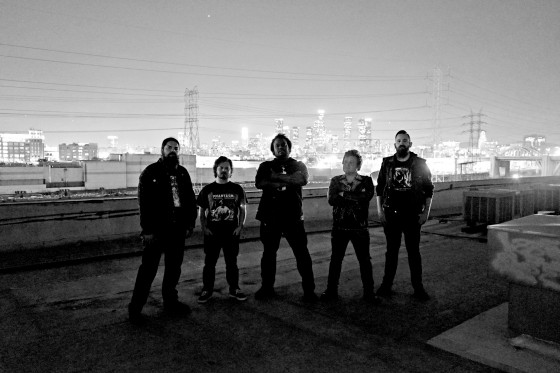 [photo by Paul Lee]
Revelations Of The Spirit is the latest EP from West Coast crust metal malefactors, TEMPLE OF DAGON. Officially available for public destruction TODAY, the Lovecraftian-inspired, four-track mauler is currently streaming in its vicious entirety at No Clean Singing.
Rich, contemptuous and incessantly illuminating, Revelations Of The Spirit is a veritable soundtrack to self-loathing, self-reflection, self-acceptance and self-love loosely based around the life and times of central character, the Horrid King. Tracked by Alex Estrada (Xibalba, Touche Amore, Silver Snakes etc.) at Earth Capital Studios in Los Angeles, California and mastered by Dan Randall (Cannabis Corpse, Iron Reagan, Fucked Up etc.) at Mammoth Sound in Alameda, California, Revelations Of The Spirit is a pure, honest and perpetually menacing manifestation of audio punishment. Cvlt Nation hails the band's "caustic fury," and, "apocalyptic riffs dipped in the blood of our downpressors." Rock! Shock! Pop! agrees, "With only four songs, this one does its job… It's raw without sounding bad (in fact the production is rock solid) and is interesting, creative, intense and heavy all at the same time. Definitely worth checking out." Massive Movement rallies, "This is the sound of celestial destruction made flesh… I can't get enough of, and can't stop playing, this glorious record," while Metal Junkie adds accurately and eloquently, "Solid as a good, hard fuck, TEMPLE OF DAGON's four track EP will definitely leave you walking funny."
Trailing teasers from Invisible Oranges and Cvlt Nation, today No Clean Singing offers up Revelations Of The Spirit in full calling the offering, "one of the heaviest and most electrifying things I've heard all year. The riffs are massive. The guitar leads are infectious. The bass lines are pavement-cracking. The drum blows are spine-shaking. The vocals are raw and ravenous. The music is both savage and scintillating, fusing elements from a variety of genres, from crust/punk to thrash to concussive Bolt Thrower-style death metal. It's a paragon of head-wrecking metal."
Hear Revelations Of The Spirit, courtesy of No Clean Singing, at THIS LOCATION.
Following a special record release show this past weekend, TEMPLE OF DAGON will pillage their way through eleven cities later this month waging their diseased psalms upon Oakland, Portland, Seattle, Denver, Minneapolis, Madison, Chicago, New Orleans, Austin and Phoenix as well as Cruststock 2015 in Anaheim with additional live trauma to be announced soon.
TEMPLE OF DAGON:
6/14/2015 House Show – Oakland, CA [info]
6/15/2015 Blackwater Bar – Portland, OR [info]
6/16/2015 The Mix – Seattle, WA [info]
6/18/2015 Club Scum – Denver, CO [info]
6/19/2015 Hexagon Bar – Minneapolis, MN [info]
6/20/2015 Warehouse Show – Madison, WI [info]
6/21/2015 Mousetrap – Chicago, IL [info]
6/23/2015 Spitfire – New Orleans, LA
6/25/2015 The Lost Well – Austin, TX [info]
6/26/2015 Palo Verde Lounge – Phoenix, AZ [info]
6/27/2015 The Music Hall @ Cruststock 2015 – Anaheim, CA [info]
Influenced by '90s-era crust, stenchcore, death metal, thrash, and Lovecraftian lore, TEMPLE OF DAGON was forged in 2009 and quickly reaped an underground following with the release of their clobbering Book Of Azathoth EP. The band later went on to record and self-release their 2010 debut, Rituals Of The Deep. Further blending their crust, punk, thrash, and death metal roots with a heavy dose of d-beat and blasts, the record earned further adulation from hordes in the know.
Revelations Of The Spirit is out TODAY digitally and on 10″ vinyl via Black Voodoo Records. For physical orders visit THIS LOCATION. For digital orders, go HERE.
For review links, interviews and guest list requests contact liz@earsplitcompound.com.
http://www.facebook.com/templeofdagon
http://www.twitter.com/templeofdagon
http://www.templeofdagon.bandcamp.com
http://www.youtube.com/channel/UCGsEV5bdsrDVeM0T-MiKtdA
http://www.blackvoodoorecords.bandcamp.com
http://www.irishvoodoorecords.com
http://www.warlordclothing.com