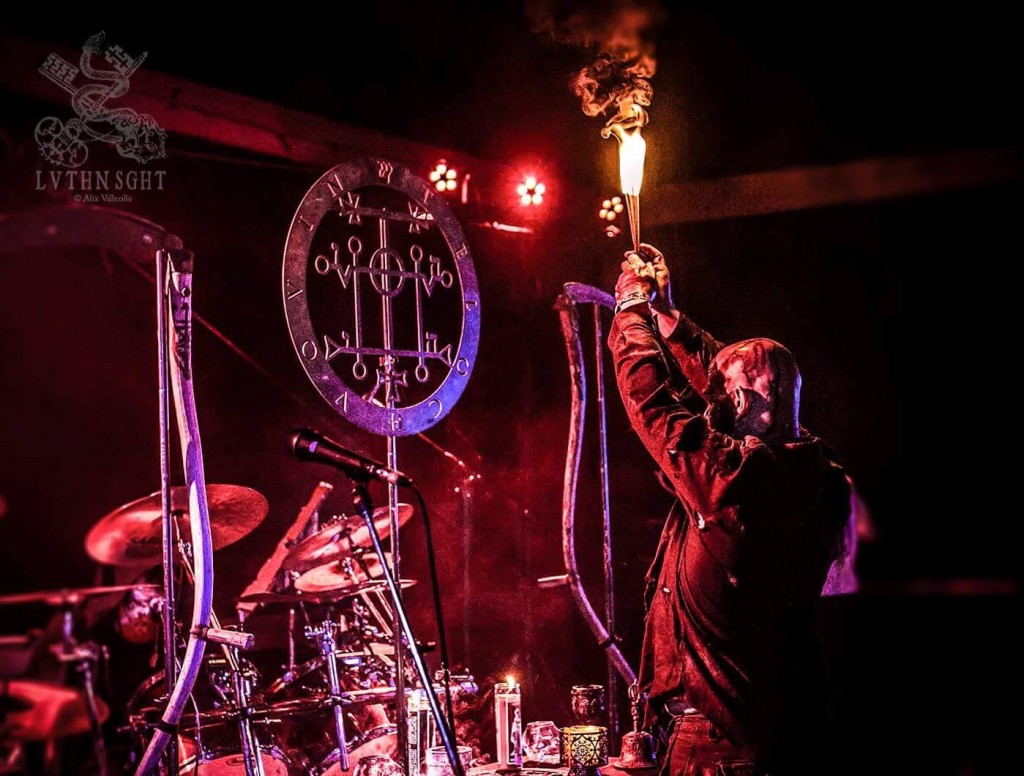 "Bereft of limits the aeons they tremble, shards of the vessels shattered sets the spirit free. Ascending the Tree, the Serpent, thy Spine, the Spheres of creation negated, nullified in there turn. Bereft of Limits and the Laws of cause, Kether devoured, the essence reborn, the Serpent sheds all forms."
TELOCH VOVIN has issued the latest installment of their ongoing Psalms Ov Khaos sequence, offering "Filius Dei Sum Nihil, Sum Non" on this, the Winter Solstice.
The New York-based TELOCH VOVIN coven began the Psalms Ov Khaos singles series on the 2015 Winter Solstice, having released a new song in the sequence on each changing of the seasons since. The intent of the series is to shed further Black Light upon the electronic and ambient instrumentation and ritualistic elements of the band's primal, occult black metal attack. The Psalms Ov Khaos series will continue, with new tracks being issued on the current quarterly seasonal shift schedule throughout the coming months until all eleven individual Psalms are released. This is when TELOCH VOVIN will amass the works onto a physical package, which will include individual pieces of art work for each Psalm for a disorientating dance with divine madness.
TELOCH VOVIN issues with the latest track in the series, "'Filius Dei Sum Nihi, Sum Non' translates to, 'I am a son of the nothingness, I have none.' Sum none-I have none, is a name of Initiation and relates here to having no god(s) over you but a connection to the Gods of the Primal Void thru the Self." The art for the track was painted by band ally Joshua Guandique, inspired by vision he had, inspired by the band's music.
Enter another realm of consciousness with "Psalms Ov Khaos — Filius Dei Sum Nihil, Sum Non" at THIS LOCATION.
The next installment of Psalms Ov Khaos of course sees release on the Spring 2017 Equinox. TELOCH VOVIN is also nearly finished with their track, "Treatise On The Left Emanation," which will engulf the band's upcoming split LP with Grave Gnosis, as well as the final tracks for their debut full-length, both for release in 2017.
The band is booking new live performances for 2017, having been confirmed to play at the rescheduled Rage Of Armageddon fest taking place in Brooklyn this Spring. TELOCH VOVIN will play the second day, Saturday, April 8th, alongside Eliminate, Deceased, At War, Blood Feast, and more.
More studio and live updates will be available in the coming weeks.
TELOCH VOVIN Live:
4/08/2017 The Paper Box – Brooklyn, NY [info]
http://www.facebook.com/TelochVovinOfficial
http://www.telochvovin288.bandcamp.com
http://www.scalesofvovin333.bigcartel.com
http://www.reverbnation.com/telochvovin