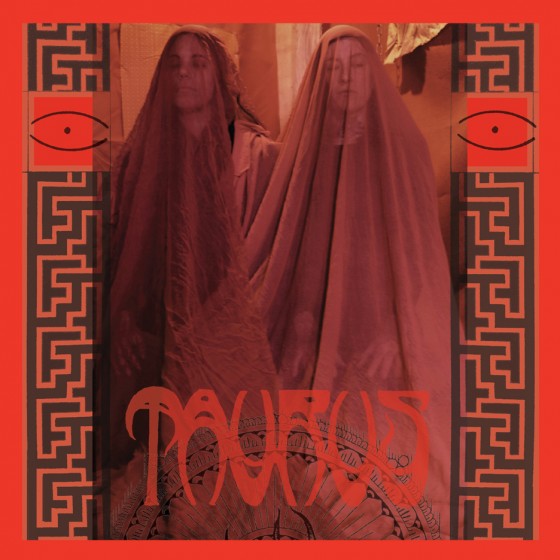 With the official unveiling of No/Thing, the forthcoming new offering from psychedelic doom/drone duo, TAURUS, less than a week away, The Onion's A.V. Club brings you fourth movement, "Increase Aloneness," featuring guest vocal infusions by longtime comrade/producer, Billy Anderson.
Elaborates A.V. Club of the forbidden hymn, "The Portland duo… employ organ, synthesizer, samples, ukulele, thunderous guitar riffs, and voices that veer from spoken-word chants to infernal ethereality; their new full-length, No/Thing, unearth depths of psychedelic despair and sinuous ritualism that few have coaxed forth before."
Lose yourself in "Increase Aloneness," now streaming RIGHT HERE.
Featuring Stevie Floyd of Dark Castle and Ashley Spungin, formerly of Purple Rhinestone Eagle/Negative Queen, No/Thing was recorded to two-inch tape at Portland's Cloud City Studios and delivers five habitually disturbing avant doomscapes set within a tranquil nightmare of awkward blackened death metal riff cascades. Featuring guest vocals by Anderson, as well as Leviathan's Wrest, No/Thing is a spiritually godless journey in sound, mind and body reaping critical hails from exploratory journalists booth stateside and abroad.
Last Rites notes of the sonic ritual, "Like deciphering some arcane, cultic language, only to realize too late upon decoding it, you ought not have meddled with forces you don't understand, Taurus' No/Thing is a Pandora's Box of psychotomimetic forbidden treasures, as enthralling as it is unsettling; Creepy-crawl siren songs for self-imposed self-immolation," Wonderbox Metal opines, "Each of these five songs is a nihilistic trip into other cultures that may or may not exist in our reality. It is a privilege to experience these slices of unreality and the band know this, reveling in their status as elite tour guides to places alternate," while Echoes And Dust adds, "No/Thing is an insanely beautiful explosive piece of musical art that explores life and inevitable death, something that nobody can escape from so dry up those blood stained eyeballs and buy it."
TAURUS defines rehearsed spontaneity; organized mathematical rhythms of the timeless organic. Their view, not of man but an abstraction. The abstract is real, the actual is invisible. It is their sense of space and time; seeing through the here and now, into the vast black deep beyond, the unchanging… Life is an interval. The cosmic process is hurrying on, crushing life back into granite and methane. The wheel constantly turns for all Life… yet all Life is temporary. All creating and recreating. Each movement so important. Each space equally as relevant. We are dust.
No/Thing will be released independently on April 1st, 2014 via TAURUS' official Bandcamp page at THIS LOCATION.
http://taurusisdust.bandcamp.com
http://www.facebook.com/TaurusIsDust