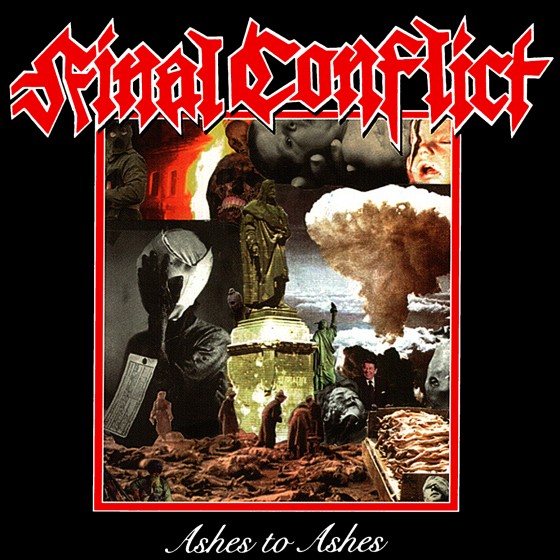 The mischief makers at Tankcrimes are extremely honored to announce the reissue of Ashes to Ashes, the 1987 debut LP from legendary Los Angeles hardcore punk assassins, FINAL CONFLICT.
Influenced by the British punk severity of bands like Discharge and one of the first groups to fuse hardcore's simplistic and manic audio fury and heavy metal's musicianship with any degree of success, the spiky-haired punks in FINAL CONFLICT manifested a sound that would go on to be emulated by hundreds of bands to come, none ever reaching the level of raw power this LP delivered. Originally issued on Pushead's Pusmort Records in 1987 then later released via Relapse Records in 1994, this monumental release now find's a new home at Tankcrimes Records.
Available on vinyl and 2CD, the original Ashes To Ashes tapes were found, baked, restored and transferred by Ulysses Noriega at The Laundry Room Recording Studio in Los Angeles, California and remastered by Jack Control at Enormous Door Studios in Austin, Texas. The 2CD version includes the 1985 Demo on the bonus disk while the vinyl edition includes 12″ x 12″ 24-page book with lyrics, photos, flyers, commentary and more plus a foldout poster. The first pressing comes on in three color schemes: splatter (mailorder exclusive), red and black wax.
In commemoration of its release, today Vice's music portal, Noisey, offers up a stream of "Abolish Police."
Relays Noisey, "If we can learn one thing from FINAL CONFLICT, it's that songs about cops being assholes will never get old. Case in point: their song 'Abolish Police' off of 1987's Ashes To Ashes hasn't aged a day. Sure, punx will only fight the police on Twitter nowadays and maybe some of them even grew up to become cops themselves. But still, the police state-smashing sentiment still rings true."
Get rowdy with "Abolish Police," now playing at THIS LOCATION.
Ashes To Ashes Track Listing:
1. Apocalypse Now!
2. One Answer
3. Private War
4. Crucifixion
5. Abolish Police
6. Shattered Mirror
7. Burial Service
8. What Kind of Future
9. Constant Fear
10. Political Glory
11. Central America
12. Outcasts
13. Self-Righteous Pigs
14. The Last Sunrise
In related news, FINAL CONFLICT will bring their sonic chaos to Trankcrimes' Brainsqueeze Fest next month. Additionally, the band will raze the Maryland Deathfest, The Punk Rock Bowling And Music Fest and a special show on June 14th with 1984 featuring Sothira and Jimmy from iconic hardcore punks Crucifix.
FINAL CONFLICT:
4/18/2014 Tankcrimes Brainsqueeze – Oakland, CA
5/23/2014 Maryland Death Fest – Baltimore, MD
5/24/2014 Punk Rock Bowling – Las Vegas, NV
6/14/2014 Observatory – Santa Ana, CA w/ 1984 (Sothira and Jimmy from Crucifix performing Dehuminazation in full for 30-year anniversary)
Ashes To Ashes will be released via Tankcrimes Records on April 15, 2014. Preorder you copy TODAY at THIS LOCATION.
http://www.facebook.com/events/201756163348784
http://tankcrimes.com
http://www.tankcrimes.com/aboo
http://www.facebook.com/tankcrimes