Preceding the release of their latest ramming anthems, about to strike in the form of the We Hate The Sea EP, New Jersey raiders, SWASHBUCKLE, will embark on their East Coast North American skirmish with Nekrogoblikon this weekend. From this Sunday, August 3rd, through the 17th, the two acts will crusade up the American Main, including three shows in Canada.
SWASHBUCKLE Tour w/ Nekrogoblikon:
8/03/2014 Championships – Trenton, NJ
8/05/2014 Brighton Music Hall – Boston, MA
8/06/2014 Webster Hall/Studio – New York, NY
8/07/2014 Simon's 677 – Providence, RI
8/09/2014 Katacombes – Montreal, QC
8/10/2014 Mavericks – Ottawa, ON
8/11/2014 Sneaky Dees – Toronto, ON
8/16/2014 Empire – Springfield, VA
8/17/2014 Amityville Music Hall – Long Island, NY
Known not for their incredibly serious collective demeanor and humorless delivery of their brutal anthems, SWASHBUCKLE has also recently delivered two instructive installments of their molesting of the fine arts, with Painting Shit With Admiral Nobeard. Get your easel ready and whet your palette with plenty of rum for these enlightening experiences, and view Part 1 HERE and Part 2 HERE.
Also endure "I Hate The Sea (And Everything In It)" from the We Hate The Sea EP via Revolver Magazine RIGHT HERE. Check in with the quartermaster to set aside your share of the loot and preorder the EP HERE.
Following two albums through Nuclear Blast, with the We Hate the Sea EP we are offered a glimpse at where SWASHBUCKLE's rum-soaked minds have brought them over recent years and where their impending fourth studio full-length release will take them. Bearing four tracks dispatched in less than seven minutes, We Hate the Sea showcases the crew's most mutinous tactics to date, the jingles conceived in grog-soaked skirmishes and harnessed during sessions at The Sound of Revolution with Len Carmichael. Get This Right Records will unchain We Hate The Sea on August 5th via digital download and a myriad of 7″ vinyl options including 200 on blue/white swirl, 200 on black and a limited run of 100 on red/black smoke which will be limited to preorders with a numbered, special edition cover and a message from the band.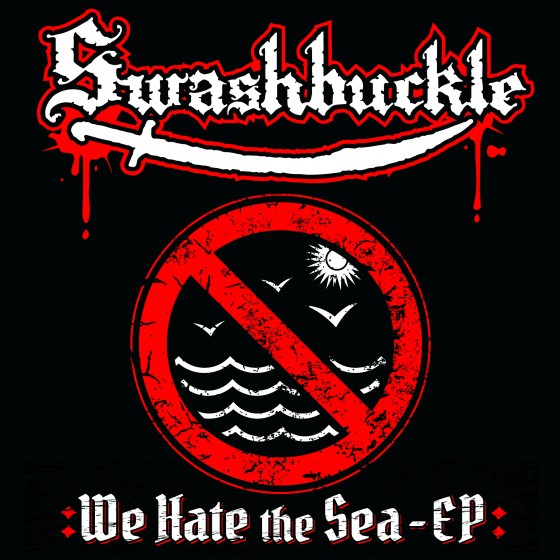 http://www.facebook.com/SwashbuckleBand
http://www.twitter.com/Swashbuckleband
https://www.facebook.com/gtrrecords
http://getthisrightrecords.bandcamp.com
http://www.coldcutsmerch.com/gtrr