Get ready to be pillaged by the most enraged seafarers of the metal underworld, as New Jersey seabastards, SWASHBUCKLE, dole out a bit of scorching, metallic wrath from their looming We Hate The Sea EP via Revolver Magazine. The second tale on the bandits' new four-shanty 7″, the pummeling "I Hate The Sea (And Everything In It)" surges with a riotous metallic thrash/hardcore whirlwind energy which shows their already brutal songwriting taking more abrupt spine-crushing immediacy.
Issued the members of the SWASHBUCKLE brigade in a newly delivered missive on the dispatching of the new tune:
"Ahoy Jerks,
The fine folks at Get This Right Records have put up a brand new piratical jam called 'I Hate The Sea (and Everything in It)' off of our new soon to be released 7″/EP entitled We Hate The Sea EP. So get your idiot pirate metal fix here and prepare to bash your head against any surface you come in contact with. This record will make you lactate hot sauce. Embrace your ear-fucking with our musical dongs of metal.
Love to hate you,
Swashbuckle"
Raise anchor and unload "I Hate The Sea (And Everything In It)" upon your enemies via Revolver RIGHT HERE.
Get This Right Records will unchain We Hate The Sea on August 5th via digital download and a myriad of 7″ vinyl options including 200 on blue/white swirl, 200 on black and a limited run of 100 on red/black smoke which will be limited to preorders with a numbered, special edition cover and a message from the band. Check in with the quartermaster to set aside your share of the loot HERE.
SWASHBUCKLE will raid through the American Main and into Canada on tour in conjunction with the release of We Hate The Sea from August 3rd through the 17th, with additional tour dates to be confirmed in the coming days.
SWASHBUCKLE August Tour Dates:
8/03/2014 Championships – Trenton, NJ
8/05/2014 Brighton Music Hall – Boston, MA
8/06/2014 Webster Hall/Studio – New York, NY
8/07/2014 Simon's 677 – Providence, RI
8/08/2014 TBA
8/09/2014 TBA – Montreal, QC
8/10/2014 Mavericks – Ottawa, ON
8/11/2014 Sneaky Dees – Toronto, ON
8/16/2014 Empire – Springfield, VA
8/17/2014 Amityville Music Hall – Long Island, NY
Following two albums through Nuclear Blast, with the We Hate the Sea EP we are offered a glimpse at where SWASHBUCKLE's rum-soaked minds have brought them over recent years and where their impending fourth studio full-length release will take them. Bearing four hornswagglling new rippers dispatched in less than seven minutes, We Hate the Sea will blast unsuspecting landlubbers broadside with the might of a typhoon, undoubtedly utilizing some of the crew's most mutinous tactics to date, the jingles conceived in grog-soaked skirmishes and harnessed during sessions at The Sound of Revolution with Len Carmichael.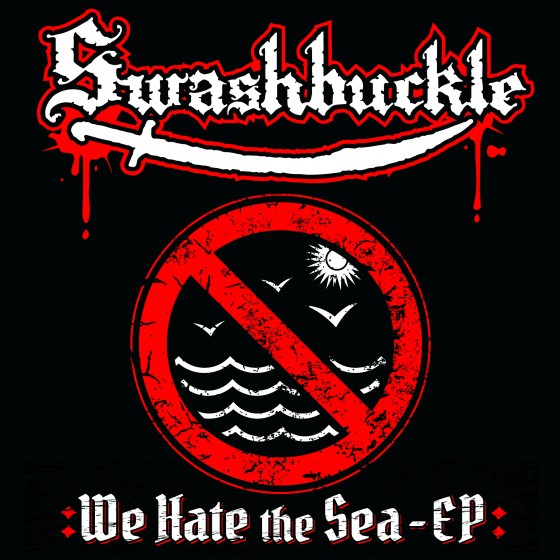 http://www.facebook.com/SwashbuckleBand
http://www.twitter.com/Swashbuckleband
https://www.facebook.com/gtrrecords
http://getthisrightrecords.bandcamp.com
http://www.coldcutsmerch.com/gtrr