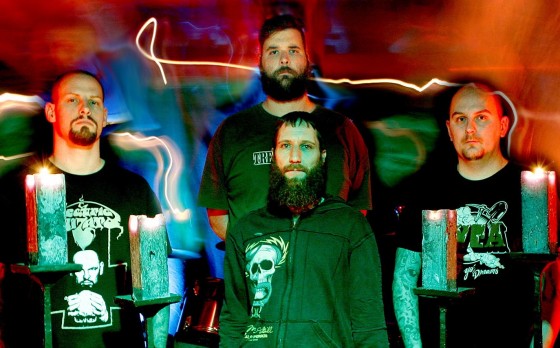 Retro rock/doom metal alchemists, BRIMSTONE COVEN, are pleased to unveil "Behold, The Anunnaki," the second movement off their self-titled full-length and inaugural release for Metal Blade Records
Now playing at cosmic riff portal, The Obelisk, "Behold, The Anunnaki" earns its name from an assembly of deities in ancient Mesopotamian cultures (The Anunnaki), and oozes a cathartically magnetic, psychedelic swagger that's difficult not to fall prey to. "Ancient Sumerian history is fascinating," relayed the band, "and as believable as anything else. So we wrote a song about it."
Describes The Obelisk: "In whatever context one might want to view it, Brimstone Coven is an album that righteously engages the tenets of classic doom. There's an early '70s sway to the material, a looseness in the rhythm section of bassist Andrew D'Cagna and drummer Justin Wood, that gives the chugging, grooving riffs of guitarist Corey Roth both meat and movement, and vocalist 'Big John' Williams meshes with this modus perfectly, the layers of his voice harmonizing and calling to mind the natural feel and melodic range of grandiose '70s prog, working with the music surrounding to give cuts like 'Behold, The Anunnaki,' 'The Black Door' and 'The Séance' a mystique without sounding overblown or needlessly theatrical. It's a careful balance and BRIMSTONE COVEN execute it well."
Check out "Behold, The Anunnaki," now casting spells and taking names at The Obelisk at THIS LOCATION.
Formed in Wheeling, West Virginia in 2011, BRIMSTONE COVEN churns a compelling amalgam of dark, smoky cult rock that echoes the eerie reverberations of hard rock icons such as Black Sabbath and Pentagram, mixed with the classic rock manifestations of Led Zeppelin and Pink Floyd, all the while preserving a vintage rock sound mixed with a style all their own.
The outfit's Metal Blade debut boasts seventeen inebriating tracks of manic occult conjurings – a combo of their self-released full-length and EP – complete with new mastering and the vintage art renderings of Creighton Hill.
In related news, BRIMSTONE COVEN will bring their bewitching odes to the stage on a brief stretch of live rituals set to commence July 19th on their home turf with additional ceremonies to be announced in the weeks to come.
BRIMSTONE COVEN:
7/19/2014 Rock Bottom Campground – Cameron, WV
7/21/2014 Goodfella's – McMechen, WV
7/31/2014 31st Street Pub – Pittsburgh, PA
9/27/2014 Chronic Tattoo – Cleveland, OH
Brimstone Coven will be released in North America via Metal Blade Records on August 5th, 2014. Preorder you copy at THIS LOCATION where you can also sample delightfully jam-laden fifth cut, "The Grave"
"Coming across as Zeppelin meets '70s Black Sabbath (the best kind), BRIMSTONE COVEN certainly have that vintage sound in spades, guitars are crisp, bass feels warm and drums played adeptly, with a looseness that only Messieurs Moon, Ward and Mitchell …are known for. Great stuff and what a voice, 'Big John' is quite the frontman with an endearing and rich tone to his voice and yes he sounds. Killer." – The Sludgelord
http://www.facebook.com/brimstonecoven
http://www.metalblade.com/brimstonecoven