"SUPERJOINT are looking to add a vicious and philosophical third chapter to the band's legacy." — Loudwire
In less than two weeks, SUPERJOINT will unleash the sonic deviance of their long-anticipated Caught Up In The Gears Of Application full-length. Captured at the famed Nodferatu's Lair, the eleven-track recording marks the band's first new output since 2003's critically-adored Lethal Dose Of American Hatred. Produced by SUPERJOINT co-founder Philip H. Anselmo (Down, Pantera, Scour, Philip H. Anselmo & The Illegals, Arson Anthem etc.) and Stephen Berrigan (Down, Philip H. Anselmo & The Illegals, Eyehategod, Haarp, Classhole, etc.), and mastered by Scott Hull (Agoraphobic Nosebleed, Pig Destroyer) at Visceral Sounds, Caught Up In The Gears Of Application spews forth an acrimonious crossover of hardcore punk, metal, and unrelenting, hostile, New Orleans-style angst.
As a precursor to the record's official unveiling, today Loudwire delivers the rabid sounds of title track "Caught Up In The Gears Of Application." Reflects Anselmo, "The title track pretty much sums up the overall feel of the LP. It speaks for itself, loudly, clearly, and passionately, whatever a person's definition of that would be. Let the music do the talking and shape the lyrics to fit your own life."
Get "Caught Up In The Gears Of Application," now monopolizing the airwaves exclusively at Loudwire RIGHT HERE.
And if you missed it, annihilate your ear drums with the maniacal sounds of "Ruin You," still streaming at Decibel Magazine at THIS LOCATION, as well as first single, "Sociopathic Herd Delusion," playing at Revolver Magazine at THIS LOCATION.
Caught Up In The Gears Of Application will see release via Anselmo's own Housecore Records on November 11th, 2016 on CD, vinyl and digital formats. Preorder bundles are available via Housecore at THIS LOCATION. For digital preorders, point your browser HERE or HERE.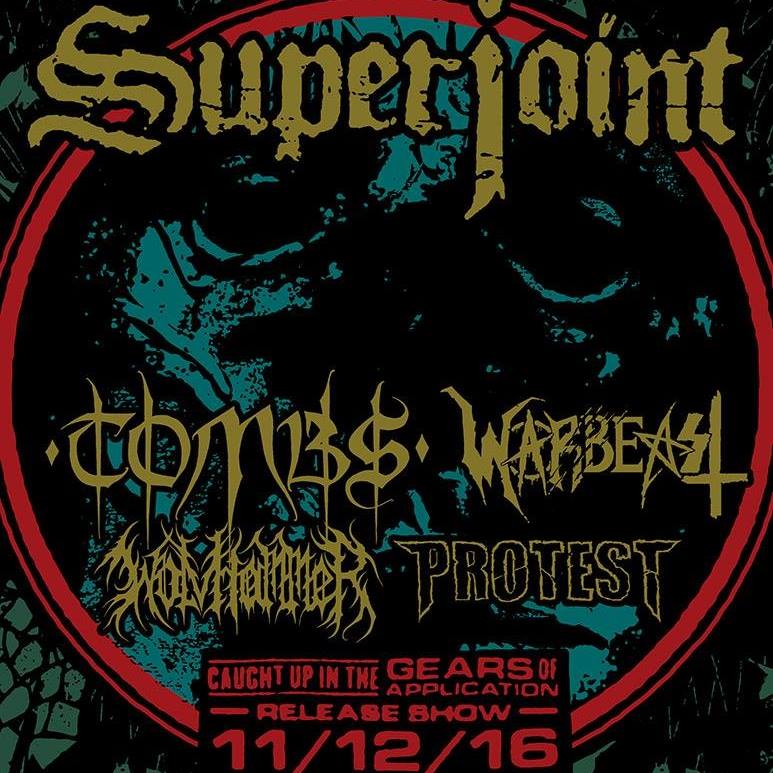 SUPERJOINT will level the stage of Gas Monkey Live! In Dallas later this month for their official record release show and only US appearance of the year. Support will be provided by Tombs, Warbeast, Wolvhammer and Protest. Tickets are on sale now.
SUPERJOINT:
11/12/2016 Gas Monkey Live! – Dallas, TX w/ Tombs, Warbeast, Wolvhammer, Protest [tickets]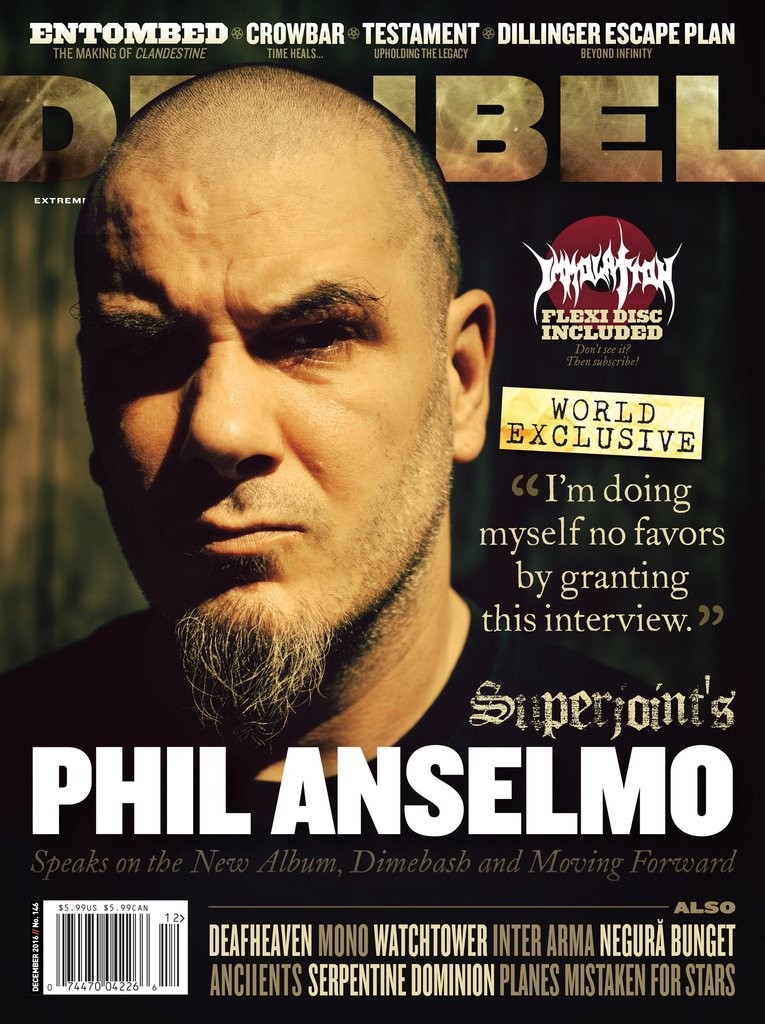 In related news, Anselmo currently graces the cover of the December 2016 issue of Decibel Magazine where he speaks candidly about the new SUPERJOINT album, Dimebash, and more. Pick up your copy today at the Decibel Store!
"The volatile, acidic savagery that the band is known for is just as present now as it was before they went on hiatus over a decade ago," writes Metal Nexus in an advance investigation of SUPERJOINT's Caught Up In The Gears Of Application further elaborating, "Songs heaving with hardcore foundations and muscular musical swagger detonate and decimate everything within earshot as they creep down your auditory canals and crush your skull from within…" Two Guys Metal Reviews shares the sentiment, "…feel the punch in the gut, get caught up in the punishing madness, suffocate on the bloody stump, and let yourself suffer under the strain. Caught Up In The Gears Of Application is exactly what it needs to be: raw, vicious, and unrelenting. Everything that has made the Phil Anselmo projects great over the past few years is represented here… this man is one of the truly great forces in metal." Adds Capital Chaos "Having listened to this album probably ten times in the last twenty-four hours a few things really stand out to me: Caught Up In The Gears Of Application has a heavy punk influence mixed with a Southern metal sound. Philip H. Anselmo gruff vocals are still one of the best in metal period. Jimmy [Bower] and Kevin [Bond]'s guitars are steady and consistent and have just enough twang on them you can practically smell the swamps of Louisiana. And finally I'm a sucker for a good rhythm section, it's the back bone to any great sound and Blue [Joey Gonzalez] and Stephen [Taylor] are pure metal magic together on this album."
SUPERJOINT was resurrected in 2015 after the original band broke up a decade earlier. At the behest of the late Corey Mitchell, co-founder of The Housecore Horror Film Festival, SUPERJOINT founders Anselmo, Jimmy Bower (Down, Eyehategod), and Kevin Bond (Christ Inversion, Artimus Pyledriver et al) joined forces with longtime comrades, drummer José "Blue" Gonzalez (Warbeast, Philip H. Anselmo & The Illegals) and bassist Stephen Taylor (Philip H. Anselmo & The Illegals, Woven Hand, 16 Horse Power). A new era of the band was born.
Consequently, the band members found true joy in playing together again. After just two tours, new material followed culminating in the scathing sounds of Caught Up In The Gears Of Application. "The minute we started writing, I knew this record would be brutal," reflects Bower, "Sticking to our true hardcore roots and signature SUPERJOINT sound, we accomplished a record that needed to happen in today's underground. It's pissed off! This record brings our viscous style of hardcore back to life."
Adds Anselmo of the offering, "The overall theme means many things, or no things, but there is an underlying message regardless, about how modern technology – computers and all that comes with them, mainly – has affected our lives. As a musician, it has affected my life both negatively (music being stolen) and positively (being in touch with fellow musicians around the world and staying visible). But when looking at the broader spectrum, computer-land has given everyday people a platform in which to bellow like carnival barkers about anything and everything, humdrum or political, whether qualified or not, some with good intentions, some with ideas that lay somewhere in the middle, creating a mishmash of results."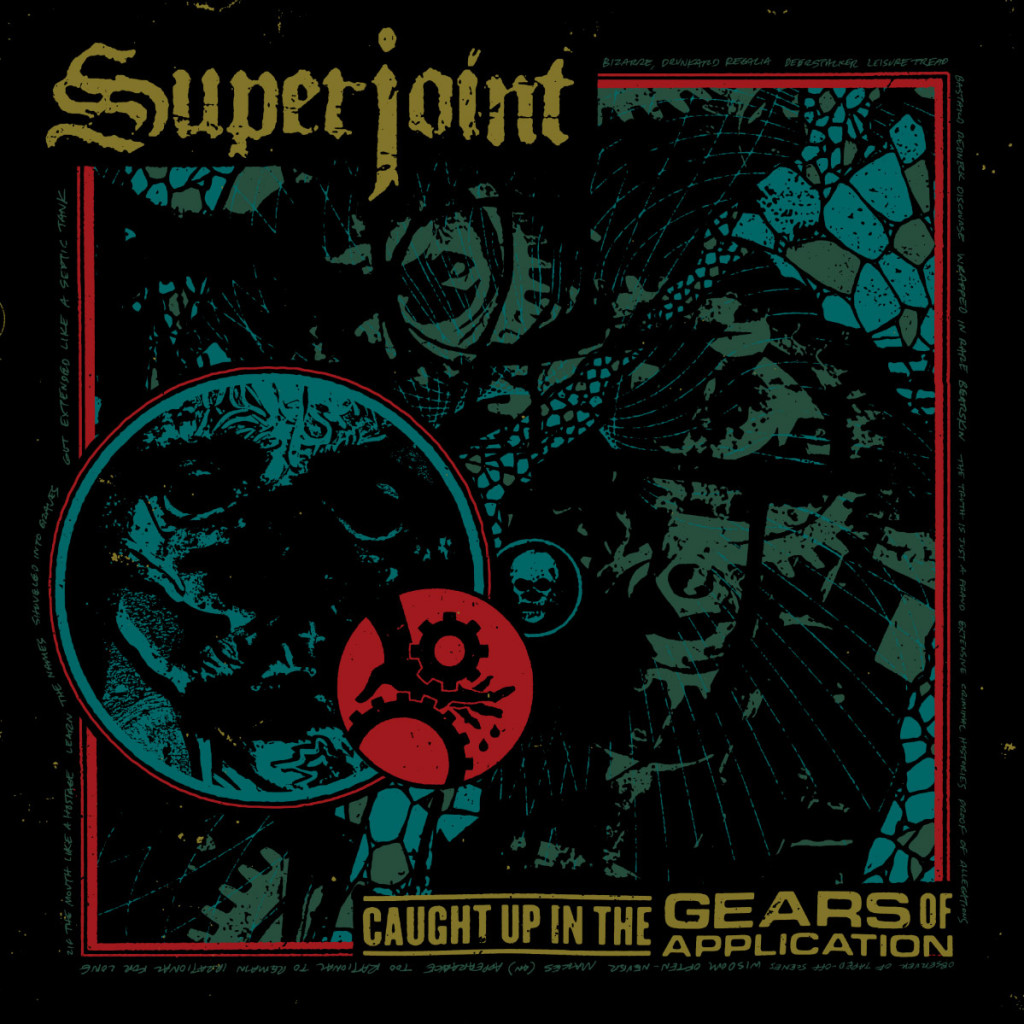 http://www.thehousecorerecords.com
http://www.thehousecorestore.com
http://www.facebook.com/housecorerecords