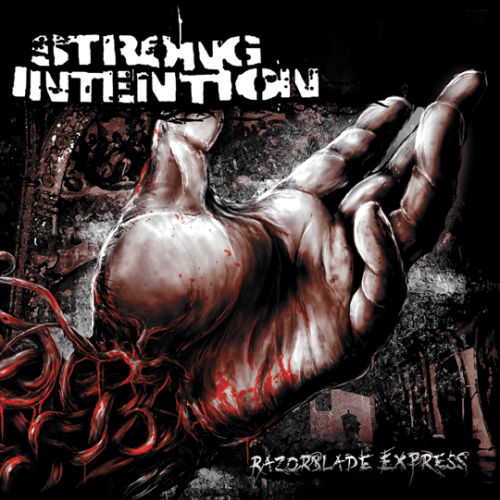 Maryland's favorite powerviolence terrorists, STRONG INTENTION, unleashed their Razorblade Express 7″ EP via PATAC Records last month and the six-track behemoth continues to astound fans and critics alike. Exclaim calls it "an ultimate, straight-up rager," Empty Hands commends its "blazing fast thrash crust grind madness," and Hellride notes: "fans of straight-up thrash/punk/grind that have followed the band all along won't be disappointed by this release; it'll fuckin' smoke your bones!" Lord of Metal agree: "This entire record is great! Fans of sludge, hardcore, grindcore or any other loud tunes; listen to this," Critical Mass boasts: "six songs of intensity that'll make your head explode with fiery guitar work and drums so fast they'll make Slayer look like amateurs," Metal As Fuck crowns it: "Genre-splitting carnage at it's finest," while Stereokiller put it simply: "What exactly is Strong Intention playing? Who really gives a fuck? It is metal. It is hardcore. I like it, and it is good."
Razorblade Express features bass work by Cattle Decapitation's Derek Engemann, a killer guest appearance by Eyehategod frontman Mike IX Williams on the title track and "3rd Space Gorilla Generator" and is limited to just 500 copies. Nab your copy HERE.
In related news, PATAC is hosting a special Summer Of Scum Sale! Get 10% off your entire order through August! Head over to PATAC RECORDS WEBSTORE for all your punk, metal, crust, grind and hardcore needs.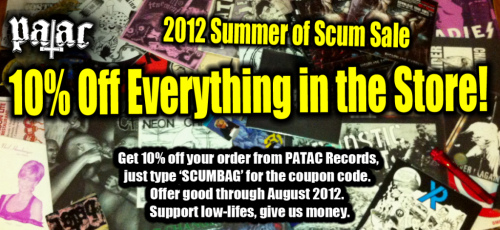 http://www.facebook.com/STRONGINTENTION
http://www.reverbnation.com/strongintention
http://strongintention.bigcartel.com
http://www.PATACRECORDS.com
http://www.facebook.com/patacrecords
https://twitter.com/patacrecords