Maryland bands never fall short on extremity. Since the mid-'90s STRONG INTENTION have been punishing the underground with their own blend of New York-influenced hardcore breakdowns and blistering grindcore. Their unique sound has allowed them the longevity to play out and tour with such undisputed acts as Cripple Bastards, Disfear, Phobia, Extreme Noise Terror, Rotten Sound, D.R.I., Lock-Up and Misery Index, among others over their extensive career… and they're just getting started.
STRONG INTENTION have an extensive back-catalog of releases behind them and their latest slab of audio discontent is hardly an exception. Entitled Razorblade Express, the six-track behemoth features a bass work by Cattle Decapitation's Derek Engemann as well as a guest appearance by Eyehategod frontman Mike IX Williams on the title track and "3rd Space Gorilla Generator." With the first press limited to just 500 copies, this isn't one to sleep on. Give me vinyl or give me death!
Comments SI founding frontman Zac Ohler: "It's been far too long since we put out a record, so having these six songs of 'no hope/no future distort' released by a killer label and having long time friend Mike IX join us in this act of terrorism seems to be the perfect fit. It's time to rise and grind!"
Razorblade Express will be released via PATAC Records on June 1, 2012.
Razorblade Express Track Listing:
1. Razorblade Express (featuring Mike IX Williams)
2. Messiah Whore
3. Holes In The Wall
4. 3rd Space Gorilla Generator (featuring Mike IX Williams)
5. Rat Factory
6. Slaughter Intelligence

In conjunction with the release, STRONG INTENTION will drag their filth to the stage alongside fellow grind heathens, Phobia. The East Coast Filth Tour 2012 will commence June 3 in Detroit. Check tour dates below. The band will be joined by Misery Index/Pig Destroyer drummer Adam Jarvis for the short stretch of dates: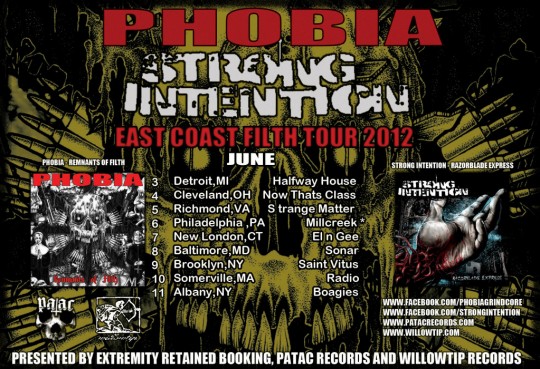 STRONG INTENTION – East Coast Filth Tour 2012
w/ Phobia
6/02/2012 Sonar – Baltimore, MD w/ Marduk, 1349 *
6/03/2012 Halfway House – Detroit, MI
6/04/2012 Now that's class – Cleveland, OH
6/05/2012 Strange matter – Richmond, VA
6/06/2012 Millcreek – Philadelphia, PA
6/07/2012 El N Gee – New London, CT
6/08/2012 Sonar – Baltimore, MD
6/09/2012 Saint Vitus – Brooklyn, NY
6/10/2012 Radio – Somerville, MA
6/11/2012 Boagie's – Albany, NY
6/23/2012 Café 611 – Frederick, MD w/ Agnostic Front, Sheer Terror *
* No Phobia
http://www.facebook.com/STRONGINTENTION
http://www.reverbnation.com/strongintention
http://strongintention.bigcartel.com
http://www.PATACRECORDS.com
http://www.facebook.com/patacrecords
https://twitter.com/patacrecords