Psych Minus Space Control — the deranged fifth full-length from curious Norwegian black metal peddler FURZE — is currently streaming in its entirety, in conjunction with its release this week via Fysisk Format. Open the gateways to all forty-three hypnotic, disturbing minutes encompassing the album right here:
The latest psychedelically-inclined blackened rock output from FURZE's primary solo artist Woe J. Reaper and his close-knit team of henchmen have once again defied all expectations and delivered an expectedly odd, intriguing collection of unconventional blackened rock. Psych Minus Space Control is now ready for public consumption in multiple formats including digital download, CD and standard gatefold LP, and a special diehard vinyl version of the LP bearing a numbered logbook limited to 200 copies. Check out photos of the diehard version as well as an audio preview of the album AT THIS LOCATION.
Following a long line of releases including four previous LPs on labels including Candlelight and Agonia, Psych Minus Space Control, defies even the eccentric practices of past FURZE albums, more rock/jam/broken-prog-oriented than ever, yet not without the usual oddities evenly mixing up the entire production. Recorded in three different studios, with sessions dating over ten years, the album contains material dating back to 1992. With over ninety percent of the LP lying in the vocal-free realms, FURZE transgress the borders of black metal and classic psychedelic rock, evoking a mystic sensation of terror and elevation, suggesting a musical archetype where the powers of Sun Ra, Hellhammer and Black Sabbath come into one.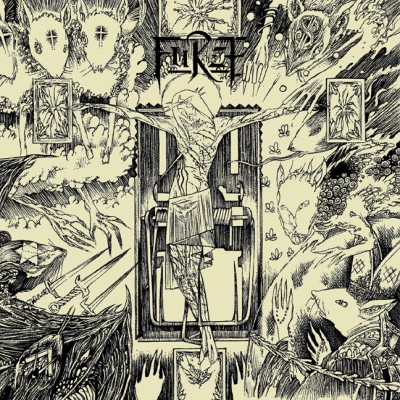 "There is something unaccountably alluring about the brand of weirdo space doom fuzz swing freak rock Furze taps into here, so if you fire at any of these frequencies, come join me with my invisible umbrella beneath a pale purple sun. And if you don't, well, have a pleasant day. I guarantee you Woe J. Reaper couldn't give two measly rabbit shits whether or not you speak black metal weirdo. 8/10" – Metal Review
"Ominous references to Sabbath surface as bells chime and guitars warble underneath the weight of foreboding riffs. .. With Psych Minus Space Control, Furze have broadened their already vast musical territory and allowed your mind to transcend its earthly bonds." – Nocturnal Cult
"The roots are certainly in black metal but masked and torn to shreds amidst a swirling psychedelic vibe throughout the record." – Popdose
"…placed together, the tracks form strength beyond strength and fit together flawlessly. Psych Minus Space Control is a cerebral rollercoaster ride into the depths of hell. You can never really tell what is around the next turn, what is coming next, and how it all will end." – Axes To Grind
"…Furze is always pushing the boundaries of music with its weird musical explorations. 89/100" – Infernal Masquerade