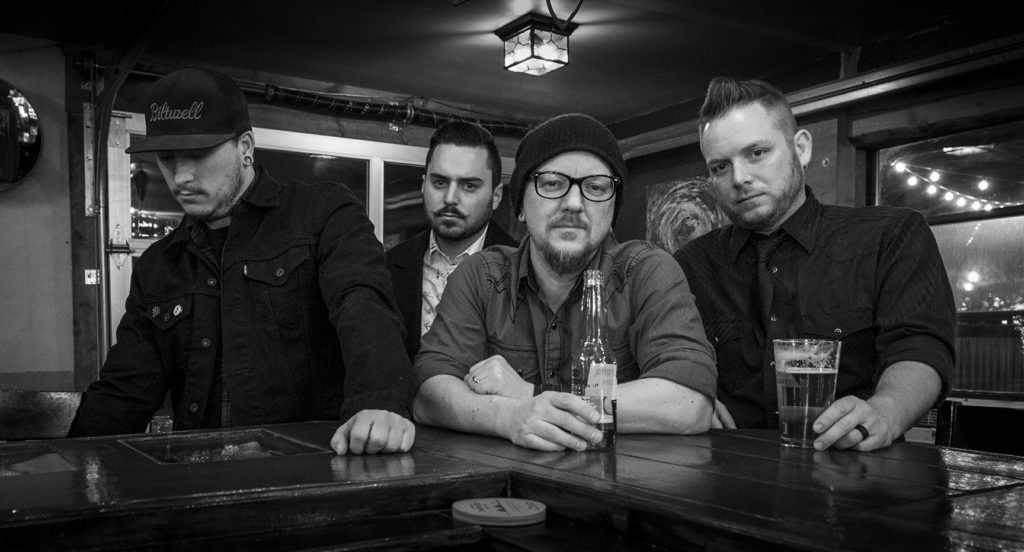 [photo by Cody Isaman]
New Castle, Colorado doom/rock quartet STONE DEAF will release their second album, Royal Burnout, next week, today issuing a new single from the record. The new song, "Boozy Spool," comes by way of an official video for the song, which sees is premiere through PureGrainAudio.
The new video was filmed and directed by STONE DEAF's Cody Isaman and Dustin Chapin, the band offering of the song, "'Boozy Spool' is the mile marker where you know you've gone too far to turn back. It's a dooming euphoria of circus music droning in your head. Creating murky doubt that's towering over you, casting a long shadow, as you flow through the motions of a heavy mess. An abrupt awakening into sanity, as the cart violently derails from the tracks, and now you feel very much alive."
PureGrainAudio offers in part how the, "weedian-friendly foursome features a delightful blend of stoner, heavy and desert rock…"
See STONE DEAF's "Boozy Spool" via PureGrainAudio at THIS LOCATION.
Royal Burnout will see release on CD and digital platforms through the band's newly-founded Coffin & Bolt label next Friday, May 4th; find preorder options HERE. A vinyl pressing will follow in the months ahead. The previously-released video for "Spitshine" can be seen HERE.
STONE DEAF is booking shows in support of the album, with a short run through the Southwest being organized for mid-Summer. Several shows have been announced; stand by for additional audio samples, tour dates, and more to be issued shortly.
STONE DEAF Live:
5/11/2018 Mesa Theater – Grand Junction, CO
6/29/2018 5 Star Bar – Los Angeles, CA
7/01/2018 Yucca Tap Room – Tempe, AZ
Changing gears between chugging riffs, bluesy rock and laid-back moments of heaviness, STONE DEAF provides a soundtrack to your drive into oblivion on Royal Burnout. Ancient aliens poking through the lonely AM radio waves, the light of the radio your only company in the vastness. A sonic palette to accompany the hope of lights in the distance under a dome of desert stars. Leave your watch behind, forget about time and soak in the sounds of the middle of nowhere. With eight new jams packed into a thirty-three-minute album, Royal Burnout was recorded produced, recorded, and mastered by Dustin Chapin at The Launch Complex, New Castle, Colorado, with photography by Marin Forcella and design by the band's Dustin Chapin and Cody Isaman. Fans of The Hellacopters, Thin Lizzy, Kyuss, Nebula, and Corrosion Of Conformity should tune in and put STONE DEAF and Royal Burnout on your radar.
http://www.stone-deaf.com
https://stone-deaf.bandcamp.com
https://twitter.com/stonedeafband
https://www.facebook.com/StoneDeafColorado
http://www.blackbowrecords.com
https://blackbowrecords.bandcamp.com
https://www.facebook.com/Black-Bow-Records-565275456841866
https://twitter.com/blackbowrecords