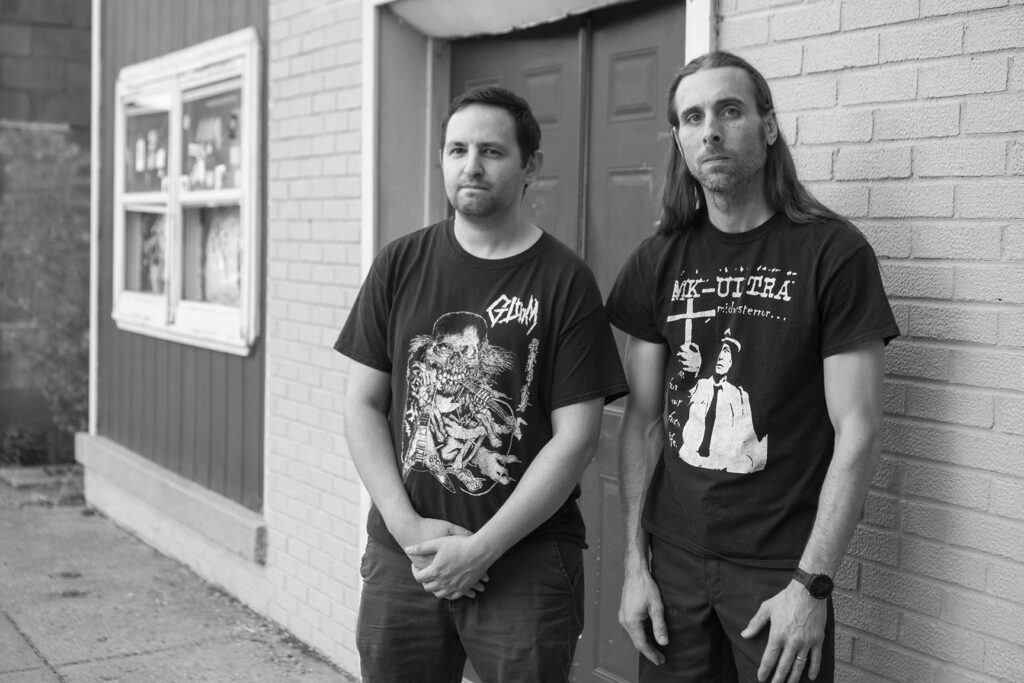 photos by Britt Crowe
Philadelphia-based extreme label Hibernation Release presents the caustic debut from Chicago-area duo STOMACH, announcing the band's debut LP, Parasite, for October 20th release alongside preorders, and the lead single, "Ocular Migraine."
STOMACH began in early 2020 during one of the most critical, uneasy, and isolated times for the world as we know it. Drummer/vocalist John Hoffman started the project as an attempt to focus on a darker and more abstract version of the hatred that once infiltrated former projects Weekend Nachos and Ledge. What started as a loose vision of pure Earth and Grief worship quickly mutated into a more unique canvas of misanthropy and despair, combining the sounds of sludge, noise and powerviolence, with zero limits in sight. Later, guitarist Adam Tomlinson of Sick/Tired and Sea Of Shit fame joined the lineup; a fateful reunion of minds from his early days of drumming in the very first Weekend Nachos lineup.
Following two self-released underground demo tapes, and playing the occasional gig, STOMACH continues to spread their brand of misery across a miserable world with their debut full-length, Parasite, spewing forth eight searing tracks of filth-ridden sludge and gut-churning doom combined with spiteful and introspective lyrical concepts. Parasite was recorded at The Pit II, Geneva, Illinois in the Fall of 2022, and was mixed and mastered by Will Killingsworth at Dead Air Studios. With Parasite, STOMACH has created an aggressively gripping aural experience fitting for these bleak times. The LP's pained, dredging anguish is a must-hear for those who worship at the altar of Grief, Corrupted, Primitive Man, Indian, Toadliquor, and other slow-motion auditory misery.
With Parasite's lead single, "Ocular Migraine," Hoffman reveals, "I wanted to drop this track as a single because it's one of my favorite songs we've done and one of the heaviest as well. Inspiration for the lyrics came from the feeling of being stuck upstairs trying desperately to sleep off a severe migraine, for those who understand what that's like – complete darkness, absence of sound, total isolation – and knowing that a world is happening outside of those walls that you're totally unavailable for. However, all STOMACH lyrical content is abstract and open to interpretation."
Experience STOMACH's decimating "Ocular Migraine," now streaming at Bandcamp HERE and YouTube HERE.
Parasite will be available on October 20th digitally and vinyl via Hibernation Release, with 100 pressed on Clear wax as a label exclusive as well as 200 copies on Black. Find preorders at the label webshop HERE and Bandcamp HERE.
Stand by for additional previews of the album to post over the weeks ahead.
STOMACH will perform regionally in support of the new album, including a hometown show with Crowbar, Primitive Man, and Bodybox on September 28th. Watch for updates to post shortly.
STOMACH Live:
9/28/2023 Reggies – Chicago, IL w/ Crowbar, Primitive Man, Bodybox
Parasite Track Listing:
1. Crawlspace (Loom Ext)
2. Midnight In Pain
3. Double Lung Transplant
4. Tooth Decay
5. Ocular Migraine
6. Train Track Argument
7. Bathwater
8. Stomach
https://www.instagram.com/stomachdoom
https://www.hibernationrelease.com
https://hibernation-release.bandcamp.com
https://www.facebook.com/hibernationrelease
https://www.instagram.com/hibernationrelease