[photo by Alvino Salcedo]
Arizona doom/metal quintet SPIRIT ADRIFT has begun announcing new live plans for the year, as their 20 Buck Spin-issued second LP, Curse Of Conception, draws mighty critical acclaim in 2017 year-end/best of lists.
Comprised of members of Gatecreeper, Goya, and more, SPIRIT ADRIFT has taken their psychedelic doom/metal to an ascendant new level on Curse Of Conception. Now more than at any time metal has become the lifeblood of rock music and SPIRIT ADRIFT offers Curse Of Conception as an embodiment of that perseverant vitality. The album was engineered and mixed by Sanford Parker (Yob, Pelican, Eyehategod) and features artwork by Joe Petagno (Motörhead, Magic Circle, Autopsy).
With little touring having taken place in 2017, SPIRIT ADRIFT will take 2018 to tour widely in support of Curse Of Conception, with several high-profile live appearances confirmed. The band has signed with Ground Control Booking, and has recently announced a special one-off show in Brooklyn, New York with Unearthly Trance and more on January 26th. The 1st of April will see SPIRIT ADRIFT joining At The Gates, Monster Magnet, Carcass, Mayhem, Pallbearer, Integrity, Repulsion, and many more at the Decibel Metal And Beer Fest in Philadelphia, Pennsylvania. SPIRIT ADRIFT has also been confirmed for Migration Fest 2018 in its new home of Pittsburgh, Pennsylvania July 27th through 29th, where they'll perform with Khemmis, Thou, Panopticon, Cloud Rat, Daeva, Deadbird, Mutilation Rites, Tomb Mold, Yellow Eyes, and more, with many bands still to be announced. Expect widespread tour dates to coincide with the band's upcoming festival appearances.
SPIRIT ADRIFT:
1/26/2018 Saint Vitus Bar – Brooklyn, NY w/ Unearthly Trance, Hosianna Mantra [info]
4/01/2018 The Fillmore – Philadelphia, PA @ Decibel Metal And Beer Fest [info]
7/27-29/2018 Mr. Small's Theater – Pittsburgh, PA @ Migration Fest [info]
Curse Of Conception is out now worldwide on LP, CD, and digital formats through 20 Buck Spin; find the record at Bandcamp HERE, the label webshop HERE, and at iTunes HERE.
Decibel Magazine crowned Curse Of Conception the #2 album of 2017, in a 9/10 lead review offering in part, "the breakthrough doom metal album of 2017. That actually sells the record a little short, as various shades of rock, traditional metal and even an early Metallica vibe color Curse Of Conception." Pitchfork issued in their 10 Best Metal Albums of 2017, "SPIRIT ADRIFT crafts an album that thrills for every second of its nightmarish bell curve." Alternative Press's Best Metal Albums of 2017 states, "The compositions are tighter, the riffs are meaner, and the album as a whole plays like a classic. Garrett said in an interview earlier this year that his goal is to have SPIRIT ADRIFT go down as one of the best bands in the history of metal; with Curse Of Conception, we'd say he's well on his way."
Bandcamp Daily's The Best Albums of 2017 included, "On Curse Of Conception, Arizona's SPIRIT ADRIFT play the kind of arena-sized, horns-raised heavy metal that turned the genre's biggest bands into gods, and Spin's 25 Best Metal Songs of 2017 included, "it's a fitting tribute to Garrett's formative influences and how they still make life worth living." Pop Matters' Best Metal of 2017 heralded, "doom metal might be SPIRIT ADRIFT's foundational sound, but Garrett is also not satisfied to just hurl out second-rate Iommic riffs. Instead he clearly wants his band to be world-beaters – you can hear his ambition in the melodically rich and powerful music – and we will put our money on it that Garrett will achieve this goal in the future." Metal Injection's write-up as the #5 album of 2017 included, "In some cases, a band takes several years to find and focus their sound. It's refreshing to find a release from a newer, young band that knows what they want to play and turns it into reality."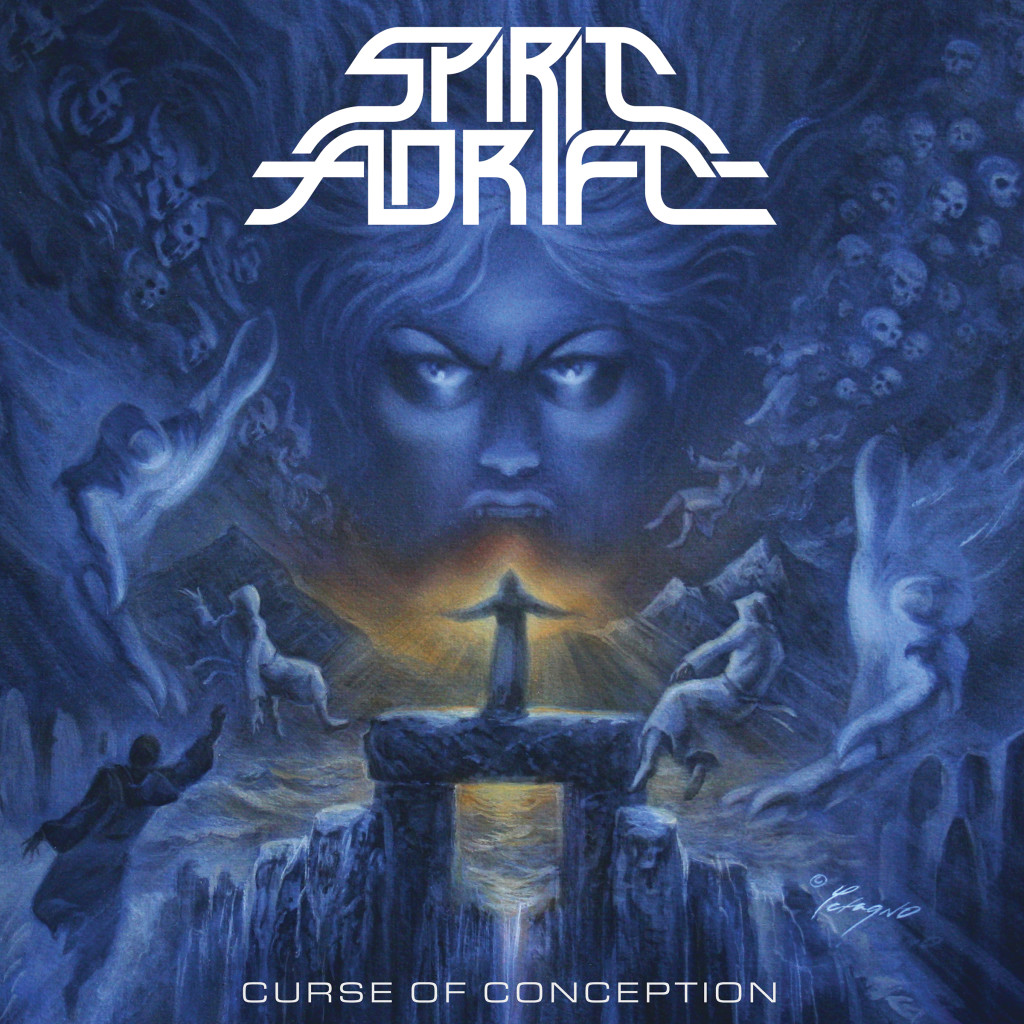 https://spiritadrift.bandcamp.com
https://www.facebook.com/SpiritAdrift
http://holymountainprinting.myshopify.com/collections/spirit-adrift
http://www.20buckspin.com
http://www.facebook.com/20buckspin
http://www.twitter.com/20buckspinlabel