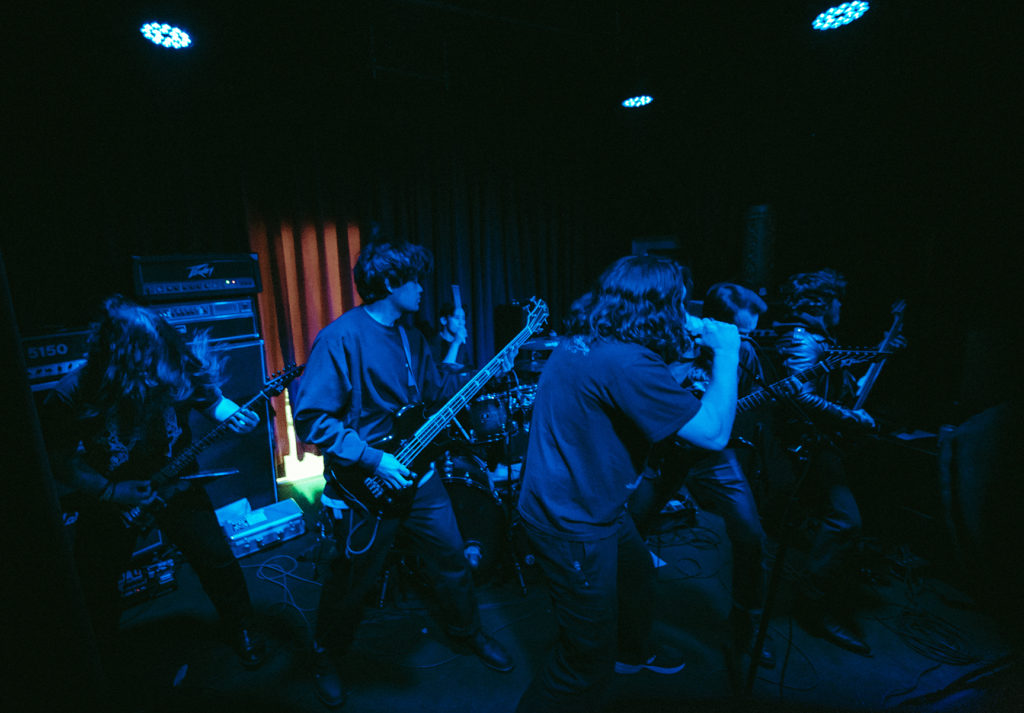 photos by Michelle Nisbet
San Jose, California-based SPINEBREAKER announces their upcoming EP, Cavern Of Inoculated Cognition, now set for May release through Creator-Destructor Records who today unveils the cover art, track listing, and lead single, "Spectral Forge."
Formed in the Bay Area hardcore scene, SPINEBREAKER unites vocalist Alex Herrera, bassist Josef Alfonso (Sunami), drummer Brian Do (Ripped To Shreds), and the triple-guitar attack of Elliot Morrow (Gulch) Cole Kakimoto (Gulch), and Justin Ton (Dead Heat). The band is known for their intensely heavy live shows and crossover appeal. It's rare that a band encapsulates different subgenres of heavy music convincingly and genuinely, but SPINEBREAKER does it seamlessly, with a sound shaped by 1990s death metal legends, and the raw nature and aesthetic of hardcore.
SPINEBREAKER's released their crushing debut LP, Ice Grave, in 2016, and in 2019 released a promo tape featuring the single "The Cost Of Innocent Life" as well as a cover of Agnostic Front's "Power." The band now returns in 2023 with the monstrous Cavern Of Inoculated Cognition, which sees the band leaning heavily into their death metal influences. The record delivers six tracks of absolute violent riffs, pummeling blastbeats, and apocalyptic overtones, recorded, mixed, and mastered by the Evil Wizard Greg Wilkinson at Earhammer Studios in Oakland, California (Vastum, Mortuous, Necrot), and completed with logo by Alex Herrera, artwork by Brad Moore, and layout by Rachel Deering.
Herrera writes, "Our new single 'Spectral Forge' is about afflictions in all forms following and latching itself to you like a ghost or demonic entity. No matter what you do it tries to suck the life out of you and it feels like an inescapable part of you. I am basically at war with myself in my head at all times in one way or another and that is the theme of this record lyrically. Depression, anxiety, anger, and tendency toward violence. This is what the Cavern Of Inoculated Cognition represents musically, and it was perfectly captured in the cover art painted by the great Brad Moore."
The first single from SPINEBREAKER's Cavern Of Inoculated Cognition, "Spectral Forge," is now streaming at THIS LOCATION.
Creator-Destructor Records will issue Cavern Of Inoculated Cognition May 5th on LP, CD, CS, and digital formats, the first pressing of vinyl limited to 500 copies featuring two color vinyl variants with an embossed cover. Find preorders for all versions at the label webshop HERE and Bandcamp HERE.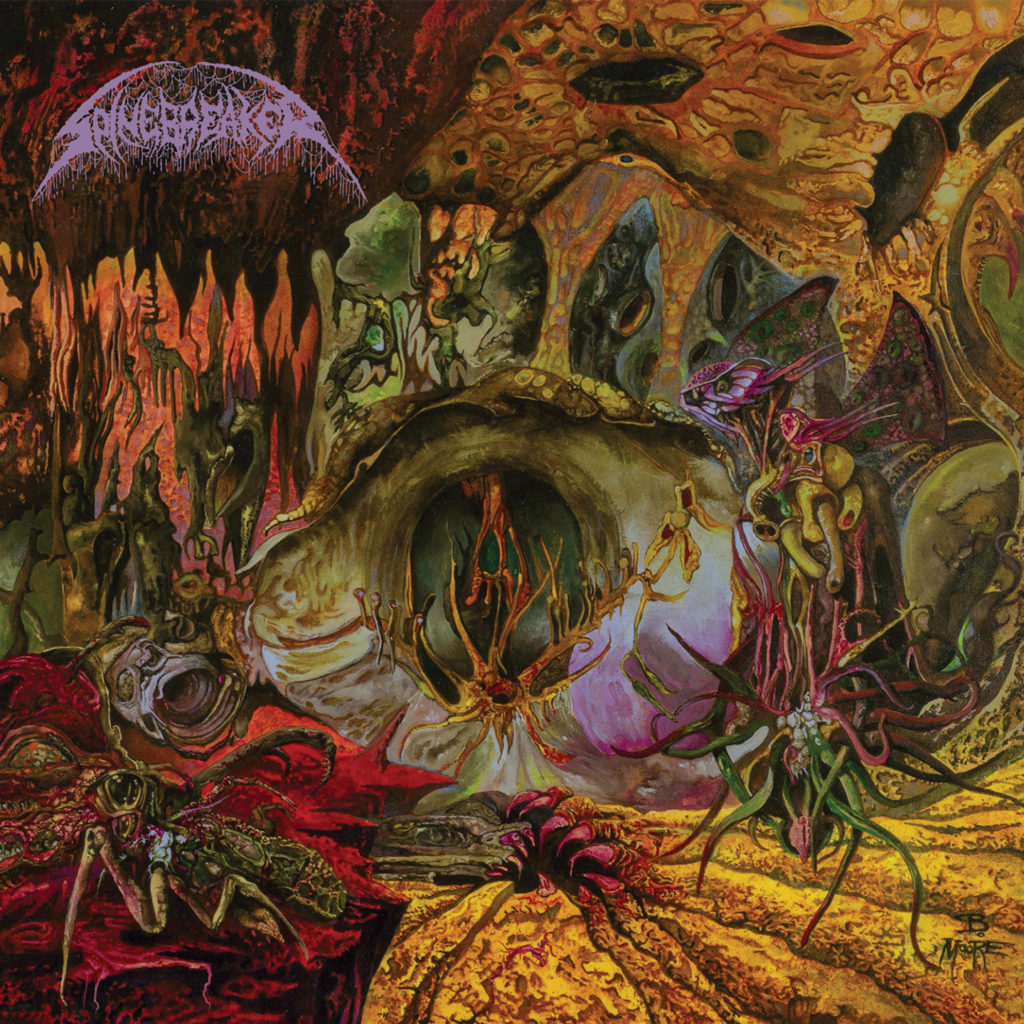 Cavern Of Inoculated Cognition Track Listing:
1. Beneath Our Blood Stained Sun
2. Infinite Crest
3. Bone Riddling Necrosis
4. Spectral Forge
5. Inoculated
6. Crimson Mask
Having spent the last few years playing select shows in the Bay Area and California, with their most recent live appearance being part of Just Another Gig in Tacoma, Washington, SPINEBREAKER is now booking new live events surrounding the release of the new record, including supporting Deathgrave at their LP release show next week. Stand by for additional live news to post over the weeks ahead.
SPINEBREAKER Live:
4/15/2023 LVL Uproar – San Jose, CA w/ Deathgrave, Los Huaycos, Mokosos
SPINEBREAKER:
Alex Herrera – vocals
Elliot Morrow – guitar
Cole Kakimoto – guitar
Justin Ton – guitar
Josef Alfonso – bass
Brian Do – drums
https://www.instagram.com/spinebreakersj
https://spinebreaker.bandcamp.com
https://www.creator-destructor.com
https://www.facebook.com/creatordestructorrecords
https://www.twitter.com/CD_Records
https://www.creator-destructor.bandcamp.com
https://www.instagram.com/creator_destructor_records