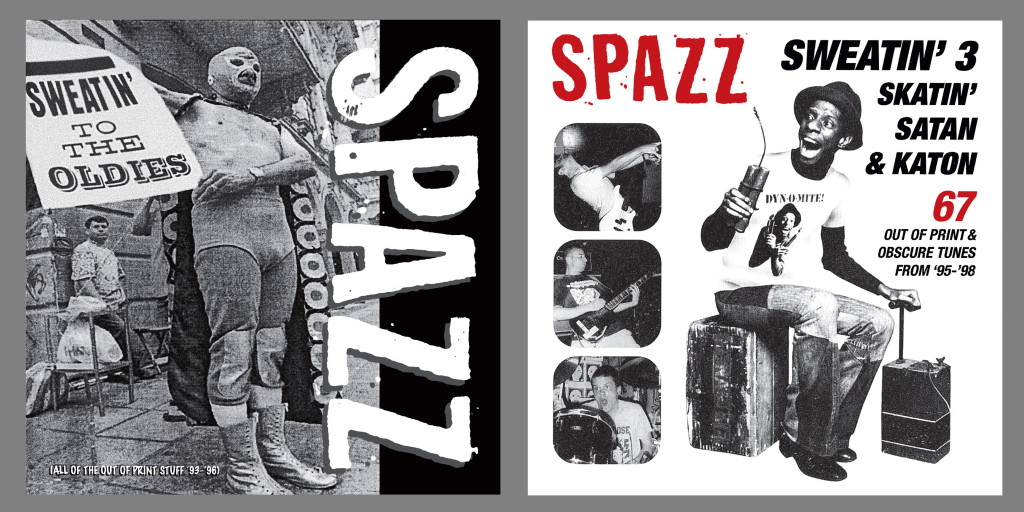 Next month, Tankcrimes Records will unleash reissued editions of Sweatin' To The Oldies and Sweatin' 3: Skatin', Satan & Katon from iconic, now-defunct hardcore punk/power violence trio, SPAZZ.
Originally released on Slap A Ham Records in 1997 and out-of-print for fifteen long years, SPAZZ's Sweatin' To The Oldies is a must-have ear-bleeder boasting sixty-four tracks compiled from splits released with Charles Bronson, Brutal Truth, Rupture, Floor and more from 1993 through1996 as well as SPAZZ's debut EP, tracks from various comps including Better Read Than Dead (1996, Epitaph/AK Press), cover tunes and live cuts from KFJC and 924 Gilman St.
Sweatin' 3: Skatin', Satan & Katon was also initially issued on Slap A Ham Records in 2001. Out-of-print for a decade, Sweatin' 3… offers up sixty-seven SPAZZ tracks amassed from splits with 25 Ta Life, Lack Of Interest, Hirax, Black Army Jacket, Gob and more released from 1995 through 1998 plus the Tastin' Spoon EP and tracks from a host of compilation appearances including Short Music For Short People (1999, Fat Wreck Chords) and the original motion picture soundtrack for Gummo.
Sample select tracks from each release courtesy of Cvlt Nation at THIS LOCATION.
Both releases will be available of CD on March 11th, 2016 and come remastered, or in some cases mastered for the first time ever, by Dan Randall (Ghoul, Impaled, Voetsek, Temple Of Dagon et al) at Mammoth Sound. Additionally, the Tankcrimes editions give Sweatin' To The Oldies and Sweatin' 3: Skatin', Satan & Katon the digital treatment for the first time ever. Believe it!
Preorders are available NOW with a special $6.66 nice price promotion for the first week (February 23rd through March 1st) which includes a sick promo poster while supplies last. Additionally, the sale extends store wide with all CDs slashed to $6.66, all Tankcrimes t-shirts reduced to $6.66 and many LPs available for $9.99. Don't sleep on this. Fill your cart at THIS LOCATION.
For review links and interview requests contact liz@earsplitcompound.com.
http://www.tankcrimes.com
http://www.facebook.com/tankcrimes