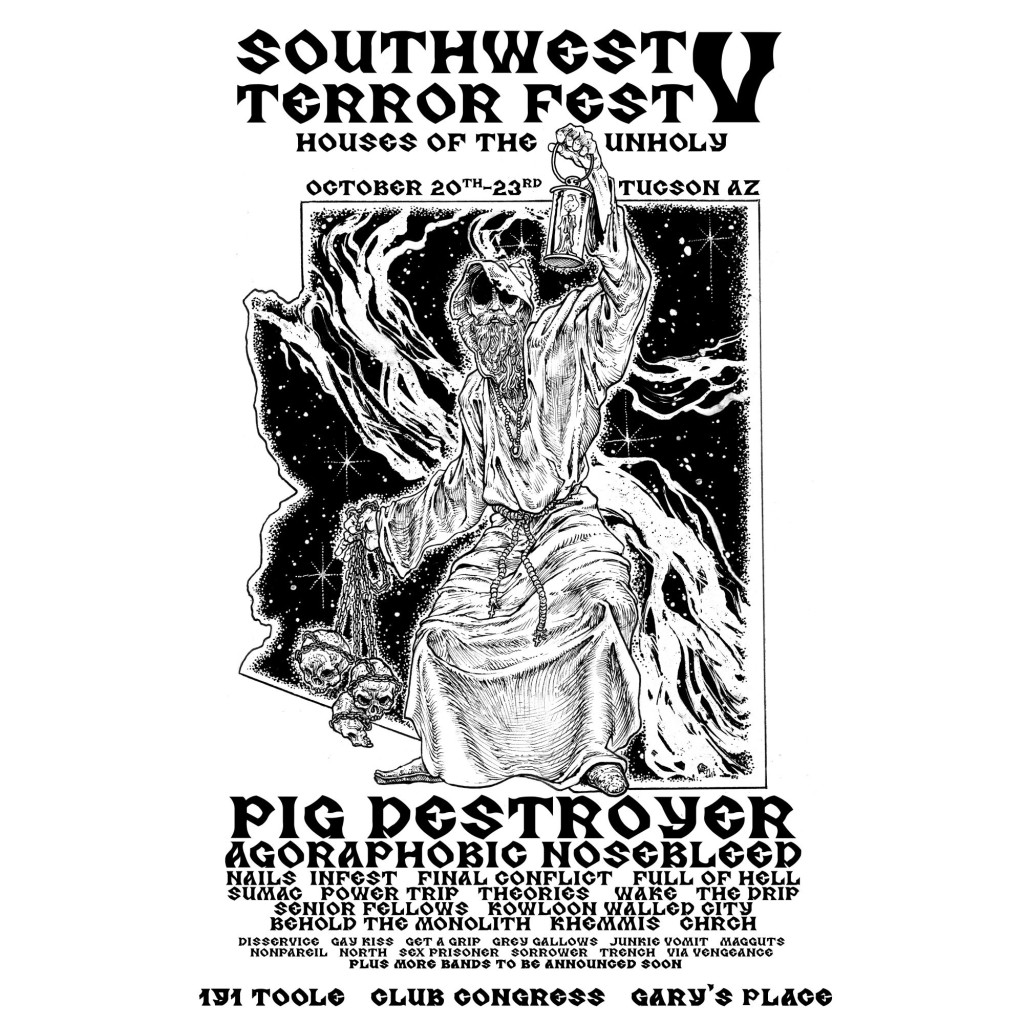 The initial lineup for Arizona's SOUTHWEST TERROR FEST V: Houses Of The Unholy has been announced, as early bird tickets for the event have been made available this week.
For the fifth installation of the annual SOUTHWEST TERROR FEST, this year's edition will once again overthrow Tucson, the 2016 installment of the annual gathering running from October 20th through 23rd, with forty-five artists from across the US and Canada converging on three stages, including venues 191 Toole, Club Congress, The Flycatcher, and Gary's Place..
The SOUTHWEST TERROR FEST V: Houses Of The Unholy initial lineup has been announced, this first wave of bands featuring Pig Destroyer, Agoraphobic Nosebleed, Infest, Nails, Power Trip, Final Conflict, Full Of Hell, Sumac, Kowloon Walled City, Khemmis, CHRCH, Behold! The Monolith, Theories, Wake, and The Drip!
A very limited number of early bird tickets are now available; view the SWTFV event details HERE and purchase tickets HERE.
The second wave of artists set to play SOUTHWEST TERROR FEST V: Houses Of The Unholy will be announced April 18th, the same day VIP passes and individual tickets go on sale.
Since 2012, the SOUTHWEST TERROR FEST gathering has seen hordes flock to the desert city of Tucson for several days of music, the event rooted heavily into the community through local business sponsorship and cooperation. Prior festivals have seen dozens of extreme artists from across the spectrum, including Neurosis, Sunn O))), Sleep, The Body, Goatsnake, Pelican, Author & Punisher, Kylesa, Red Fang, Hull, and countless others performing, and there are several dozen more acts still to be announced for the upcoming fifth gathering.
http://www.southwestterrorfest.bigcartel.com
http://www.facebook.com/southwestterrorfest