The crushing Southern Lord label tour featuring ENABLER, BURNING LOVE, MARTYRDÖD and BLACK BREATH begins tonight in Seattle, with special guest headliners for the evening, POISON IDEA!
In celebration the kickoff of this incredible tour, today Cvlt Nation is hosting a crushing Southern Lord label mixtape, as well as a personal statement from label owner Greg Anderson on the reasons behind booking this tour. The mixtape features TWENTY tracks, including brand new and previously unreleased tunes from the 'Lord's foreboding roster including music from the anticipated new FROM ASHES RISE 7″, the forthcoming XIBALBA album, POISON IDEA, WOLFBRIGADE, HIGH ON FIRE, BLACK COBRA, THE SECRET and more.
Download this FREE slab of brutality RIGHT HERE.
Undoubtedly the most crushing package of the Summer touring season, the tour is a true DIY undertaking that was booked by Southern Lord owner Greg Anderson himself. The core acts for the tour includes Milwaukee's metal/hardcore crossover outfit ENABLER, Ontario-based hardcore/rock outfit BURNING LOVE (featuring ex-Cursed vocalist Chris Colohan), the dark lords of Swedish crust MARTYRDÖD, and Seattle's d-beat/death-infused hardcore bastards BLACK BREATH headlining the tour. All four bands have brand new albums either already out or set to be unleashed based around the tour. Special guests POISON IDEA, NOOTHGRUSH, PELICAN, POWER TRIP, WILD//TRIBE, DEAD IN THE DIRT, THE SECRET and more will also infiltrate the routing, each with one or more regional performances.
In addition, Southern Lord is hosting a label showcase co-presented with Scion A/V Metal, set to take place at The Glass House in Pomona this Saturday, June 23rd. The lineup for this show features all four core acts on the label tour in addition to a special headlining guest appearance by PELICAN. As a free RSVP-only event the spots will fill up extremely fast. If you plan on attending, make sure to reserve your spot AT THIS LOCATION.
Southern Lord Summer 2012 Label Package Tour
w/ ENABLER, BURNING LOVE, MARTYRDÖD, BLACK BREATH:
6/19/2012 El Corazon – Seattle, WA w/ Poison Idea [tickets]
6/20/2012 Hawthorne Theater – Portland, OR w/ Poison Idea [tickets]
6/21/2012 The Mezzanine – San Francisco, CA w/ Noothgrush [tickets]
6/22/2012 The Catalyst – Santa Cruz, CA w/ Pelican, Noothgrush [tickets]
6/23/2012 The Glass House – Pomona, CA *Southern Lord label showcase w/ Pelican [RSVP]
6/24/2012 The Casbah – San Diego, CA w/ Pelican [tickets]
6/25/2012 Chasers – Phoenix, AZ [tickets]
6/27/2012 Club Dada – Dallas, TX w/ Power Trip, Wild//Tribe [tickets]
6/28/2012 Red 7 – Austin, TX w/ Power Trip, Wild//Tribe [tickets]
6/29/2012 Walter's – Houston, TX w/ Power Trip, Wild//Tribe [tickets]
6/30/2012 Three Ring Circus – New Orleans, LA w/ Dead In The Dirt [tickets]
7/01/2012 529 – Atlanta, GA w/ Dead In The Dirt [tickets]
7/02/2012 Kings Barcade – Raleigh, NC w/ Dead In the Dirt [tickets]
7/03/2012 Strange Matter – Richmond, VA w/ Dead In The Dirt [tickets]
7/04/2012 Talking Head Lounge at Sonar – Baltimore, MD w/ The Secret [tickets]
7/05/2012 Radio Bar – Boston, MA w/ The Secret [tickets]
7/06/2012 Acheron – Brooklyn, NY w/ The Secret [tickets]
7/07/2012 The Barbary – Philadelphia, PA w/ The Secret [tickets]
7/08/2012 Blind Bob's – Dayton, OH w/ The Secret (*NO Martyrdöd) [tickets]
7/09/2012 Empty Bottle – Chicago, IL (*NO Martyrdöd) [tickets]
7/10/2012 Borg Ward – Milwaukee, WI (*Black Breath & Enabler ONLY) [tickets]
7/11/2012 Medusa – Minneapolis, MN (*Black Breath & Enabler ONLY)
7/13/2012 Carr's Corner – Spokane, WA (*Black Breath ONLY)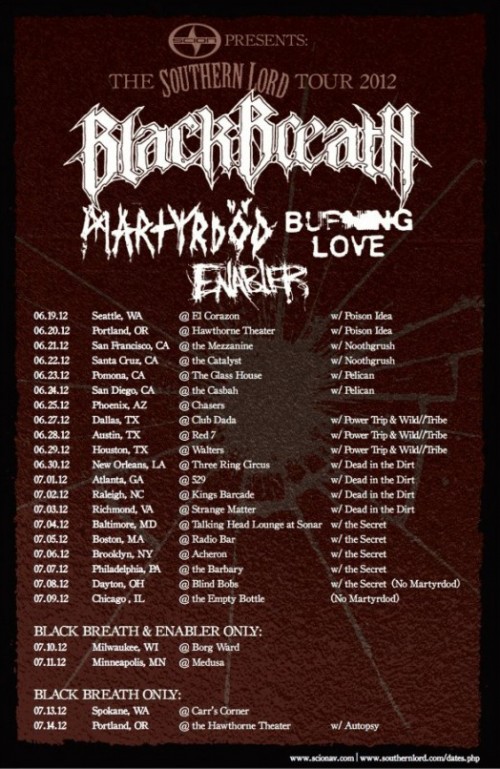 http://www.southernlord.com
http://www.facebook.com/SLadmin
http://twitter.com/twatterlord