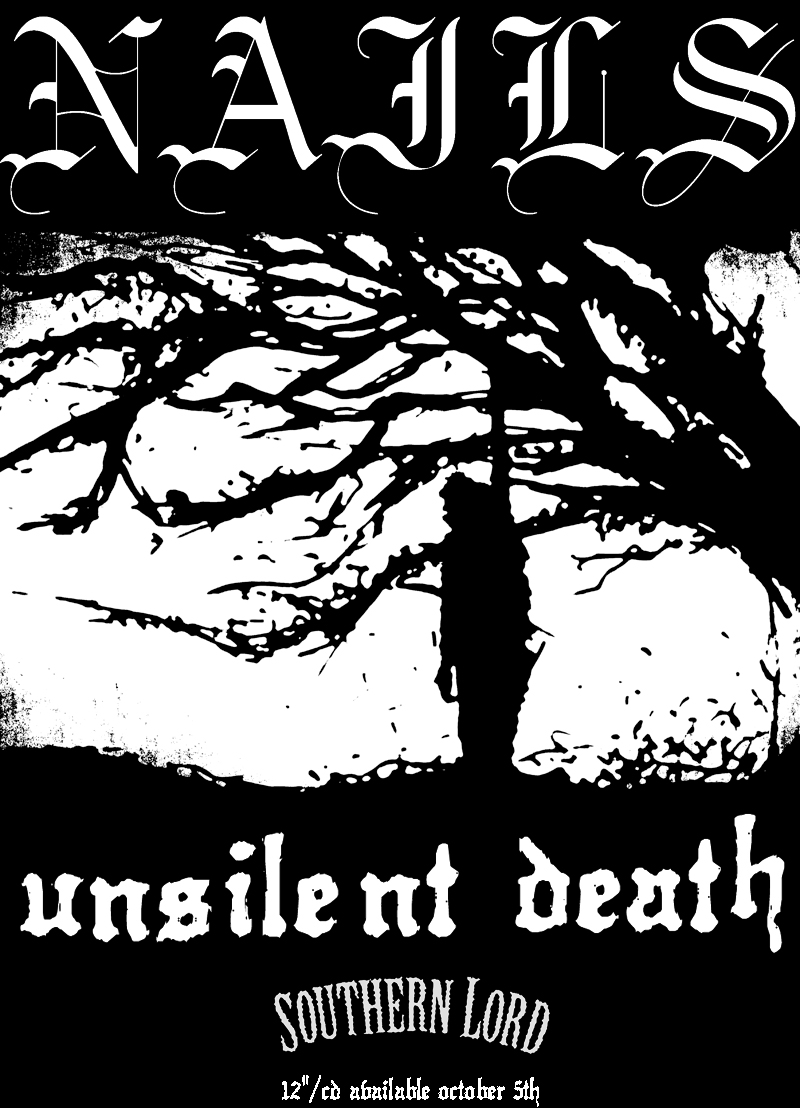 Continuing to supply the masses with aural brutality of all types, Southern Lord Recordings are proud to add Southern Californian trio NAILS to their ever-expanding roster.
NAILS' music is beyond brutality; filthy, vicious and raw. Imagine a cross between the good Amrep bands of the nineties (Helmet, Hammerhead, Today is The Day, Unsane) and Cro-Mags Age of Quarrel riffage played at breakneck speeds. Their epic battle cry Unsilent Death was recorded during the cold winter of 2009 at Kurt Ballou's (Converge, Trap Them, Disfear, Black Breath) Godcity Recording Studio. The CD version of Unsilent Death was originally released in very limited quantities by Six Feet Under records. The LP version was self released by the band on the band's own Streetcleaner label and quickly sold through the 1000 piece pressing. Southern Lord is extremely honored to pick up the torch of this album and let it burn brightly through many more countless battles!
Unsilent Death Track Listing:
1. Conform
2. Scum Will Rise
3. Your God
4. Suffering Soul
5. Unsilent Death
6. Traitor
7. I Will Not Follow
8. No Servant
9. Scapegoat
10. Depths
With plans already in place to record a new release for Southern Lord in early 2011, the NAILS crew will spend the rest of this year on the road. As previously announced, the band will take part in the Southern Lord-sponsored The Power Of The Riff Festival in Los Angeles on August 8th alongside Goatsnake, Black Breath, From Ashes Rise, Repulsion, the Animosity-era lineup of Corrosion of Conformity and countless more. In early September they embark on a cross-country rampage that will last over a month, including five dates opening for Venomous Concept.

NAILS Confirmed Live Aktions:
8/08/2010 Echo/Echoplex – Los Angeles, CA @ Power Of The Riff Fest [info]
9/05/2010 Nile Front Room – Mesa, AZ
9/06/2010 10756 Limas – El Paso, TX
9/07/2010 Ten Eleven – San Antonio, TX
9/08/2010 Red 7 – Austin, TX
9/09/2010 The Nightmare – Dallas, TX
9/10/2010 Downtown Music – Little Rock, AR
9/12/2010 Firehouse – Birmingham, AL
9/13/2010 585 Wells – Atlanta, GA
9/14/2010 Talent Farm – Pembroke Pines, FL
9/15/2010 Transitions – Tampa, FL
9/16/2010 Warehouse 8B – Jacksonville, FL
9/17/2010 Legitmate Business – Greensboro, NC
9/18/2010 Daniel's Pub – Cincinnati, OH
9/19/2010 Dojo – Indianapolis, IN
9/20/2010 Double Door – Chicago, IL w/ Venomous Concept
9/21/2010 Blondie's – Detroit, MI w/ Venomous Concept
9/22/2010 Sonar – Baltimore, MD w/ Venomous Concept
9/23/2010 Europa – Brooklyn, NY w/ Venomous Concept, Strong Intention
9/24/2010 Katacombes – Montreal, QC w/ Venomous Concept
9/25/2010 Sneaky Dees – Toronto, ON w/ Venomous Concept
9/26/2010 242 Main – Burlington, VT
9/27/2010 Bogies – Albany, NY
9/28/2010 Church – Boston, MA
9/29/2010 Lilly's Pad – New Haven, CT
9/30/2010 The Church – Cleveland, OH
10/01/2010 Mickey Finn's – Toledo, OH
10/02/2010 1108 Main – Cedar Falls, IA
10/03/2010 *TBA – Minneapolis, MN
10/04/2010 *TBA – Kansas City, MO
10/05/2010 Blast O Mat – Denver, CO
10/08/2010 Club Soda – San Diego, CA
10/09/2010 Sub – San Francisco, CA
Stay tuned for more info and announcements from NAILS to be announced in the coming weeks.
http://www.myspace.com/unsilentdeath
http://unsilentdeath.com
http://www.southernlord.com
http://blog.southernlord.com
http://www.myspace.com/southernlordrecordings
http://twitter.com/twatterlord