Cape Fear doom kings, SOURVEIN, are excited to announce the return of original bassist, Joshua "JC Fari" Crapo, who played with the band from 1993 – 2001 and again from 2003 – 2006. Fari held down the low-end duties on both SOURVEIN's self-titled full-length and the He's No Good To Me Dead compilation (featuring SOURVEIN alongside Grief, Bongzilla, Negative Reaction and Subsanity) among other compilations as well as the Will To Mangle demos. Fari also played guitar on the band's split with Buzzov*en in 1995.
Fari relocated to Austin after Hurricane Katrina flooded his New Orleans apartment and studio in 2005 and left the band in 2006, following a successful tour of the UK with Remesses, to focus on his family. Since then, he's been raising his son and working as a recording engineer. As of this summer, Fari is finally able to commit to touring and recording with SOURVEIN full time.
Fari will join vocalist T-Roy and co. for the band's West Coast leg of the Black Fangs world tour in October.
The SOURVEIN collective wishes to extend its gratitude to Ahmasi O'Daniel (The Misanthrone Project) and Dave Sherman (Earthride) filling in on bast the past few tours.
Black Fangs was released via Candlelight Records on June 21.
"These riffs are so filthy and dirty, it's like being held facedown in mud." — Decibel
"What really makes them so good, however, is how they've nailed the sludge attitude: throughout the album, the band sounds ugly and prickly, like old gizzards creaking out of their cave, squinting at daylight and cursing everyone's name." — Revolver
"With killer riffs, grooves and just enough experimental appeal to keep it interesting, this is an essential purchase for 2011." — Cvlt Nation
"This is how sludge metal is supposed to sound" — Hellbound
"There's just so much sinewy stuff here in which to sink your teeth, and their drubbing pace will keep you nodding your head at will with their thrashy melodies." — Meat And Metal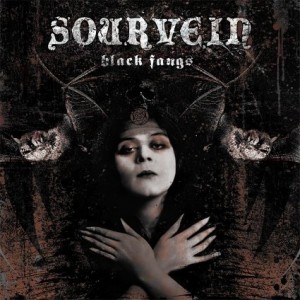 SOURVEIN on Facebook
http://www.myspace.com/sourvein13
http://www.candlelightrecordsusa.com