Last month, New Orleans' own existential hardcore blues oddballs, EYEHATEGOD, successfully completed their near-month long Retox And Nihilism Over Europe Tour alongside Japanese doomers, Church Of Misery. The trek saw Louisiana's favorite miscreants level over 20 cities, which included stops at Hellfest in France, Kriston Festin Spain, GSM Fest in Portugal, the Roskilde Fest in Denmark and the Stoned From The Underground Festival in Germany.
Commented Mike Williams of the experience: "We returned in mental puzzle pieces from a destructive, albeit highly functional European/Scandinavian tour with Japanese doomsters Church of Misery, bringing them to the usual EU haunts such as Paris, London, and Berlin etc… plus a few previously unvisited locales such as Helsinki and the former Soviet Bloc country Estonia. One highlight amongst many was playing in the middle of the people's revolution in Athens, Greece and playing the almighty fests such as Stoned From The Underground, Hellfest and Roskilde. EYEHATEGOD performed new material on this educational insanity tour."
Check out killer footage [filmed by mathiasnielsen666] of the band playing new song, "N'awlins Is The New Vietnam" at the Roskilde Festival:
Closing out their summer of sonic devastation, EYEHATEGOD will spread their filth to the West Coast this weekend for two rare and special shows: The first will take place at the Oakland Metro Operahouse on Friday, August 12 with Impaled, Brainoil, Laudanum and others while the second will mark the kick-off of the long-anticipated and much talked-about Power The Riff Fest on Saturday, August 13 at the
Echo/Echoplex which will feature EYEHATEGOD, Pentagram, Winter, Pelican and more! California will never be the same….
EYEHATEGOD: California Weekend Invasion:
8/12/2011 Oakland Metro Operahouse – Oakland, CA w/ Impaled, Brainoil Laudanum, Badr Vogu, Hazzard's Cure, The Burial Tide Doors @ 7:00pm [Info]
8/13/2011 Echo/Echoplex – Los Angeles, CA w/ Pentagram, Winter, Pelican, Trap Them, All Pigs Must Die, Acephalix, Black Cobra, Skin Like Iron, Baptists, Masakari, Alpinist, Seven Sisters of Sleep, Aeges, Early Graves, Slave Doors @ Noon [TICKETS]
The band will play additional shows this Fall. Details to be announced soon… and if their lies are to be believed, 2012 will see the release of EYEHATEGOD's long-awaited new album.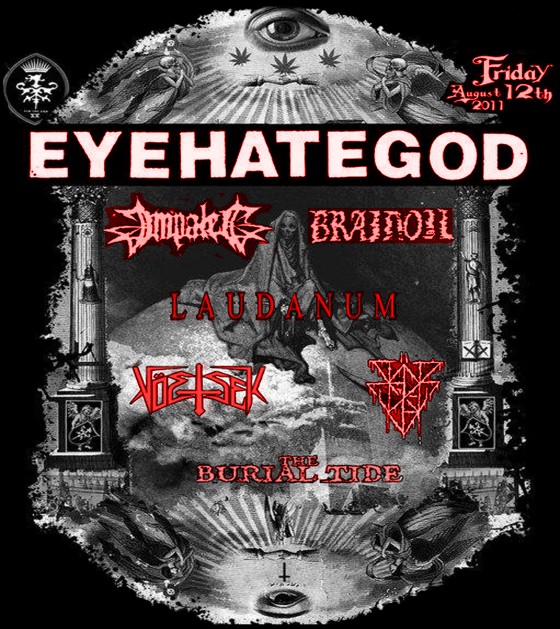 http://www.eyehategod.ee
https://www.facebook.com/OfficialEyeHateGod