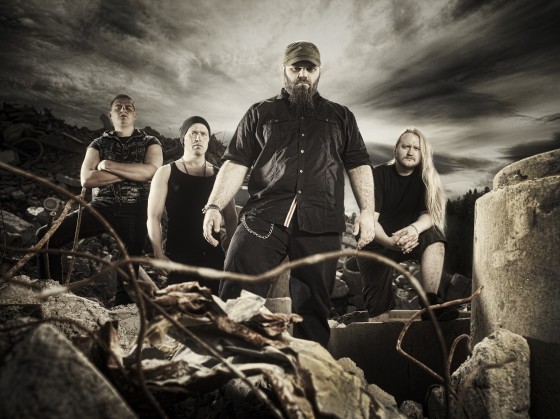 Swedish technical death metal tyrants, SOREPTION, in cooperation with mega metal portal, Invisible Oranges, today leak another track from their forthcoming new long player.
Titled "The Nature Of Blight," the tune comes by way of Engineering The Void, a flawless eight-track exhibit of methodical audio malevolence. Recorded by Tommy Rehn from symphonic black metal collective Angtoria at Ninetone Studios, Engineering The Void spouts a wholly sophisticated barrage of surgically accurate Meshuggian riff sequences, obscure time signatures, head-jarring rhythms, and intervals of orchestral enormity all backed by the calloused growls of lead throat Fredrik Söderberg. With media acclaim just beginning to surface, MetalSucks gushes, "The new SOREPTION album is going to rip faces. I mean hot damn! Those riffs! The Swedes in SOREPTION are up there with Obscura, Gorod and Psycroptic at the upper echelon of the crowded tech-death pack, no doubt." No Clean Sings calls the record "an example of tech-death guitar work at its finest," while Last Rites opines, "the horn-o'-plenty of riffdom smashed onto this album will be irresistible." Adds Invisible Oranges, "…mechanical precision and jaw-dropping chops still have their place in death metal. These are messy times, but they're futuristically so. Metal fans are far more likely to battle information overload on a daily basis than they are to fight monsters or serial killers. Sweden's SOREPTION provide a compelling soundtrack for the daily grind."
Drain your brain with "The Nature Of Blight," now playing at Invisible Oranges, RIGHT HERE
.
And if you were asleep at the wheel, you can still rape your face to the sounds of "Breaking The Great Narcissist" currently streaming at Revolver HERE, as well as the title track, "Engineering The Void," which features guest vocals by The Black Dahlia Murder's Trevor Strnad, still playing at Decibel at THIS LOCATION.
SOREPTION will drop Engineering The Void upon the masses on February 18, 2014. Preorder your copy TODAY at THIS LOCATION.
"These dudes play seriously gnarly technical death metal to the level where you might need a physics degree just to headbang to it. You can hear them constructing the framework of the abyss as Engineering The Void runs its course, culminating in the title track – at which point they push the button and the whole thing implodes. For a band on their second full-length, they've figured this sound out pretty well." — Decibel
http://www.facebook.com/soreption
http://www.uniqueleader.com
http://www.facebook.com/uniqueleaderrecords