Atlanta sludge/doom marauders SONS OF TONATIUH are set to unleash their new full-length next week. Dubbed Parade Of Sorrow, the album was recorded in November of 2011 in Athens, Georgia by Kyle Spence of Harvey Milk, features artwork by Chris Parry and offers up 10 mammoth hymns of dirgy, filth-ridden, Southern fried crust for fans of Eyehategod, Buzzov*en, Floor and the like.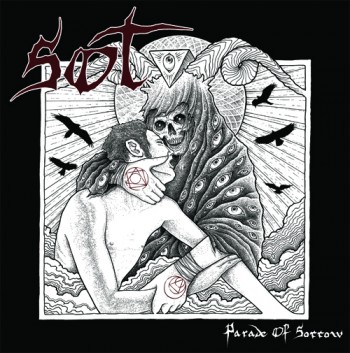 Parade Of Sorrow Track Listing:
1. Intro
2. White Wall
3. Parade of Sorrow
4. Plastic Cell
5. Colors Run Red
6. Season of Pills
7. One by One
8. Sea Sick
9. Eye So Blind
10. Fallout
Parade Of Sorrow is currently available through the band's official BAND CAMP page. The record will also be available on vinyl through Hydro-Phonic Records on June 11 (preorder your copy now).
Commended by the Sleeping Shaman for their "huge prehistoric, lumbering walls of solid doom that will have even the most cold-hearted metal fan nod their head like a donkey on Mogadon, conjuring plenty of passages where the listener can lose themselves in the groove," SONS OF TONATIUH are a three-piece from Atlanta, Georgia concentrating on the underground workings of doom, sludge and punk rock. Established in 2008, SONS OF TONATIUH have self released a 7″ (recorded by Mike Longoria of Withered with artwork by Viral Graphics out of Greece) and a 12″ (recorded by Jay Matheson at the Jam Room Studios in Columbia, South Carolina with artwork by Rodney Githens) with the latter album being picked up by Hydro-Phonic Records who then released a CD version of the full length in 2010. 2011 saw The SONS… touring extensively throughout the U.S. with various compilations created using some of their songs.
In conjunction with the release of Parade Of Sorrow, the band is set to rampage their way through 14 cities, beginning with a warm-up show tonight in Athens, Georgia. On June 22nd they'll kick off the official tour and make their way through the 'Carolinas, Tennessee, Kentucky, Michigan, Illinois, Pennsylvania, New York and Virginia.
SONS OF TONATIUH Beckoning The End Tour 2012
6/08/2012 G-Squat (house show) – Athens, GA w/ Proselyte, Utah, Rat Babies, Quiet Hands
6/22/2012 New Brookland Tavern – Columbia, SC w/ Humungus, They Eat Their Own God
6/23/2012 The Tin Roof – Charleston, SC w/ Hooded Eagle
6/30/2012 Album Release Show at the Basement – Atlanta, GA w/ Let The Night Roar
7/13/2012 Groundswell Collective – Knoxville, TN ~ w/ Thetan
7/14/2012 Cosmic Charlies – Lexington, KY w/ Whiskey Funeral, Tombstalker, Stampede
7/15/2012 Double Door – Chicago, IL
7/16/2012 Mac's Bar – Lansing, MI w/ Bert, The Jackpine Snag
7/17/2012 Mr Roboto's Project – Pittsburgh, PA w/ Vulture
7/18/2012 The Station – Philly, PA w/ Hivelords, Occult 45
7/19/2012 Saint Vitus – Brooklyn, NY
7/20/2012 Strange Matter – Richmond, VA w/ Pike Possum, Gritter
7/21/2012 The Casbah – Durham, NC w/ Man Will Destroy Himself
8/10/2012 The Wizard Lounge – Hickory, NC
http://www.sonsoftonatiuh.com
https://www.facebook.com/sonsoftonatiuh
http://www.sonsoftonatiuh.bandcamp.com
http://www.hydro-phonicrecords.com