MASTER
The New Elite
Release Date: August 14, 2012
Unsurpassed death metal monarchs MASTER return with their eleventh full-length, The New Elite. Led by band mastermind/underground icon Paul Speckmann, who's been churning out his maniacal odes of sonic sickness for over 30 years, The New Elite is a showcase of brick-wall musical integrity. Recorded, mixed and mastered at Shaark Studios (Root, Fleshless, etc), with artwork and layout design by German graphic artist Mark Bridgeman, The New Elite offers up a 45-minutes of earnest bulldozing death metal centered around social travesty and political coercion. Unapologetically honest, the cruel truth cuts like a knife! This is MASTER! Ordering info available at THIS LOCATION.
The New Elite Track Listing:
1. The New Elite
2. Rise Up And Fight
3. Remove The Knife
4. Smile As You're Told
5. Redirect The Evil
6. Out Of Control
7. As Two Worlds Collide
8. New Reforms
9. Guide Yourself
10. Souls To Dissuade
11. Twist Of Fate
https://www.facebook.com/Speckmetal
http://www.myspace.com/masterspeckmann
FASTKILL
Bestial Thrashing Bulldozer
Release Date: August 14, 2012
Utterly demented and dangerously fast, Bestial Thrashing Bulldozer comes by way of Japanese schizoids, FASTKILL. Their first full-length in four years, the ten-track long player is a merciless display of first-class, rapid-fire thrash metal madness! Recorded, mixed and mastered by Keisuke Okada (Disconformity, Gridlink, etc.) at Sound Studio Noah in Tokyo, and bearing macabre cover art by Kei Gomi, Bestial Thrashing Bulldozer oozes with rapid-fire riffing, pulverizing drum work and morbid screams. Includes a cover song from Hokkaido cult thrashers Nigarobo. Ordering info at THIS LOCATION.
Bestial Thrashing Bulldozer Track Listing:
1. Kill Fast
2. In Thrash We Trust
3. Die In The Pentagram
4. Stench Of Hell
5. Terminal Disease
6. Guillotine Attack
7. Toxic Tormentor
8. Endless Game (Nigarobo cover)
9. Tortured Again
10. Merciless Onslaught
https://www.facebook.com/FASTKILL.Japan?ref=ts
http://www.myspace.com/fastkillofficial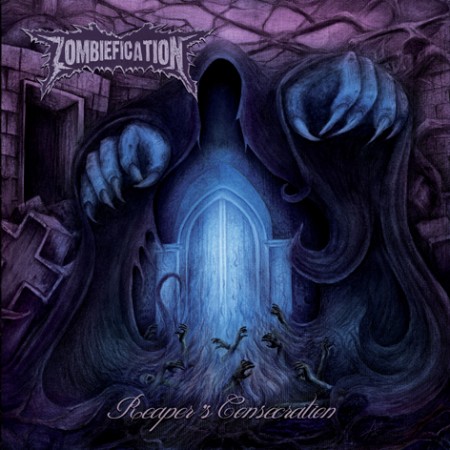 ZOMBIEFICATION
Reaper's Consecration
Release Date: August 14, 2012
Mexican corpse-walkers ZOMBIEFICATION are set to unleash their new EP Reaper's Consecration via Pulverised Records this Summer. Having risen from the grave in 2009 following the release of their debut, Midnight Stench, ZOMBIEFICATION wasted no time in concocting a venomous brew that makes up Reaper's Consecration. Offering their signature brand of noxious death metal, neatly packaged into five furious songs, The Stench is more putrid than ever before! Reaper's Consecration was mixed and mastered at Necromorbus Studios (Watain, Interment, Demonical, etc.) in Sweden and features artwork/layout direction by ZOMBIEFICATION throat Mr. Hitch. Ordering info at THIS LOCATION.
Reaper's Consecration Track Listing:
1. Dead Today, Dust Tomorrow
2. Death Rides
3. Necrohell
4. I Am The Reaper
5. We Stand Alone
http://www.zombiefication.com
http://www.zombiefication.com

http://www.pulverised.net