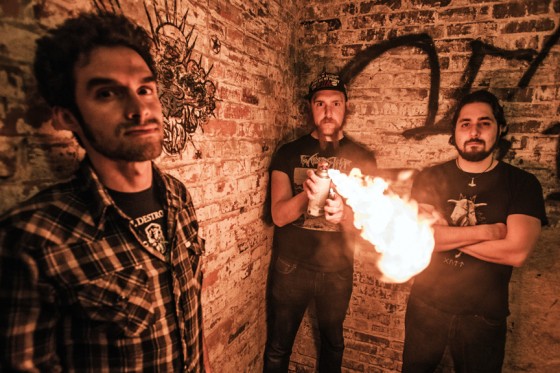 Atlanta sludgeniks SONS OF TONATIUH are preparing for another bout of roadside debauchery. Set to begin September 20 in Asheville, North Carolina, the band will rupture the infrastructures of a nine venues, coming to a close on September 28 in Knoxville, Tennessee.
SONS OF TONATIUH:
9/20/2013 The Odditorium – Asheville, NC w/ Nuclear Blast Suntan
9/21/2013 The Haymarket Whiskey Bar – Louisville, KY w/ Ohlm
9/22/2013 CBGB – St Louis, MO
9/23/2013 The Empty Bottle – Chicago, IL w/ Swan King
9/24/2013 Mulligan's – Grand Rapids, MI w/ BurT
9/25/2013 The Tree Bar – Columbus, OH w/ BurT
9/26/2013 The Chameleon – Cincinnati, OH
9/27/2013 Al's Sidecar – Lexington, KY w/ Ohlm
9/28/2013 Poison Lawn – Knoxville, TN
SONS OF TONATIUH — guitarist/vocalist Dan Caycedo, bassist Twitch and drummer Josh Lomanto – will be touring in support of their current full-length Parade Of Sorrow issued via Hydro-Phonic Records last Summer. Compared to "sinking in quicksand" by Exclaim! and commended for its "joinder of galloping thrash and arching doom, bruising hardcore and crackling guitar solos," by Independent Weekly, the Kyle Spence (Harvey Milk) produced, filth-laden, riff fest continues to raise the eyebrows of unsuspecting ears. Describes Hellride Music, "SOT meld the visceral, unrefined DIY sounds of sludge, punk and hardcore into 10 tracks and 37 minutes blues for the disenfranchised. SOT songs boomerang from the most atherosclerotic sludge to sick crossover breakdowns and Ginn-esqie punk rock. Dan's screams, hollers and caterwauls about the usual – the archons and their tools… religion, politics, unchecked consumerism and war… in relation to our hopeless and hapless lives. The plight and symbolism of the Native American people is used enough on Parade of Sorrow to make it more than a footnote." Adds Creative Loafing, "Each number builds around screaming vocal harmonies, unexpected melodies, and monstrous guitar solos. But the real power lies in the uncomplicated design of it all.
Although the album's smoldering grind won't find much of an audience beyond underground metal ears, SONS OF TONATIUH actually breaks new ground here, while staying true to the group's clawing roots." Check out Parade Of Sorrow streaming in its entirety at the official SONS OF TONATIUH bandcamp page HERE.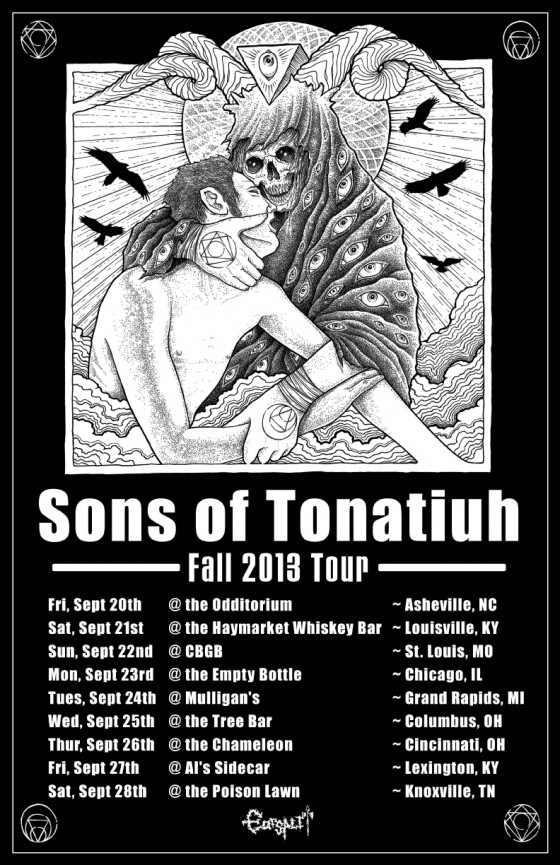 http://www.sonsoftonatiuh.com
https://www.facebook.com/sonsoftonatiuh
http://www.sonsoftonatiuh.bandcamp.com
http://www.hydro-phonicrecords.com