Psychedelic dirt rock unit, SONIC WOLVES — which unites current and past members of Ufomammut, The Hounds Of Hasselvander, Pentagram, and Rogue State — will release their debut full-length, Before The End Comes, on Taxi Driver Records later next month. The eight-track offering follows the band's first single, "He Said," released as a limed edition seven-inch in conjunction with Record Store Day 2016.
Before The End Comes was tracked at the end of 2015 at Ampire Studio in Pistoia with Stefano Tocci serving as studio sound engineer and includes artwork by Michele Carnielli (Seals Of Blackening). The record will come available in CD, digital, and limited edition vinyl. Preorders will be available at the official Taxi Driver Store and Bandcamp page.
In the meantime, check out a special "making-of" video as well as the closing title track below.
Before The End Comes Track Listing:
Winds Of War
Geronimo
Obscured
He Said
Wolfwitch
Lamia
Freedom Is The Devil
Before The End Comes
SONIC WOLVES was forged in Alessandria, Italy in 2012 by bassist Kayt Vigil (Rogue State, ex-The Hounds Of Hasselvander, ex-Pentagram) and drummer Vita (Ufomammut, Rogue State) initially under the name of Tsutar. In December 2014, the band tracked their first demo at Ampire Studio in Pistoia, Italy. It was Vigil on bass/vocals, Vita on drums and Stefano Tocci (Deaf Eyes, ex-Incoming Cerebral Overdrive) on guitars. By Spring of the following year, the eight-track WolfWitch was unleashed to the masses and just a few months later, Paolo Melotto (ex-Psyconauts) joined SONIC WOLVES on lead guitar and vocals, followed by Diniz (Temple Of Dust, Mexican Chili Funeral Party) on rhythm guitar. The sound of SONIC WOLVES is an infusion of heavy, gritty rock, with elements of metal and psychedelic influences permeating its every moment.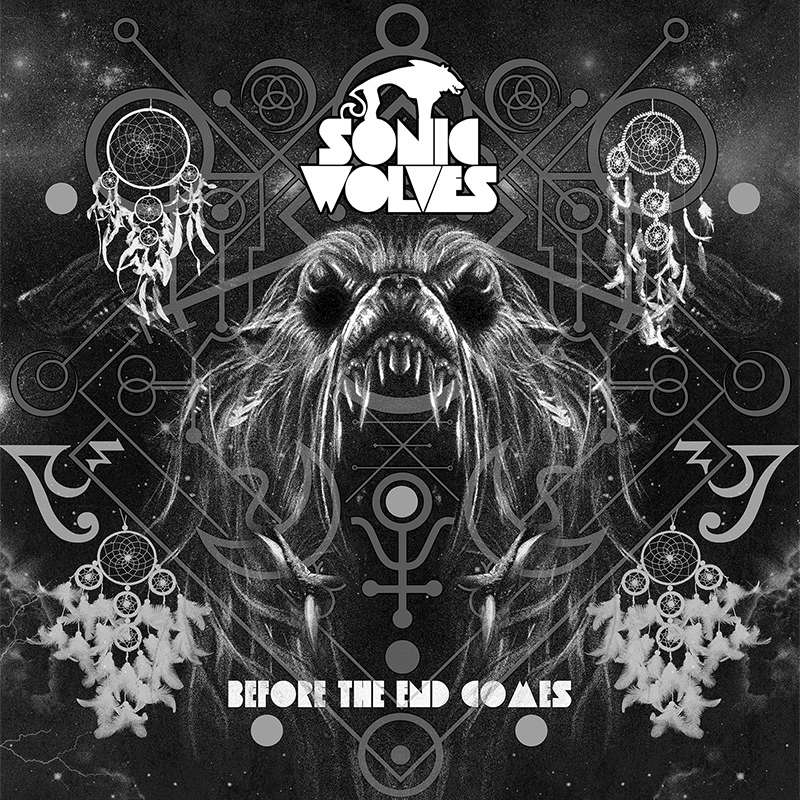 Further SONIC WOLVES info to be announced in the coming days. Stand by.
http://www.sonicwolves.com
http://www.facebook.com/SonicWolves
http://www.taxidriverstore.com
http://www.facebook.com/taxidriverrecords
http://www.taxidriverstore.bandcamp.com