Order SOMNURI's Desiderium HERE.
Brooklyn, New York-based sludge metal alchemists SOMNURI today release their mammoth third full-length, Desiderium, via MNRK Heavy!
Recorded at Gojira's Silver Cord Studios, mixed by Justin Mantooth at Westend Studios, and mastered by Brad Boatright at Audiosiege Mastering, Desiderium is a true crusade through a black hole of sounds and heaviness. Weaving through a variety of tempos and timbres, the band — guitarist/vocalist Justin Sherrell, drummer Phil SanGiacomo, bassist Mike G, and recent addition, guitarist Chris Drapeau — gives some familiar genres new paths to travel. Every song is an amalgamation of what makes rock kinetic, bridging a gap between acts like Helmet, Karp, Handsome, and Quicksand with the sonic journeys of an Isis or Jesu.
Elaborates Blabbermouth in part, "'Hollow Visions' takes a mid-paced approach to the aforementioned blend of excoriating sludge and melodic mischief; shades of Sonic Youth's liberated guitar abuse emerging from a lurching, hard-headed riff-up. 'Flesh & Blood' turns left-field grunge on its head, as shiny hooks duel with brutish riffing, while the title track is a wonderfully intricate piece of post-metal songwriting: equal parts laconic emotional outpouring and jagged, juddering, Soundgarden-style riff concoction." Notes Distorted Sound, "Sonically, it's crisp, punchy, and weighty; likely what you'd expect for a band recording at Silver Cord Studios (yes, that Silver Cord, home of Gojira) in their hometown of New York with a production job that lets the various elements breathe and gives them their own space without sacrificing suffocating atmosphere when it needs it." Wrote Revolver of the band's "Death Is The Beginning" single, "Opening with a damn-near black-metal shriek, the track eventually settles into a Mastodon-style doom trudge before the double bass comes back in and everything goes haywire. Sludge that doesn't slouch. Hell yeah."
Desiderium features mind-altering cover art by Alex Eckman-Lawn and is available now on CD, LP, cassette, and digitally at THIS LOCATION.
Watch SOMNURI's video for "What A Way To Go," HERE, "Death Is The Beginning" HERE, and "Paramnesia" HERE.
SOMNURI is currently in the home stretch of their US tour with psychedelic doom duo Telekinetic Yeti. Additional support is being provided by Stinking Lizaveta. Next week, the band will join Zao for a trio of shows. Tickets are on sale now. See all confirmed dates below.
SOMNURI w/ Telekinetic Yeti, Stinking Lizaveta [remaining dates]:
7/21/2023 Knitting Factory – Hollywood, CA
7/22/2023 Nile Theatre – Mesa, AZ
7/25/2023 89th St – Oklahoma City, OK
7/26/2023 Mercury Lounge – Tulsa, OK
SOMNURI w/ Zao, Narcissus:
7/27/2023 IMAC – Harrisburg, PA
7/28/2023 No Class – Cleveland, OH
7/30/2023 Preserving Underground – New Kensington, PA
"Opening with a damn-near black-metal shriek, the track eventually settles into a Mastodon-style doom trudge before the double bass comes back in and everything goes haywire. Sludge that doesn't slouch. Hell yeah." – Revolver on "Death Is The Beginning"
"It all feels like a weird, half-remembered fever dream, which as it turns out is exactly what SOMNURI wants." – Metal Injection on "Paramnesia"
"This band has always been defiant and awkward: melodic when others would be brutal, brutal when others would take their foot off the gas, and only tangentially nudging probable inspirational sources like Mastodon, Baroness, and Kylesa… an album that can only strengthen SOMNURI's reputation as arch sludge manipulators." – Blabbermouth
"Sonically, it's crisp, punchy, and weighty; likely what you'd expect for a band recording at Silver Cord Studios (yes, that Silver Cord, home of Gojira) in their hometown of New York with a production job that lets the various elements breathe and gives them their own space without sacrificing suffocating atmosphere when it needs it." – Distorted Sound
"Heavy and meaty, but with emotive depth and substance, Desiderium is a grower, one that delivers more and more as you get to know it more and more. It's good to have the band back once more, and they have returned with a winner." – Wonderbox Metal
"SOMNURI are fastly becoming one of the best upcoming bands from the doom/sludge/stoner metal scene and with Desiderium it's not hard to see why. This is simply another wonderful release from SOMNURI who could end up becoming one of your new favorite bands." – Outlaws Of The Sun
"Fans of Kylesa and High On Fire may get a thrill out of 'Flesh & Blood' a number that illustrates the band's talent for producing pummelling sludge metal but with an intelligent and experimental streak while 'Desiderium' is wonderfully expansive and unpredictable and you are never quite certain where and when it will land, I was reminded a little of latter-day Deftones in places." – Ghost Cult
"Dense, dynamic, and diabolical…" – Rock And Roll Fables
"Desiderium have plenty of anger driving its riffs, yet vocalist/guitarist Justin Sherrell also has a great singing voice that he doesn't ignore. It's this duality of melody and rage that SOMNURI has nailed down after years of being on the cusp of getting there. If there was a release that would break this band out into the greater masses, Desiderium should be their golden ticket." – Heavy Music HQ
SOMNURI:
Justin Sherrell – guitar, vocals
Phil SanGiacomo – drums
Mike G – bass
Chris Drapeau – guitar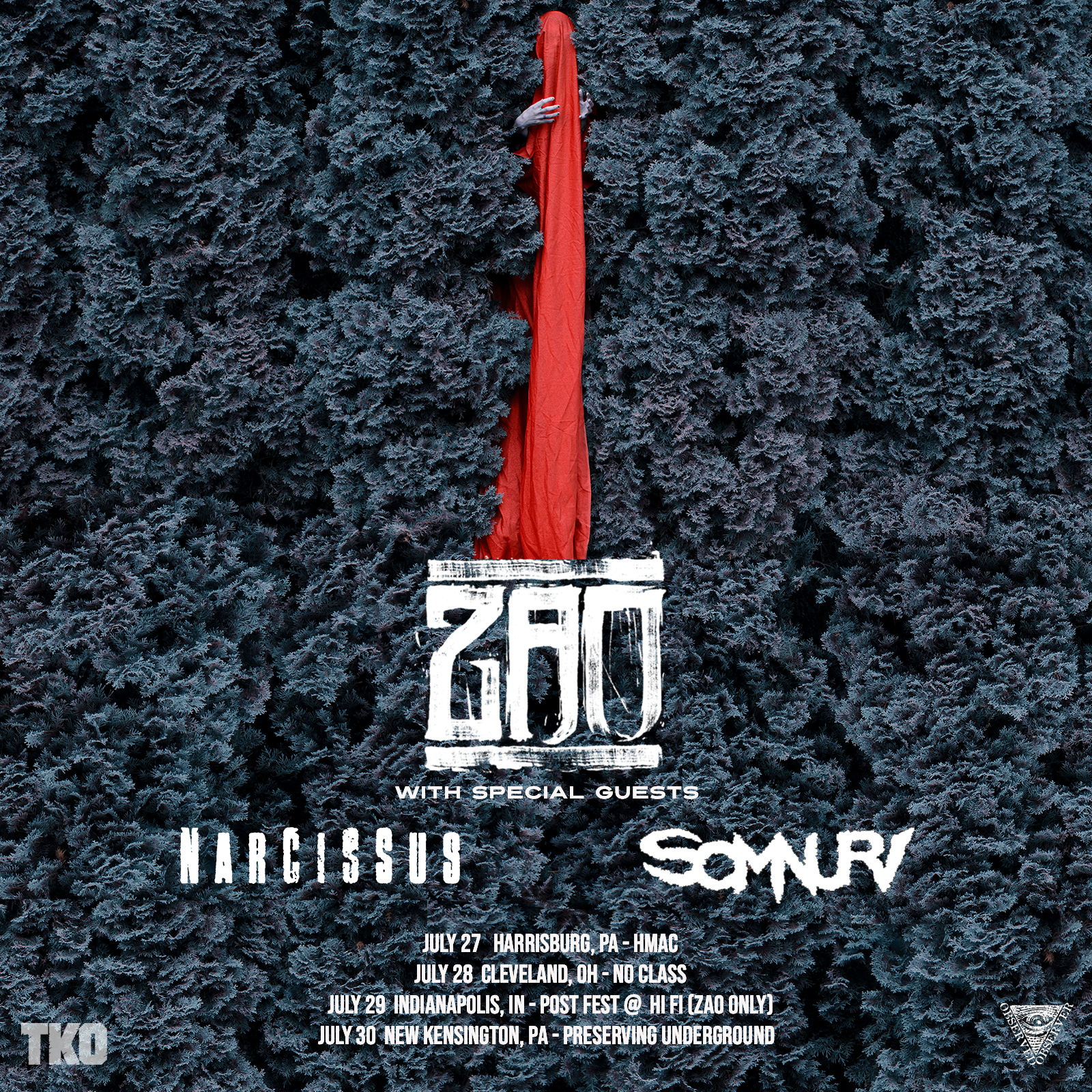 http://www.somnuri.com
http://www.facebook.com/Somnuri
http://www.instagram.com/somnuri
http://www.twitter.com/somnuriband
http://www.mnrkheavy.com
http://www.facebook.com/MNRKHeavy
http://www.instagram.com/MNRK_heavy
http://www.twitter.com/MNRKHeavy