SOM – the doom pop group made up of current and former members of Constants, Junius, and Caspian – will appear at Camp Caspian this September!
Curated by the members of Caspian, the three-day outdoor music festival will take place from September 3rd to September 6th at Camp Oak Hill in Nottingham, Pennsylvania and will find SOM sharing the stage with Caspian, Pianos Become The Teeth, Junius, Dreamtigers, Aisha Burns, and the newly reunited Seneca. The intimate gathering will also feature acoustic and ambient sets, rig rundowns, axe throwing, swimming, nature walks, tattooing, and so much more.
Comments SOM vocalist/guitarist Will Benoit, "We couldn't think of a better return to playing live shows than Camp Caspian. We're honored that Caspian would invite us and spending a long weekend in the woods with some of our best friends is a dream come true."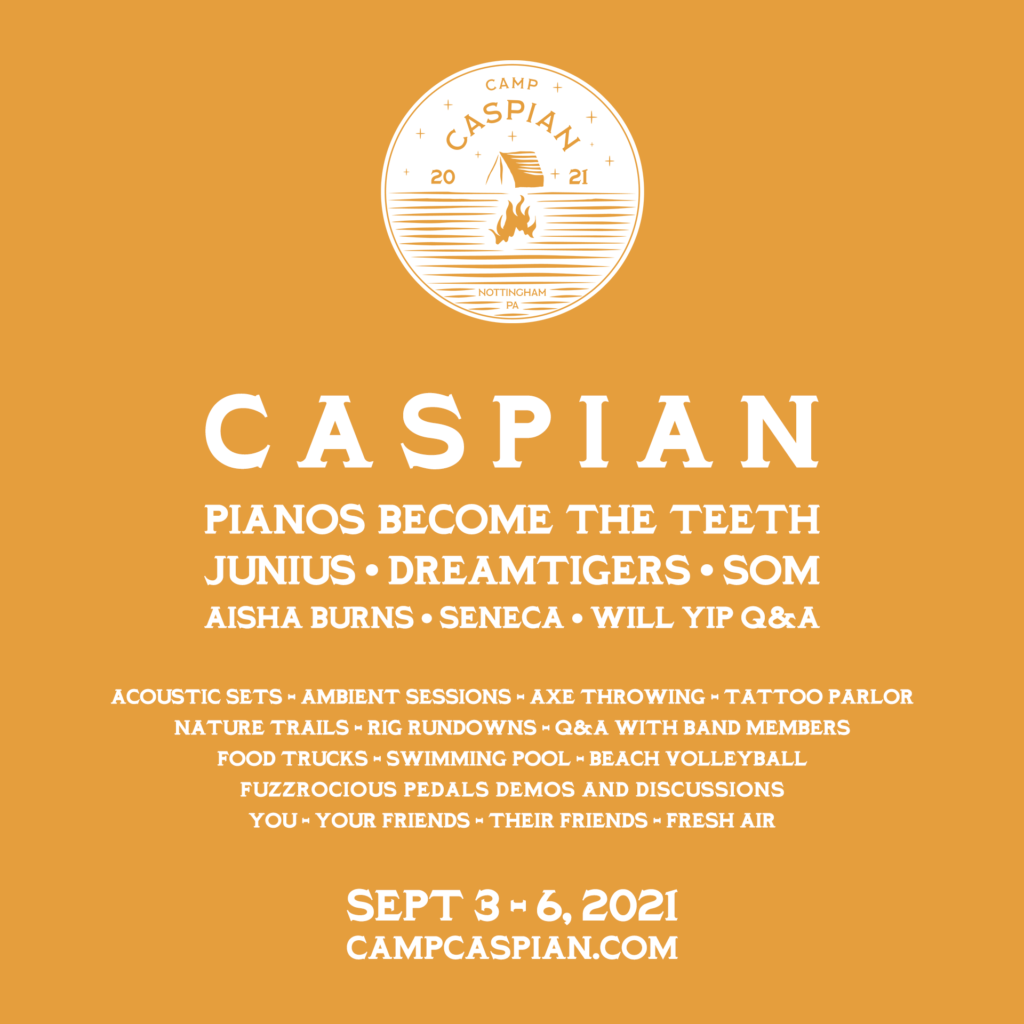 Tickets for the event are extremely limited. For further info visit campcaspian.com.
In related news, SOM's Roadburn Redux Festival performance is now available to the public. The exclusive pre-recorded, in-studio performance video initially streamed from the stunning location of Leipzig's UT Connewitz, one of Germany's oldest cinemas, and showcases the tracks "Awake // Sedate" and "Youth // Decay" taken from the band's Awake EP released earlier this year.
Combining two exclusive originals with remixes by collaborators Holy Fawn, Hisself (Johnny Dang of O'Brother), U Dye (Marshall Gallagher of Teenage Wrist), and Giuseppe Capolupo (The Devil Wears Prada), SOM's Awake EP is a doom pop triumph. Its concise compositions balance the gritty riffs of Deftones with airy, Tame Impala-esque vocal lines, just as primed for rock radio success as they are for shoegaze-loving connoisseurs.
View the band's previously released videos for "Awake // Sedate" HERE, "Youth // Decay" HERE, "Awake // Sedate" (Holy Fawn remix) HERE, "Open Wounds" (U DYE remix) HERE, and their set as part of Metal Injection's February edition of Slay At Home Fest HERE.
Play the Awake video game HERE!
Awake is out now independently on limited-edition cassette and digitally via Nuclear Blast's digital subsidiary, Blood Blast Distribution. Find ordering options at THIS LOCATION. CD and vinyl editions of Awake are available via Pelagic Records at THIS LOCATION.
SOM was founded by Duncan Rich, frontman and former Constants colleague Will Benoit, and Adai founder and now-Caspian drummer Justin Forrest. While touring in support of their debut full-length The Fall in 2019, the band added guitarists Mike Repasch-Nieves and Joel M. Reynolds, both formerly of Junius and Driftoff.
The tracks on Awake are part of SOM's ongoing mission to "leave this place better than we found it." Despite being recorded in quarantine, the EP was mixed by Benoit at his own Radar Studio in Connecticut – New England's first solar-powered recording facility. Repasch-Nieves and Reynolds, meanwhile, spent the last year sustaining an urban farm in New York City, while Forrest distributed vegan food to Black Lives Matter activists in Denver through the Summer. Equally philanthropic is Rich, who now uses his production experience to host emotional fluency events for men. While many musicians lumbered in inactivity, SOM has used the darkness of recent times to create and heal. Awake's bliss is an insight not only into the kind of harmony the quintet seeks to cultivate in all facets of life, but also the exciting second full-length that looms on the horizon.
"SOM… specialize in a gauzy, feedback-soaked sound… It's not far flung from the output of high-volume shoegazers such as Deftones or Hum." – Revolver
"…thick and hazy but with soaring vocal harmonies that add a lightness to the song." – BrooklynVegan on "Awake // Sedate"
"The remix takes the core of the original and flips it on its head, swapping a subtle electronic backbeat, atmospheric synth effects and washed-out vocals for the hard-hitting drums and guitars and more present vocals in the original. In short, it makes the perfect companion piece." – MetalSucks on "Awake // Sedate" (Holy Fawn Remix)
"SOM play the kind of somber, glimmering music that exudes a heavy fog of emotion and introspection around it." – Kerrang!
SOM:
Will Benoit – vocals, guitars
Justin Forrest – bass
Mike Repasch-Nieves – guitars
Joel M. Reynolds – guitars
Duncan Rich – drums
http://www.som.band
http://www.facebook.com/somtheband
http://www.twitter.com/somtheband
http://www.instagram.com/somtheband