Ethereal doom pop collective SOM will host a special The Shape Of Everything livestream this Thursday, January 20th at 1:00pm EST / 10:00am PST. The livestream comes in advance of the record's official release this Friday, January 21st via Pelagic Records.
Hear the record on the eve if its official unveiling and join the band in the chat at THIS LOCATION! (Set a reminder!)
Following the acclaim accrued by their 2018 debut The Fall, SOM — comprised of current and former members of Constants, Junius, and recent Grammy nominees Caspian — had planned to enter the studio in 2020 to record the follow-up. However, pandemic-induced lockdown forced them to improvise and record entirely remotely, producing 2021's luscious Awake EP. This new workflow redefined SOM's process, which carried into the completion of their forthcoming LP. Its concise compositions balance gritty riffs with airy vocal lines that will appeal to fans of Deftones and Tame Impala alike and are just as primed for rock radio as for shoegaze-loving connoisseurs. The intentional, self-imposed paradigm of minimalism, the aim to reduce each musical idea to its emotive essence is what makes the band sound huge — and of course the flawless, modern yet incredibly warm and rich production by vocalist and guitarist Will Benoit himself, gives SOM's The Shape Of Everything its compelling power.
View SOM's previously released videos for "Animals" HERE,  "Moment" HERE, and "Center" HERE.
The Shape Of Everything will be available on CD, LP, and digital formats. Find preorders at THIS LOCATION. Fans of Deftones, Failure, Hum, Nothing, Slow Crush, Alcest, My Bloody Valentine, Tame Impala, and the like, pay heed.
The Shape Of Everything was recorded, mixed, and mastered at Benoit's own Radar Studio in Connecticut – New England's first solar-powered recording facility. The tracks are part of SOM's ongoing mission to "leave this place better than we found it." Benoit co-founded the outfit with drummer and former Constants colleague Duncan Rich, as well as Adai founder and now-Caspian drummer Justin Forrest. While touring on The Fall, the band recruited old friends guitarists Mike Repasch-Nieves and Joel M. Reynolds, both formerly of Junius and Driftoff. While many artists lumbered in inactivity, SOM used the darkness of recent times to create and heal. The Shape of Everything's introspective bliss is an insight into the kind of harmony the quintet seek to cultivate in all facets of life.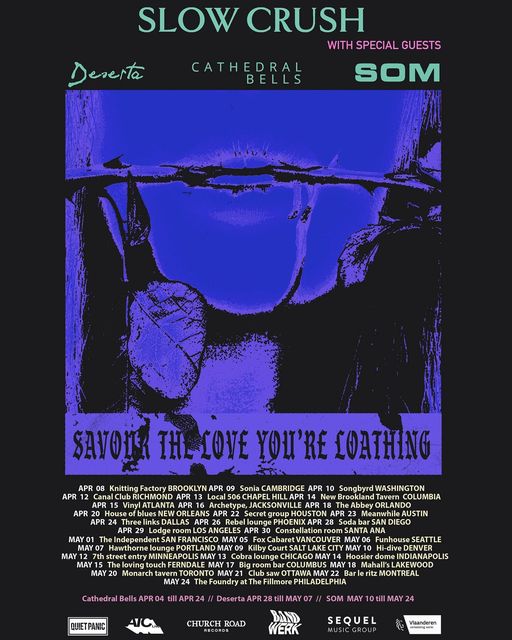 SOM will return to the stage this spring supporting Slow Crush on their North America tour. SOM's portion of the journey runs from May 10th through May 24th. See all confirmed dates below.
SOM w/ Slow Crush, Deserta, Cathedral Bells:
5/10/2022 Hi-Dive Denver – Denver, CO
5/12/2022 First Avenue & 7th St Entry – Minneapolis, MN
5/13/2022 Cobra Lounge – Chicago, IL
5/14/2022 Hoosier Dome – Indianapolis, IN
5/15/2022 The Loving Touch – Ferndale, MI
5/17/2022 Big Room Bar – Columbus, OH
5/18/2022 Mahall's – Cleveland, OH
5/20/2022 Monarch Tavern – Toronto, ONT
5/21/2022 Club SAW – Ottawa, ON
5/22/2022 Bar Le Ritz PDB – Montreal, QC
5/24/2022 The Fillmore  – Philadelphia, PA
"…the song recalls bands like Hum and Nothing with its huge riffs and sweet, ethereal vocals, and the video captures that energy with a dramatic love story…." — Revolver on "Center"
"Here is an irresistible catchiness to this collection of songs, yet despite their accessibility they still remain hauntingly beautiful." – Kerrang
"SOM deliver an introspective and infallible sophomore album, seducing once again with a sonic duet of the beautiful and the bold as we are invited to take solace in The Shape Of Everything and its comforting, expansive versatility." — Everything is Noise
"…monumental and majestic…" — Rock 'N' Roll Fables
"…an album that offers tranquility within its confined space and one that elicits a sense of nirvana you don't get from most albums. It's difficult to categorize this album as metal, given the lack of heavy, driven instrumentation and harsh vocals one is more familiar with, but then again, shoegaze is metal-adjacent, and this album has beauty in spades." — Nine Circles
"That space in time before tears fall, the tension in the face before a smile or a laugh, or the buildup of aggression before a scream. These places just before the peak of intense emotion are practically nameless, but certainly something everyone can easily understand. Still, while difficult to label, SOM…have crafted the perfect soundtrack to these moments with their forthcoming EP, The Shape Of Everything." — The Metal Mayan
SOM:
Will Benoit – vocals, guitars
Justin Forrest – bass
Mike Repasch-Nieves – guitars
Joel M. Reynolds – guitars
Duncan Rich – drums
http://www.som.band
http://www.facebook.com/somtheband
http://www.twitter.com/somtheband
http://www.instagram.com/somtheband
http://www.pelagic-records.com
http://www.facebook.com/pelagicrecords
http://www.instagram.com/pelagic_records