photos by Nicolas Côté
Nefarious Industries presents Darker Than Death Or Night, the second full-length from Chicago's metallic hardcore outfit NEQUIENT. Confirming the album for March release, the label has issued the cover art, track listing, preorders, and the lead single, "First Casualty."
NEQUIENT is a four-piece metallic hardcore band from Chicago. Building on a foundation of thrashing d-beat, they draw influences from a broad spectrum of aggressive styles including grindcore, crust, sludge, death metal, black metal, and noise rock. The result is a uniquely punishing sound that emphasizes percussive intensity and razor-sharp hooks.
Formed in 2014, NEQUIENT's first official release was 2015's Infinite Regress EP, the start of a longstanding collaboration with producer Pete Grossmann (Immortal Bird, Something Is Waiting, Warforged) at Bricktop Recording in Chicago. Following a few personnel shifts, the group settled on its current configuration and forged a debut full-length, Wolves At The Door, issued in 2018 by Nefarious Industries. Decibel Magazine lent the album its "enthusiastic stamp of approval," declaring, "NEQUIENT comes blazing in on a misanthropy-fueled ICBM missile." Ghost Cult Magazine described the band as, "astute musical assassins," driven by the powerful drumming of "human tornado" Chris Avgerin.
NEQUIENT set out on a campaign of DIY touring in support of Wolves At The Door, playing every dive bar, basement, community center, banquet hall, and benefit festival that would have them. Those travels culminated in a late 2019 run with Danish avant-hardcore technicians and Nefarious Industries labelmates Oxx.
A few months later, NEQUIENT reconvened at Bricktop to track a new album, once again helmed by Grossmann, not realizing that the global pandemic would soon slow all further progress to a maddening crawl. In 2021, the band released the digital EP Collective Punishment, offering two exclusive tracks from the early 2020 sessions and two live performances from the late 2019 tour, which is now followed by their second full-length, Darker Than Death Or Night.
On Darker Than Death Or Night, NEQUIENT set out to embrace even more diverse sounds than before without sacrificing their tightly honed focus or capacity for vicious sensory assault. This is a singular breed of heavy music: tightly controlled yet satisfyingly grimy, attuned to the anxieties of an uneasy era and unconcerned about fitting into the preconceived boundaries of subgenre. Mixed by Sanford Parker (Voivod, Yob, Eyehategod) and mastered by Collin Jordan (Harm's Way, Windhand, Pelican), the album features artwork and design by Scott Shellhamer (American Heritage, Buried At Sea, Coffinworm) as well as a guest vocal turn from Eddie Gobbo of Something Is Waiting.
Darker Than Death Or Night will see release on March 11th, issued on vinyl – 250 copies on Black and Neon Green Galaxy, 150 on Orange Crush with Neon Green Splatter, and 100 on Black inside Deep Purple exclusive to the band and Nefarious Subscription Club members – as well as 100 copies on Fluorescent Orange cassette, and through all digital services.
Stream NEQUIENT's first Darker Than Death Or Night single "First Casualty" now where preorders are live at the Nefarious Industries landing page RIGHT HERE.
Watch for additional audio and video previews of the album to post over the weeks ahead.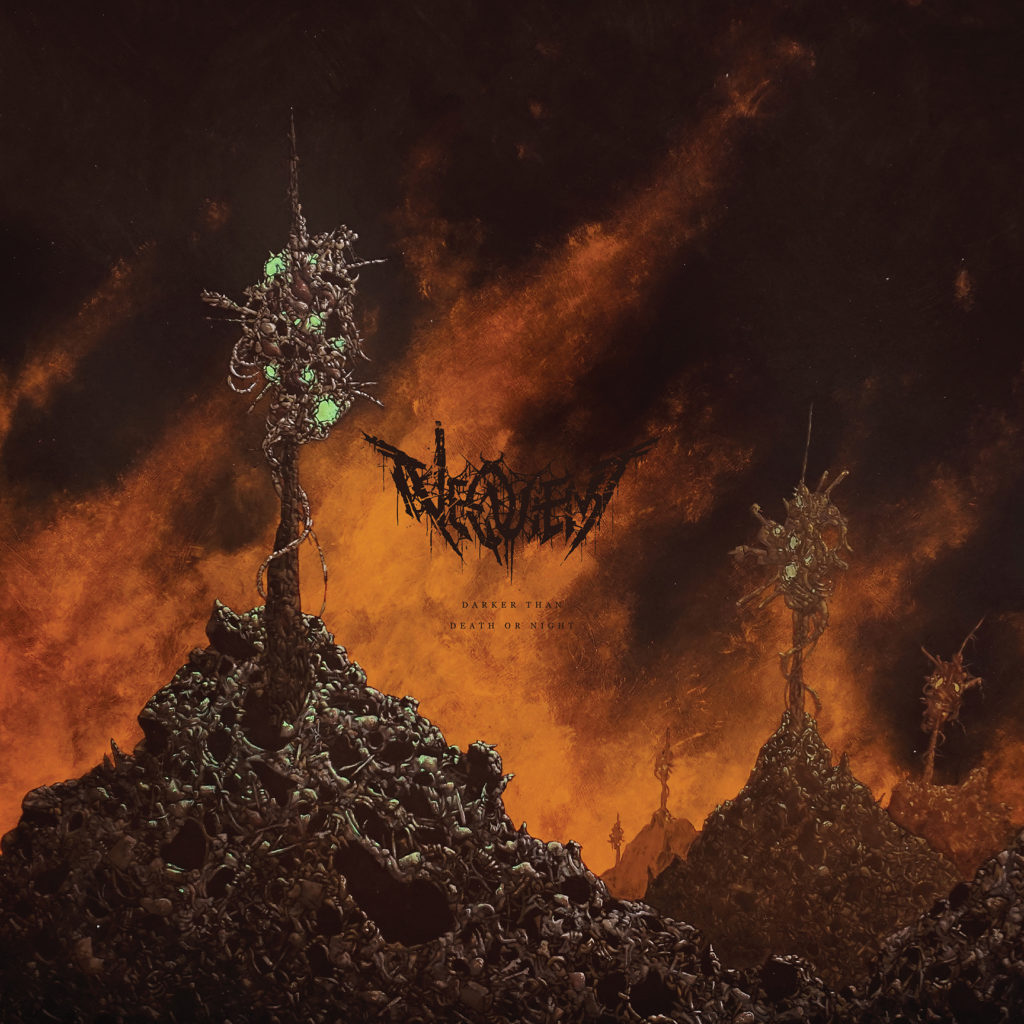 Darker Than Death Or Night Track Listing:
1. First Casualty
2. Worshippers Of The Apocalypse
3. Minotaur
4. Consensual Hallucination
5. Wrongs
6. Death Bridge
7. Eradicate The Malignancy
8. City Killer
9. Bootlicker
10. Golden Age Of The Grift
NEQUIENT has also booked a two-week US tour in support of the album surrounding its release. See all confirmed dates below and watch for updates to post over the days ahead.
NEQUIENT Tour Dates:
2/25/202022 Beer, Blastbeats, & Blasphemy @ Avenue 91 – Griffith, IN w/ Malignancy, Handsome Prick, ShitxLife, Minimum Wage Assassins
3/12/2022 NorthStar Bar & Grill – St. Paul, MN
3/13/2022 The Wisco – Madison, WI
3/18/2022 Black Circle – Indianapolis, IN
3/19/2022 Meteor Majeure – Murfreesboro, TN
3/20/2022 TBA – Atlanta, GA
3/21/2022 TBA
3/22/2022 The Rec Center – Fredericksburg, VA
3/23/2022 Century – Philadelphia, PA
3/24/2022 TBA – Brooklyn, NY
3/25/2022 Chaos Compound – Rochester, NY
3/26/2022 Annabell's Bar & Lounge – Akron, OH
3/27/2022 The Corinthian – Cincinnati, OH
NEQUIENT:
Chris Avgerin – drums
Keenan Clifford – bass
Patrick Conahan – guitar
Jason Kolkey – vocals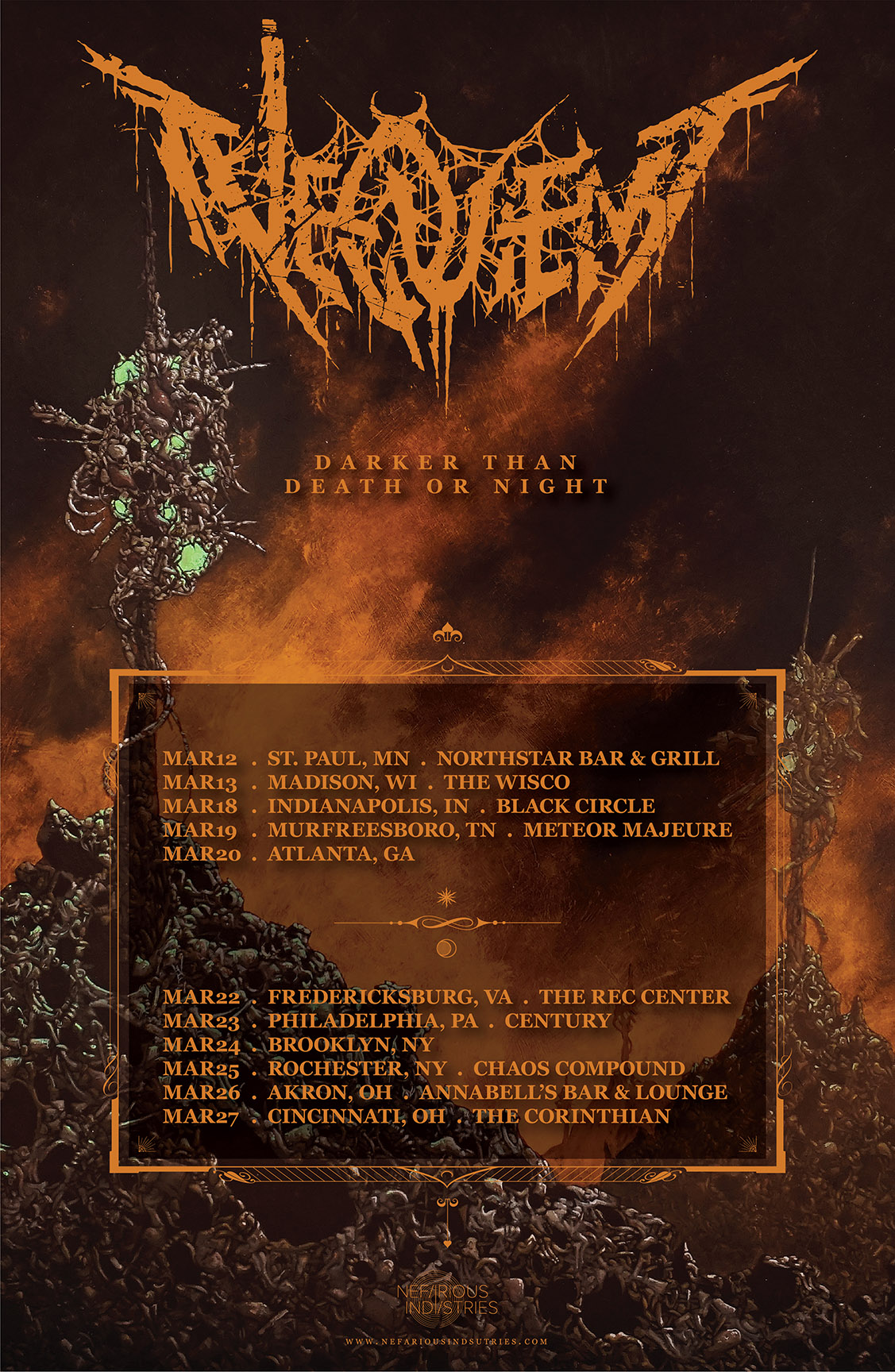 https://nequient.bandcamp.com
https://www.instagram.com/nequientchicago
https://www.facebook.com/nequientband
https://nefariousindustries.com
https://nefariousindustries.bandcamp.com
https://facebook.com/nefariousIndustries
https://instagram.com/nefarious_industries
https://twitter.com/nefariousInd