Tomorrow, Indie Recordings will unleash World Metal. Kosmopolis Sud from Norway's prized Avant Norse folk duo, SOLEFALD, upon North American ears.
Their first new studio full-length in over four years, the eight-track World Metal. Kosmopolis Sud was captured in Norway and Tanzania, mixed and mastered by Jaime Gomez Arellano (Ghost, Cathedral, Angelwitch, Grave Miasma) at Orgone Studio in London and features guest appearances from drummer Baard Kolstad (Borknagar, ICS Vortex), bassist Alexander Bøe (In Vain), guitarist Petter Hallaråker (Rendezvous Point) and keyboardist Sindre Nedland (In Vain, Funeral) as well as renowned world music player Anania Ngoliga of Zanzibar on the kalimba and guitar.
In a near-perfect 9.5/10 review, Soundscape Magazine dubs World Metal. Kosmopolis Sud, "another engaging offering from the outfit; an adventurous piece that truly is a rewarding listen," while Metal Storm elaborates in an 8/10 rating, "The record is enthused and all-consumed by engaging percussion in tribal-like beats and consistent rhythmic playfulness and tempo changes that make for a thoroughly infectious and generously track distinguishable affair. World Metal. Kosmopolis Sud burgeons with an odd metal made equivalence to world music, with something of an avant-garde metal constructed hint at ethnic fusion within its varied scope. It's trvly trve kvlt konfvsion… SOLEFALD further extend a discography of idiosyncrasy that pushes enthusiastically beyond the boundaries of black metal, if not metal in general."
In celebration of tomorrow's release, today Revolver offers up second track, "The Germanic Entity," for public ingestion. Check it out at THIS LOCATION.
And if you missed it, sample the "Bububu Bad Beuys," currently streaming at THIS LOCATION.
With World Metal. Kosmopolis Sud, SOLEFALD returns to 1999's postmodern offering, Neonism, both musically and thematically. At the center of World Metal lies the idea of the "Kosmopolis," or the "World City." In antiquity, Athens and then Rome were seen as the capitals of the world; in modern times, cities such as Paris, London and Berlin have all competed to be the "Kosmopolis." Musically, the curious pair continues to challenge their listeners with a complex musical diversity that is at once stunning and startling, their unique compositions serving more as cerebral adventures than mere songs to listen to. Merging raw Norwegian metal and Dutch techno with Norse and African folk rhythms, SOLEFALD has again manifested an out-of-the-ordinary sound. World music with blackened edges; a true celebration of global culture.
World Metal. Kosmopolis Sud will be released in North America tomorrow, February 24th, 2015, via Indie Recordings. Order your copy today at THIS LOCATION. For digital orders go HERE.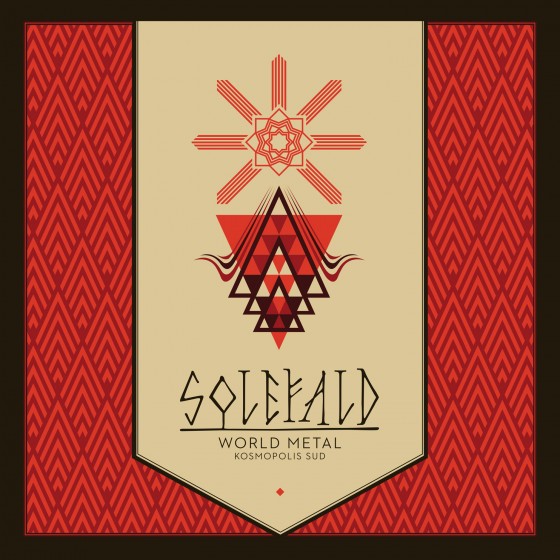 http://www.facebook.com/solefald
http://www.indierecordings.no
http://www.merchnow.com/catalogs/indie-recordings