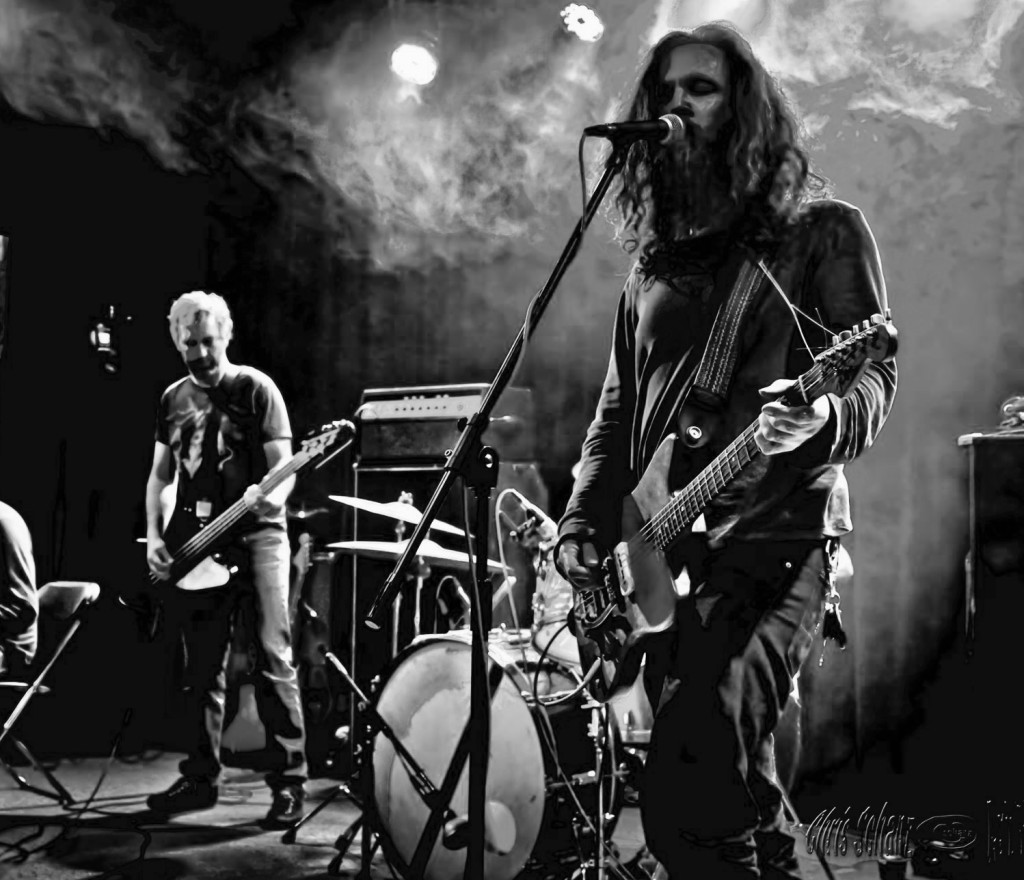 SNAKES, the outfit founded by Brett Netson (Built To Spill, Caustic Resin, Earth), has released a new video for the track "Old, Like Hell," which hails from the band's split LP with CROSSS, approaching early October release.
If you're the kind of person that may have a cassette with Electric Wizard on one side and early '70s Pink Floyd on the other, this record is to be trusted and eaten for long lasting results.
The new SNAKES video was created by Susie Parish, and makes its public debut through an exclusive premiere at New Noise Magazine.
See SNAKES' "Old, Like Hell" video at New Noise RIGHT HERE.
Also see CROSSS' haunting "Descent" video HERE.
The SNAKES/CROSSS split LP will see release through Netson's own Scavenger Cult Records on October 6th; preorders have been posted alongside several streaming tracks HERE.
Having been forced to miss several shows this week due to being hospitalized with a brutal virus, Netson is back out on tour pulling solo sets every night, touring alongside Scavenger Cult kin Clarke & The Himselfs. He issues of the incident, "That was one nasty ass motherfucker of a bug. Worse than the worst flu. Worse than the worst dopesick. The cold air from Lake Michigan ain't no joke. If you sleep in someone's garage, you need some serious cover this time of year. And/or, do not accept a gallon jug of 'filtered' water from a house show venue where eighteen people live."
BRETT NETSON On Tour w/ Clarke And The Himselfs:
9/20/2017 The Gateway – Brooklyn, NY
9/21/2017 The Pharmacy – Philadelphia, PA
9/25/2017 The Union Bar – Athens, OH
9/27/2017 State Street Pub – Indianapolis, IN
9/29/2017 Mouthhole – Nashville, TN
9/30~10/01/2017 Goner Fest – Memphis, TN (after-show)
10/02/2017 Terrapin Station – Murray, KY
10/03/2017 Foam – St. Louis, MO
10/04/2017 8th Street Tap Room – Lawrence, KS
10/06/2017 Lions Lair – Denver, CO
10/07/2017 Sunset House – Ft. Collins, CO
Brett Netson has consistently delivered imaginative, powerful, and unique takes on the classic rock and roll language. As things come and go, Netson's existential take on traditional rock may be doing him a disservice financially, but every project hits on a vitality and honesty that is timeless. Like the Scavenger Cult label, its ambiguous sense of timeframe can show us all that the politics of style are often useless constructs. Connecting with and trusting in Netson's sonic adventures has so far, always yielded a real and healing effect (Caustic Resin's The Medicine Is All Gone has been described as, "the best record to come down off acid to…") SNAKES' A-side of the new split delivers two expansive tracks – "Old, Like Hell" and "Hypothermia Pt. 2" – which total more than twenty-five minutes of new material. In the last stages, Mell Dettmer made a tape master from Netson's fabulous disaster.
CROSSS, originally from Halifax Nova Scotia, has been touring the US and Canada for the last several years but with only a few releases. The version of CROSSS heard here is a unique chapter in the band's story, featuring an experimental hybrid drum kit, played by Susan Burke (The Beverleys), and bass from Michael Stein (Homebody). Captured for Scavenger Cult in mid-exploration and live-off-the-floor by wild man Brett Netson to 2″ tape, and mixed and mastered in a traditional A-A-A process, this release is a departure from the highly aestheticized previous release, Lo, and its precursor, Obsidian Spectre, bringing forth a timeless take on psychedelic riff and unnerving melody.
https://www.facebook.com/brettnetsonnsnakes
http://brettnetson.bandcamp.com
https://crosss.bandcamp.com
https://www.facebook.com/crossscrosss
https://scavengercult.bandcamp.com