Detroit hardcore punk/thrash practitioners SNAFU (Situation Normal All Fucked Up) today unleash their new video for "Wake Of Vultures." The track comes off of the band's Exile//Banishment full-length, released last Fall via Housecore Records in North America.
Comments the band, "In this sacred and divine universe where we find ourselves, there is a brutal exchange of death for life that fuels the infinite energy of nature. Without it, nothing would exist. At times the circle of life can seem cruel and remorseless, but we must remember that it is imperative to our existence. With every death there is new life. The vulture is a direct portrayal of the circle, representing rebirth and bringing balance to the ecosystem; consuming death producing life."
Watch SNAFU's "Wake Of Vultures" video at THIS LOCATION.
View the band's previously released videos for "Bring Suffering," "Closed Casket Habits," "Amazing Waste," and "Soil Of Blood" at THIS LOCATION.
In related news, SNAFU's "Bring Suffering" was featured as the Detroit Red Wings' entry music at a recent game. Check out footage at THIS LOCATION.
Captured amidst plague, governmental corruption, and widespread societal suffering, Exile//Banishment is SNAFU's heaviest, darkest, and most unrepentantly volatile offering to date, focusing on personal frustrations and the hopeless future of humanity.
Exile//Banishment was tracked and produced by Philip "Landphil" Hall (Municipal Waste, Cannabis Corpse, Iron Reagan) and twin brother Josh "Hallhammer" Hall (Cannabis Corpse) at Blaze Of Torment Studios in Richmond, Virginia, mixed by Adam Shepard, and mastered by Joel Grind (Toxic Holocaust). The record features artwork by Vladimir Chebakov.
Exile//Banishment is available on CD, vinyl, and digital formats. Find physical ordering options at THIS LOCATION and digital orders HERE where the record can be streamed in full.
SNAFU will join EyeHateGod for a short run of live dates this May in Youngstown, Detroit, Chicago, and Cincinnati. Additional support will be provided by Come To Grief and Escuela Grind. See confirmed dates below.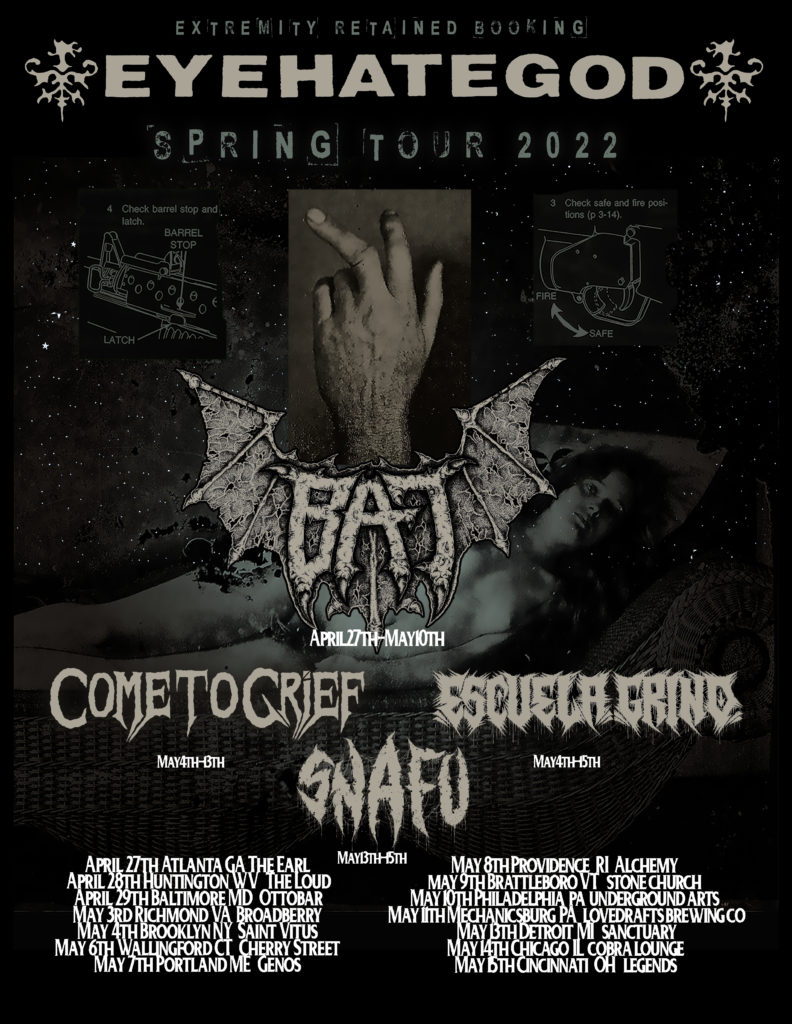 SNAFU w/ EyeHateGod, Come To Grief, Escuela Grind:
5/12/2022 Westside Bowl – Youngstown, OH w/ Telekinetic Yeti [tickets]
5/13/2022 The Sanctuary – Detroit, MI [tickets]
5/14/2022 Cobra Lounge – Chicago, IL w/ Something Is Waiting [tickets]
5/15/2022 Legends – Cincinnati, OH w/ Casteless [tickets]
Spawned from the ruins of Detroit, Michigan in 2006, SNAFU independently released their debut full-length, Fear The Future, in 2013 after years of false starts. The songs bore a raw punk expression of raging cynicism and the destructive nature of mankind. Further honing their artistry, 2015's Present Day Plague LP stayed true to their aggressive raw punk roots while working in elements of thrash and grind. Punk News championed of the band's, "angry, relentless thrash," while New Noise wrote, "Loud in your face anger with furiously high energy that wipes any crowd into a frenzy, it's hardcore music that comes at you at a unrelenting fast and furious pace."
Since then, the four-piece has established a reputation for delivering some of the fiercest live performances in the country. Their sound — a fusion of everything from Municipal Waste and Toxic Holocaust to Negative Approach and Cro-Mags — has quickly come to resonate with audiences globally, while their blackened thrash approach calls to mind early Slayer and Sepultura.
"One moment you'll be accosted by prime Trap Them shit-kickin', only to be completely sideswiped by a riff seemingly from the infernal hand of Hanneman. Elsewhere, Disfear-worthy D-beat 'n' roll, blasts of crossover thrash akin to Iron Age, nasty death metal syncopations and even screeds of black metal all jostle for supremacy." — Decibel Magazine
"…bleak, thrashy hardcore…" — BrooklynVegan
"This album features a lot. Gutturals filled with passion, low, heavy guitars, chugging at a speed Slayer would be impressed with. Thunderous basslines and a skilled yet not overly virtuosic drummer are sprinkled in, creating the sounds you hear on Exile… all killer, no filler. " — Metal Epidemic
"…a much-needed throat punch to the decadence and oppression of modern society… it absolutely rips!" — Moshpit Nation
"SNAFU are street soldiers and veteran purveyors of the no-nonsense crossover thrash we all need in our record collection." — Scream Blast Repeat
SNAFU:
Scott Curnow – guitar, vocals
Rian Staber – guitar, vocals
Patrick "El Toro" Saldivar – bass, vocals
Mike Jurysta – drums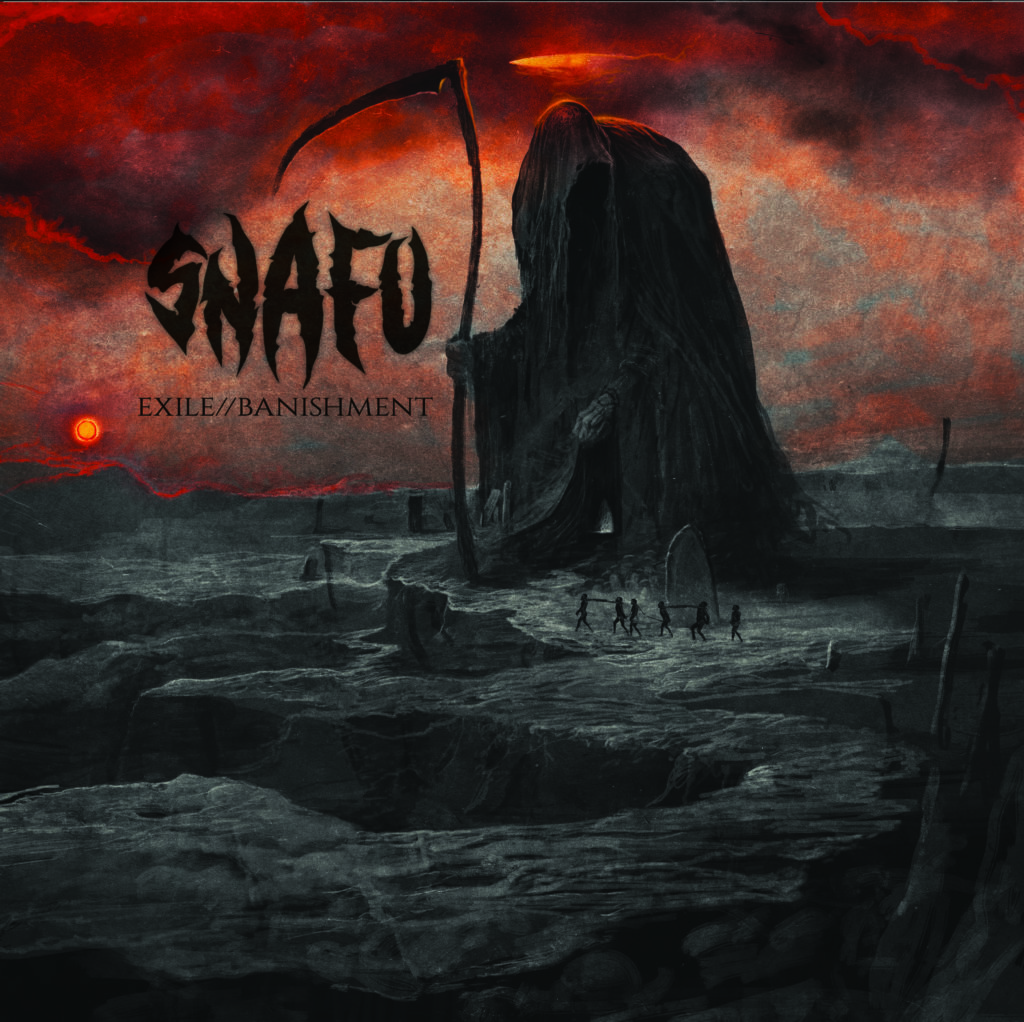 http://www.snafudetroit.com
http://www.facebook.com/SNAFUpunks
http://www.instagram.com/snafu_detroit 
http://www.thehousecorerecords.com
http://www.facebook.com/housecorerecords
http://www.instagram.com/housecorerecords
http://www.twitter.com/housecore_press