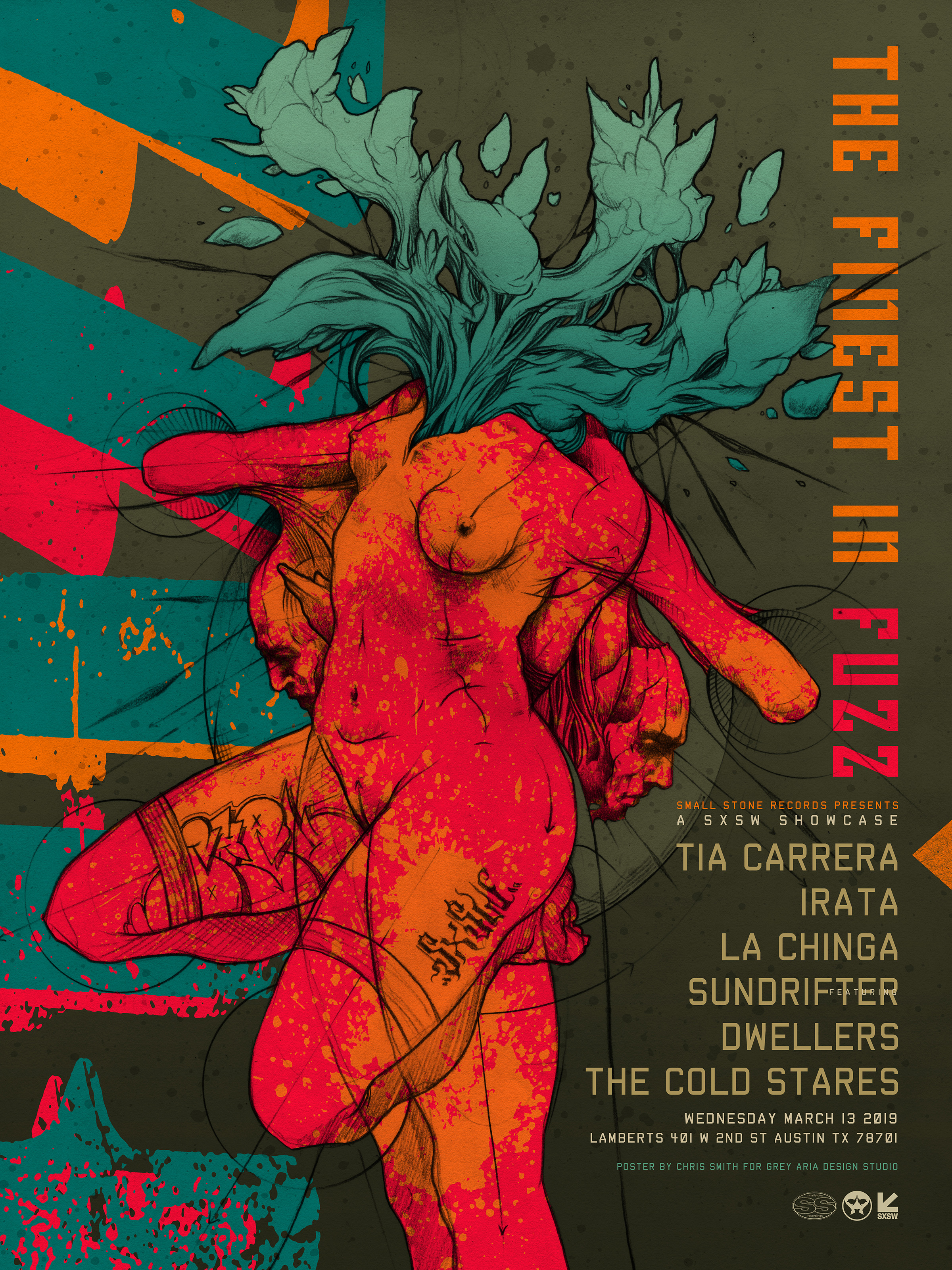 Peddling the finest in psychedelic, stoner, doom, blues, hard rock, fuzz, sludge, and vintage '70s-style rock since 1995, SMALL STONE RECORDS will be hosting a special SXSW showcase this Wednesday, March 13th at Lamberts Downtown Barbecue (401 West 2 Street, Austin). The festivities kick off at 8:00pm and feature performances from the label's newest recruits and alumni: TIA CARRERA, IRATA, LA CHINGA, SUNDRIFTER, DWELLERS, and THE COLD STARES. See below for further info.
SMALL STONE RECORDS SXSW Showcase:
3/13/2019 Small Stone SXSW Showcase @ Lamberts Downtown Barbecue – Austin, TX [info]
TIA CARRERA – Long-running, Austin, Texas-based instrumental heavy psych/blues rock trio TIA CARRERA (not to be confused with the actress/singer Tia Carrere) will release their two-track Visitors/Early Purple EP later this month via Small Stone. Their first recorded output since 2011's critically-lauded Cosmic Priestess full-length, Visitors/Early Purple delivers thirty-four minutes of tripped-out, glassy-eyed, high energy, instrumental rock jams that soar as much as they mesmerize. The EP was tracked at The BBQ Shack and mastered by Jerry Tubb (Willie Nelson, Lynyrd Skynyrd, Johnny Cash) at Terra Nova, both in Austin, Texas, and features artwork by critically acclaimed artist and mural painter Tim Kerr most famously known for playing in old school punk band The Big Boys as well as Monkeywrench. For preorders and to stream "Early Purple," visit the Small Stone Bandcamp page at THIS LOCATION.
IRATA – Greensboro, North Carolina-based heavy rock unit IRATA will release their Tower full-length on May 24th via Small Stone Records. Since its 2007 genesis at the hands of founding members Ward and Jon Case (bass, vocals), IRATA has mutated restlessly, moving from its initial morphine-infused heavy fusion through math-y metal and finally to the soaring, technical heavy rock of its current approach. Over those dozen years, IRATA has made its presence known in metal and hard rock circles throughout the Southeast and beyond. Thanks to its growth from a trio with guitarist Cheryl Manner to a four-piece with the addition of guitarist Owen Burd, IRATA is evolving yet again. Fans of Jane's Addiction, Mastodon, Kylesa, Helms Alee, Sandrider, All Them Witches, and King Buffalo pay heed. Tower will be released on CD, digital, and vinyl, limited to 500 units in opaque orange color. For preorders, go to THIS LOCATION.
LA CHINGA – The Vancouver, British Columbia-based hard rock power trio released their Beyond The Sky full-length late last year via Small Stone. Drawing influence from the likes of Black Sabbath, Led Zeppelin, MC5, and their own bad habits, on Beyond The Sky, LA CHINGA conjures forty-five minutes of sublimely confident freedom rock. Sometimes meaty and beaty ("Mama Boogie," "Death Rider"), sometimes glam-handed ("Killer Wizard"), and occasionally even dirtbag pretty ("Keep On Rollin'), when it all melts into a puddle of phased goo in the final bars of "Warlords," the listener has been rolled, boogied, and otherwise supernaturally conveyed well beyond the sky. Preview and purchase Beyond The Sky at the Small Stone Bandcamp page at THIS LOCATION.
SUNDRIFTER – New England-based desert rock trio SUNDRIFTER released their Visitations full-length via Small Stone last fall. The nine-track offering oozes with planetary motion; one that rolls along a chaotic cosmic path, not at all afraid to smash one asteroid off another before crashing to the surface, which, as we all know, is how life began in the first place. Born out of a Boston rock underground teeming with history and riffs alike, SUNDRIFTER captures the essence of tonal weight with Visitations. Their second album overall behind 2016's Not Coming Back, the record harnesses spaciousness and heft alike and soars with melodic vibrancy in a way most acts simply can't balance. Shades of Soundgarden and Queens Of The Stone Age appear, but they're just shades, and SUNDRIFTER's vision of heavy is their own, someplace between grunge, doom, psychedelia, and classic heavy rock. Preview and purchase Visitations at THIS LOCATION.
DWELLERS – Featuring former members of Iota and SubRosa, Salt Lake City's self-proclaimed "gut rock" trio/psychedelic riff-wranglers, DWELLERS released their Pagan Fruit full-length via Small Stone in 2014. Crowned, "a molten nine tracks / forty-eight minutes of graceful, patient, heavy psychedelic blues…" by The Obelisk and hailed for filtering "…doomy blues rock through a blotter of shimmering desert psych," by Blurt, the record is an inarguable cult classic. The songs/seeds found on DWELLERS' Pagan Fruit reveal novel, dynamically varied musical touchstones as far reaching as vintage Neil Young & Crazy Horse and Goat's Head Soup-period Stones. Preview and purchase Pagan Fruit at THIS LOCATION.
THE COLD STARES – Nashville rock duo THE COLD STARES released their Head Bent full-length via Small Stone in 2017. Forged in 2008 and named in honor of The Black Crowes song "Stare It Cold," vocalist/guitarist/et al Chris Tapp and drummer/percussionist Brian Mullins united with the sole intent to jam. The result is a sonically and emotionally weighted, story-based brand of rock sung directly from the soul. Tapp's unique guitar rig and Mullins' giant bass drum provide a visual and sonic landscape for the two to travel on different paths than other acts. Preview and purchase Head Bent at THIS LOCATION.
http://www.facebook.com/tiacarreraofficial
http://www.facebook.com/iratabandofficial
http://www.facebook.com/La-Chinga
http://www.facebook.com/sundriftermusic
http://www.facebook.com/dwellersband/
http://www.facebook.com/thecoldstaresmusic
http://www.smallstone.com
http://www.facebook.com/smallstonerecords
http://www.smallstone.bandcamp.com