New York City-based psychedelic deathgrind trio SKULLSHITTER is pleased to unveil a video for "Morbid Tomb." Now playing at Decibel Magazine, the track comes off the band's Goat Claw full-length, released earlier this month via Nerve Altar.
SKULLSHITTER delivers a furious, three-headed vocal assault and thrives to make their every performance both in the studio and onstage a new, unapologetically soul-scorching event. Understanding the true nature of inner freedom through hallucinogenics and rock 'n' roll, Goat Claw spews forth sixteen grave-tripping tracks of old-school grindcore drenched in mind-bending psychedelia – a sonic declaration of intensity, focus, and acrimony, laced with a concentrated dose of Lucifer.
Notes Decibel of "Morbid Tomb," "Elevator pitch: Terrorizer and Autopsy take some sketchy acid and consummate their union, conceiving a spun-out, death metal-loving spawn. That spawn is SKULLSHITTER… Their new full-length, Goat Claw, is out now, expounding on the joys of Satan, hallucinogens, and rock 'n' roll. The drug-fueled fantasy continues with the video for 'Morbid Tomb,' which features a combination of live performance and stock footage, edited together in a way that feels like watching a VHS tape in a not-so-sober state of being. The influence from Autopsy is heard loud and clear on 'Morbid Tomb,' which adds an element of lurching death/doom to the otherwise crusty grindcore on display."
View SKULLSHITTER's "Morbid Tomb" video at Decibel Magazine HERE.
View the band's previously released video for "Digitally Reproductive World" HERE.
Goat Claw was recorded by Nolan Voss, mixed by Jamie Uertz at Silver Cord Studios, and mastered by Greg Wilkinson at Earhammer Studios, and comes swathed in the cover art of Tas Danazoglou with layout by Robert Nelson and Aaron Nichols.
Goat Claw is available on LP and digitally. For orders visit THIS LOCATION where the record can be streamed in full.
SKULLSHITTER will spread their acid-induced, black magic hallucinations live later this week with more onstage devilry to be announced in the months to come. See all confirmed dates below.
SKULLSHITTER w/ Loud Night, Vorlust, Spiter:
5/19/2022 Saint Vitus Bar – Brooklyn, NY w/ Melissa
5/20/2022 Fotoclub – Philadelphia, PA
5/21/2022 Atlas Brew Works – Washington, DC w/ Yatra
5/22/2022 Cobra Cabana – Richmond, VA
SKULLSHITTER:
Sean Walsh – guitar, vocals
Ryan Kunimura – bass, vocals
Robert Nelson – drums, vocals
Guest Musicians:
Nolan Voss – vocals
Owen Rundquist – vocals
Jessie Nelson – synths / keys
Mike Nichols – aux percussion
"Drugs and grindcrore are already a formula to ponder, add NYC to the mix and you're getting some truly intense environs plopped onto your senses with Goat Claw, the latest on Nerve Altar out now from SKULLSHITTER. Goofball samples, squelches of feedback upon intro and it's off to the most toxic recesses of the Gowanus Canal with these guys." — Metal Injection
"It covers a surprisingly large amount of ground in its fifty-two-second running time, from total deathgrind brutality to classic metal shredding and more." — BrooklynVegan on "Council Of Disease"
"SKULLSHITTER absolutely blaze through this second long-player with style, resembling the still hardcore punk-affected brand of grindcore at full force in the late '80s and its death-heavy push in the early '90s without making a musty, old too-serious mess of that spiritus." — Grizzly Butts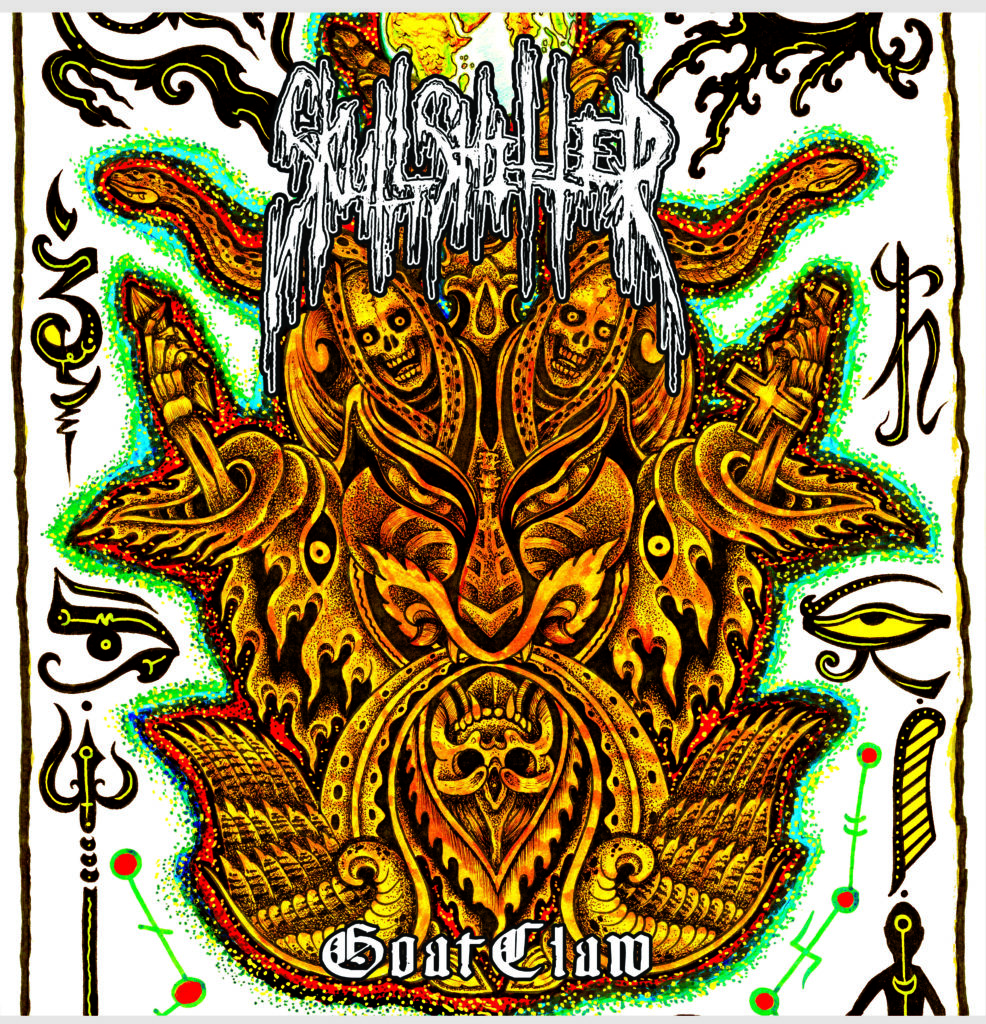 http://www.facebook.com/skullshitterband/
http://www.instagram.com/skullshitter
http://soundcloud.com/skullshitter
http://skullshitter.bandcamp.com/
http://www.facebook.com/nervealtar/
http://www.instagram.com/worsethanuseless
http://nervealtar.bandcamp.com/