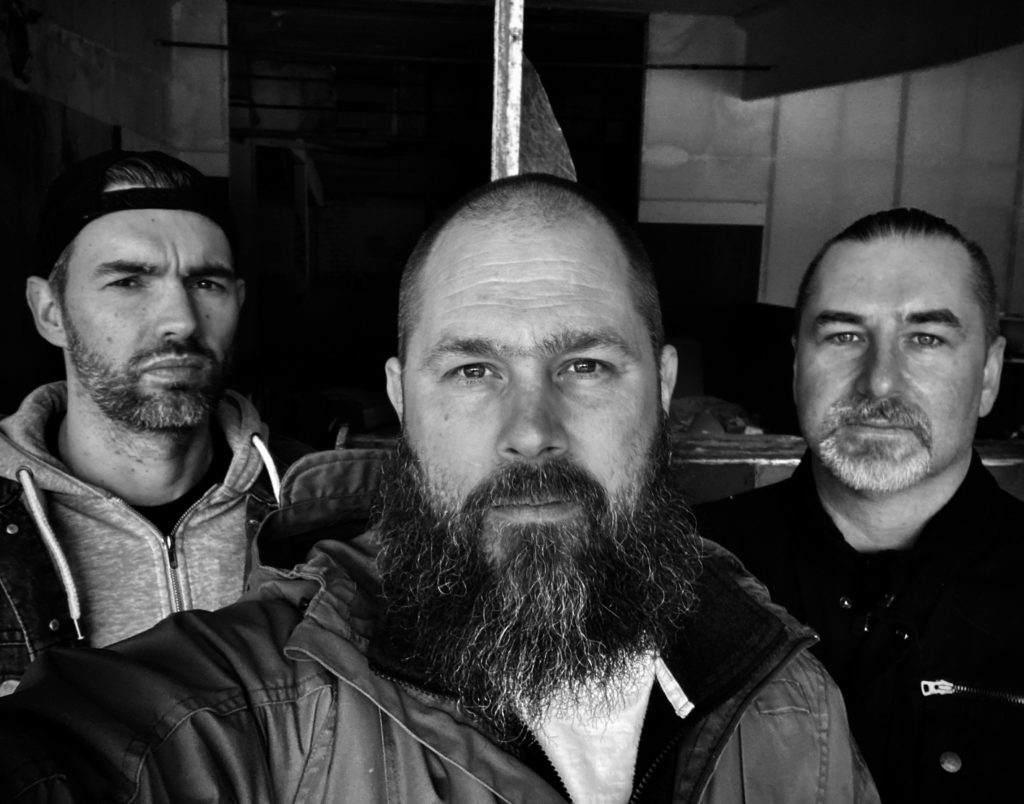 Lambgoat is currently hosting an exclusive stream of Salvation Through Tyranny, the debut album from Swedish grindcore outfit SICKRECY – with members of Birdflesh, General Surgery, World In Ruins, and more –the album is set to officially see release tomorrow through Selfmadegod Records.
Salvation Through Tyranny magnifies SICKRECY's attributes to a more explosive degree, with ten new damaging tracks fueled by the members' socio-political intensity. The record was recorded by the band, mixed and mastered at the Overlook by William Blackmoon, and completed with cover artwork and layout by Mike Fisher Custom Artwork. The record also features guest appearances by Dan Lundberg (Edge Of Obsolescence) and Niklas Frohagen (Forest Of Shadows). Included are eight additional bonus tracks: cover tracks by Ingron Hutlös and D.T.A.L., as well as the six tracks from the First World Anxiety EP.
SICKRECY's Martin Eriksson states, "Our aim is to fill a void in the scene that we feel exists today. With Salvation Through Tyranny, we embrace the roots of extreme music but in today's manor. It is not a retro, old-school album with a sound that reeks like a late-80s demo tape. It's an album with diversity and variety that incorporates quality sound, blast beats, d- beat, and death metal."
Hear SICKRECY's entire brutalizing Salvation Through Tyranny first through Lambgoat now at THIS LOCATION.
Selfmadegod Records will release Salvation Through Tyranny on CD only this Friday, October 28th. Find preorders at Bandcamp HERE and the label webshop HERE. Also watch the videos for "Voice Your Opinion" HERE and "Progress But Why? HERE.
SICKRECY is short for "sick-secrecy," meaning that we as people under our rulers are on a need-to-know basis and we clearly don't need to know anything but to obey and pay. The band was formed in late 2019/early 2020 by Martin Eriksson who soon teamed up with Marcus Dahl and Adde Mitroulis. Dahl and Eriksson both hail from the crust and death act World In Ruins and the blackened industrial death metal band Damned To Downfall, who both put out albums in 2021. Mitroulis, well known for his work in such bands as Birdflesh and General Surgery, is no stranger in this line of duty; with numerous albums on his conscience and three releases in 2021, he clearly knows how to handle a microphone and his vocals are significant to the sound of SICKRECY, who bases their destructive anthem on the early-1990s underground grind scene.
In July 2021, SICKRECY released their debut EP, First World Anxiety, delivering six, rapid and intense tracks infusing crust, d-beat, and death metal. The lyrics discuss social awareness on topics like the declining of free speech, intolerance, and the problems with globalization. The band has also contributed tracks to multiple compilations, including Prowling For The Blasts #2 compilation, Grind4Ukraine Vol1 Compilation, and Soulgrinder Zine Comp 6.
https://www.facebook.com/Sickrecy
https://www.selfmadegod.com
https://www.facebook.com/selfmadegod
https://www.selfmadegod.bandcamp.com
https://www.instagram.com/selfmadegod_records
https://www.soundcloud.com/selfmadegodrecords