Progressive black metal practitioners IZTHMI will close the year with a two-week run of live dates later this Fall. The journey begins November 9th in their home city of Seattle, Washington and runs through November 27th in Sacramento, California. See all confirmed dates below.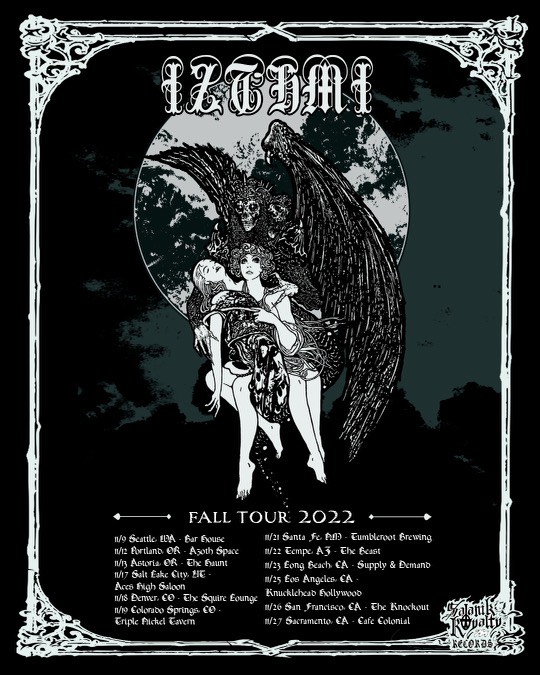 IZTHMI:
11/09/2022 Bar House – Seattle, WA
11/12/2022 Azoth Space – Portland, OR
11/13/2022 The Haunt – Astoria, OR
11/17/2022 Aces High Saloon – Salt Lake City, UT
11/18/2022 The Squire Lounge – Denver, CO
11/19/2022 Triple Nickel Tavern – Colorado Springs, CO
11/21/2022 Tumbleroot Brewing – Santa Fe, NM
11/22/2022 The Beast – Tempe, AZ
11/23/2022 Supply & Demand – Long Beach, CA
11/25/2022 Knucklehead Hollywood – Los Angeles, CA
11/26/2022 The Knockout – San Francisco, CA
11/27/2022 Cafe Colonial – Sacramento, CA
IZTHMI will be touring in support of their Leaving This World, Leaving It All Behind full-length, released in March via Satanik Royalty Records.
In the ever-changing landscape of society and the world at large, the IZTHMI collective found themselves lost in a place that has become less and less recognizable. As the world continues to change in ways that are both terrifying and inevitable, IZTHMI seeks to move forward. Leaving This World, Leaving It All Behind represents the mourning of the losses that we all have endured these last couple of years, and a celebration of the victories and hopes of what is to come. As we leave this world behind, we look towards a better one.
Leaving This World, Leaving It All Behind's eight tracks were captured by renowned producer/engineer Billy Anderson at the Hallowed Halls, mixed by Anderson at Everything Hz, mastered by Justin Weis, and comes cloaked in the mystical artwork of Andrzej Masianis.
Leaving This World, Leaving It All Behind is available on vinyl and digital formats. Find physical orders at THIS LOCATION and digital orders HERE where the record can be streamed.
In 2016, a shared passion for atmospheric black metal drove founding members Autumn Day and Nolan Head to begin writing music for the band that would eventually become IZTHMI. As time went on, they eventually completed their lineup with Jakob Keizer, Brett Tomsett, and Gabe Kangas, forming the quintet that is the band today. The band's critically lauded debut full-length The Arrows Of Our Ways, explored the journey of self-realization through the confines of social struggle that many of us experience today. Leaving This World, Leaving It All Behind looks towards a better tomorrow.
"Invoking the descriptor 'progressive' when describing a band's music can unfortunately mean a lot of things, some more positive than others. Does it mean the songs are extra-long, or that there are perhaps elements atypical of whatever musical style to which the term is applied? Or maybe it just means 'weird.' Back in the '70s 'prog rock' was pretty much all of the above, and frequently involved flutes. Thankfully Seattle-based quintet IZTHMI… embodies the best parts of progressive by taking their modern black metal and infusing it with folk, post-metal and ambient influences. And no flutes." – Decibel Magazine
"…an impeccable release that is full of wonder…"  – Everything Is Noise
"[IZTHMI] combines black metal fury with all kinds of proggy twists and turns, which feel like a genuinely fresh take on black metal." – BrooklynVegan
"… a well-written black metal album, featuring various elements such as progressive metal, melodic, post metal, and frosty atmosphere. It's all beautifully executed through a series of dark and epic guitar riffs, eerie vocals, excellent bass, and punishing drums." – Mianydoire
IZTHMI:
Jakob Keizer – vocals, modular synths
Autumn Day – guitar, piano
Brett Tomsett – guitar, additional vocals
Gabe Kangas – bass, piano
Nolan Head – drums, additional vocals
http://www.facebook.com/Izthmi
http://twitter.com/izthmi
http://www.instagram.com/izthmi
http://www.satanikroyaltyrecords.com
http://www.facebook.com/satanikroyaltyrecords
http://www.twitter.com/recordssatanik
http://www.instagram.com/satanikroyaltyrecords